Somersby has just unveiled its latest product innovation, the Sparkling White cider, to complement its elegant pink Sparkling Rosé. This golden hued Somersby Sparkling White is a refined semi-sweet apple rosé cider that is full of tingling live bubbles with a fruity white wine aroma. Malaysian cider lovers are the privileged ones to first savor this sparkling cider outside Europe.
Somersby Sparkling White
Elegantly designed with 4.5% alcohol, it has the same grown up flavor and structure as sparkling wine, at the same time, keeping the familiar refreshing taste you can expect from Somersby. Designed to appeal to a more mature palette, Somersby Sparkling White is best served chilled in wine glasses and bottles placed in buckets to deliver a premium experience.
Somersby Sparkling White is a bubbly cider that has a sophisticated personality which is less sweet, without a hint of acidity. Because it is easy on the palate, this bubbly aperitif is the perfect alternative to wine or champagne for any occasion, and pairs well with seafood (like raw oysters and shrimp), white meat, ham and cheese.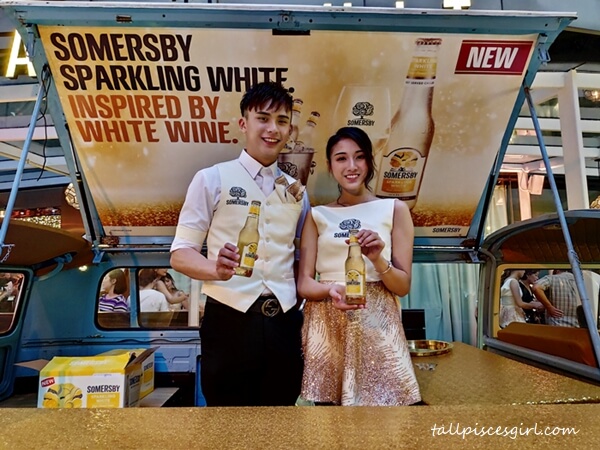 To celebrate the arrival of Somersby Sparkling White, we were treated to an exclusive 'wine' and dine night with gold and glitter blush at The Majapahit @ Marc Residence, KLCC. Ambiance decorated in glittery gold and LED lights created a stunning effect of elegance to capture the perfect mood.
We were served chilled Somersby Sparkling White in an elegant stemmed glass throughout the night paired with a smorgasbord of delicacies made up of oyster, shrimp, cold cuts, cheese and a selection of crusty bread.
For that right mood, we were also entertained to a variety of jazz numbers by a classy jazz band with Janet Lee as the vocalist. I totally enjoyed her performance as she exhibited great showmanship!
Aside from that, violinist Grace Tan also played a few songs gracefully.
This crisp and refreshing cider is now a part of Somersby's other variants like Apple, Blackberry, Elderflower Lime and Sparkling Rosé, expanding Malaysia's No.1 cider variety. The Somersby Sparkling White is available in single bottle or 4-bottle pack in major supermarkets, hypermarkets and selected pubs, bars and restaurants. It retails at a similar price point to other Somersby variants. It is best consumed chilled in a bucket and savoured in a wine glass for that elegant experience.
For more information on Somersby Sparkling White and future updates on latest member of the Somersby family, kindly visit on
www.facebook.com/SomersbyMy
or
www.carlsbergmalaysia.com.my
.