#TurnUptheGlow with St. Ives new face scrubs, America's #1 scrub brand. Made with 100% natural exfoliants, St. Ives face scrubs bring the abundance and joyful energy of nature into skincare to let your skin feel alive, fresh and glowing!
St. Ives Face Scrubs
St. Ives believes the most powerful ingredients can't be created in a lab. In formulating the products, St. Ives uses the most effective and fresh ingredients sourced from nature – with no unnecessary chemicals. Pamper your skin with nature's best ingredients. St. Ives feeds your skin with the best from Mother Earth and lets nature work at your fingertips with every scrub. St. Ives has spent more than 60 years exploring and formulating products that are made from nature. Walnut shell powder is the gentle-yet-effective natural ingredient behind St. Ives face scrubs. Their walnuts are grown in California. Once harvested, they are washed, dried and cracked before going through a gentle process to separate the walnut from the shell. Next, the shells were milled gently into a fine powder to create a soft scrub.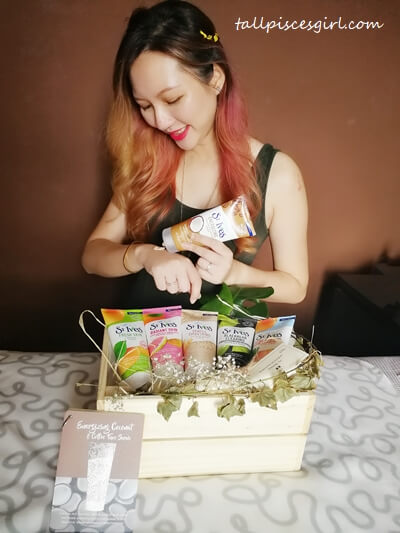 Green Beauty for the Environmentally Conscious
Here's good news to the individuals who are conscious about the environment and looking for green beauty products. St. Ives scrubs are eco-friendly and microbeads-free. That means you can safely exfoliate your skin without leaving a harmful footprint behind. Wow! This is really awesome news to know cos I've always been striving to be kinder to the environment!

The new St. Ives face scrubs are:
Fresh Skin Apricot Scrub
Acne Control Apricot Scrub
Blackhead Clearing Green Tea Scrub
Radiant Skin Pink Lemon and Mandarin Orange Scrub
Energizing Coconut & Coffee Scrub
Gentle Smoothing Oatmeal Scrub and Mask
St. Ives face scrubs are packed with nature's goodness to let your face have a little good, clean fun. St. Ives brand is moving towards a bolder approach that speaks of joy and vibrancy with these new face scrubs. St. Ives face scrubs will make your skin soft and glow positively!
The full range of St. Ives 6oz face scrubs are now available in Malaysia at Retail Recommended Price (RRP) of RM 24.90. For more detail, kindly visit
https://www.stives.com
.