Hot pot @ Renaissance Kuala Lumpur Hotel with family and friends is the activity that I've been looking forward to during rainy days. No matter the weather, Dynasty Restaurant is a great place for healthy and deliciously fun Hot Pot because it is air conditioned; it wouldn't get too cold not too hot.
Available daily for dinner only, you can choose from the a la carte selection starting from RM8nett or opt for the all-inclusive set menu at RM68.80nett per person (minimum 2 persons required).
Hot Pot @ Renaissance Kuala Lumpur Hotel
Hot pot, or more popularly known as steamboat, is a meal for sharing where everyone cooks their own food in a pot of simmering hot broth right at the table. Broth choices include herbal chicken, superior clear soup, tom yam, and vegetarian corn soup developed by Executive Sous Chef Kok Chee Kin.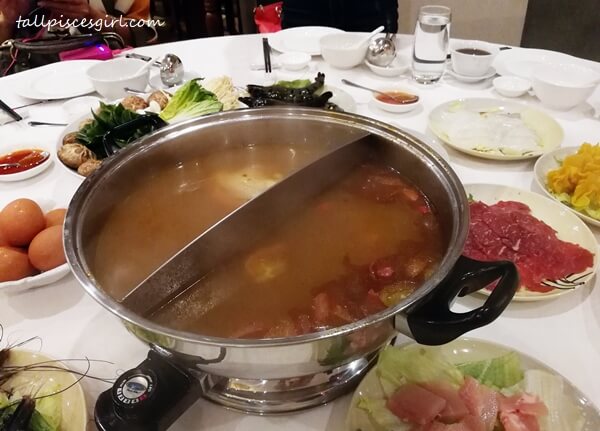 We've tried both herbal chicken broth and tom yam in a review session earlier. Personally, I'm more inclined towards the herbal chicken one because of its nourishing properties and fragrant smell. Plus, there's a chicken thigh in each serving of herbal chicken for a flavorful pot of broth.
As soon as the soup started to boil, freshly prepared raw ingredients such as freshwater prawns, fish fillet, chicken, tofu, vegetables, dumplings, and wontons. As we eat, the rising steam, bubbling broth and the sharing of food work their warming magic and harmonious conversations were sparked.
Thinly sliced beef were picked up with chopsticks in hand and then swirled around in the simmering tasty broth for a few seconds to cook. Once cooked, dip it into one of the three flavorful sauces!
The best part of a hot pot meal is towards the end when the broth has thickened and its flavor is enhanced, an excellent moment for soaking in the noodles, cook the eggs, or more of the beef and vegetables. You can also choose to start all over again with an extra broth.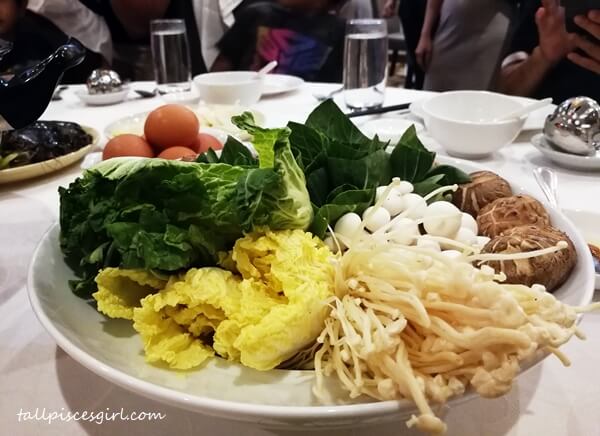 To continue enticing their guests' palate, Dynasty Restaurant introduced the following new dishes.
Thai Style Sliced Roasted Duck
Marmite Chicken with Ginger
Aromatic Tea Smoked Farm Chicken
Casserole of Beef with Pepper and Glass Noodle and Wok-fried Noodle with Venison
Stewed Exotic Dried Seafood with Sea Cucumber in Oyster Sauce
Spring Onion and Ginger
Address
:
Dynasty Restaurant @ Renaissance KL Hotel
First floor, East Wing, Corner of Jalan Sultan Ismail and Jalan Ampang, 50450 Kuala Lumpur
Tel
: 03-2771 6692
E-mail
:
rhi.kulrn.fb@renaissancehotels.com
Website
:
https://renaissance-hotels.marriott.com/renaissance-kuala-lumpur-hotel