Change is inevitable. As time passes, brands will have to improve to strive to provide more for their customers and stay ahead in the market. Kudos to HerbaLine for opening a new chapter in their 17 years old reputable facial spa brand by incorporating food and hospitality into integrated wellness business. If you have noticed, a few HerbaLine outlets have adopted a 2-in-1 concept to include facial spa (HerbaLine) and cafe (Mama Kim) in one location. In 2017, HerbaLine has also introduced a 3-in-1 concept by collaborating with Sojourn guesthouse in Pandan Indah, Cheras and Mama Kim Restaurant with its newly-coined tagline "Eat Well, Look Well, Live Well".
3-in-1 Beauty and Wellness Experience with HerbaLine @ Sri Hartamas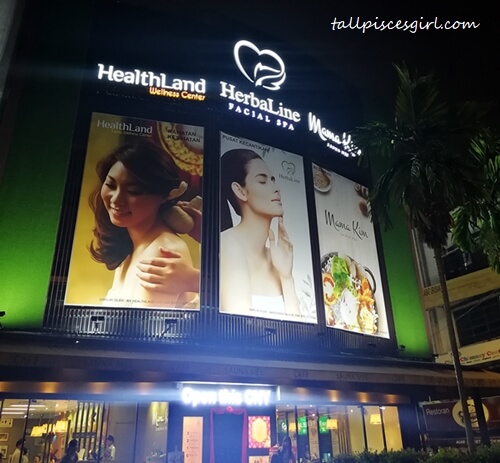 The milestone hitting streak doesn't end there. HerbaLine started the year with a bang by launching its new 3-in-1 outlet at Sri Hartamas by collaborating with Malaysia's reputable wellness centre – Healthland, to fulfill their aim in bringing a unique integrated beauty wellness experience to Malaysians. With this integrated wellness concept, we can enjoy various services which not only beautifies our skin, but pampers and rejuvenates our body and total wellbeing without the need to travel to different places! How convenient is that? The newly launched HerbaLine 3-in-1 Wellness Centre @ Sri Hartamas comprises of 3 entities:
1. HerbaLine Facial Spa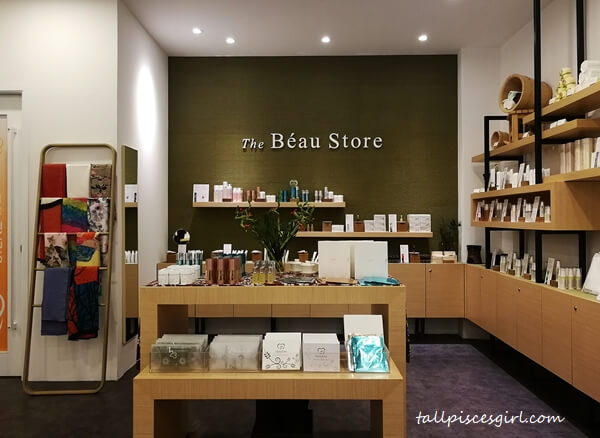 We all know how annoying it is to be pestered to sign up for facial packages. I've had my fair share of it and this experience makes me feel stressful before going for facial. Isn't this ironic? Facial should be a relaxing experience and something to look forward to.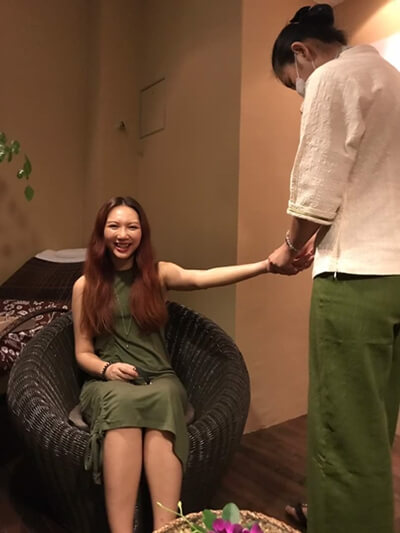 I'm happy to learn that HerbaLine has a "No Sign Course Policy". My mind is immediately at ease since there's nothing to worry anymore. Just enjoy the various facial treatments and body massage treatments.
The best thing is, you also get complimentary value-added services such as:
Relaxing Pebble Walk
Natural Aromatherapy
Lemongrass Tea
2. Healthland Family Wellness Centre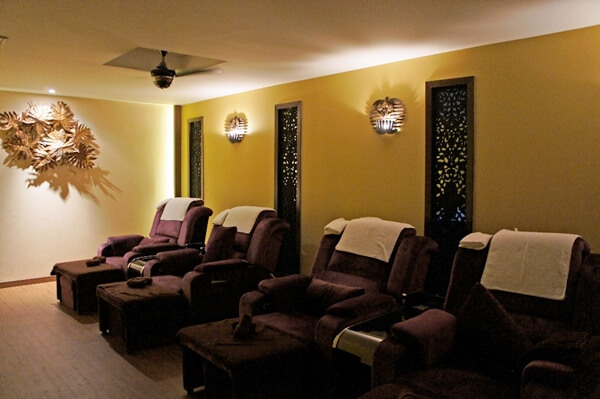 Healthland promotes a holistic wellness lifestyle with health program and activities, armed with vast knowledge in this field. All their therapists are professionally trained by the acclaimed Wellness Academy in Thailand. No wonder it feels so comfortable when I tried their foot massage here! Their foot massage area comes equipped with a huge TV so we can relax ourselves while enjoying the show. There are also power points for you to charge your phone just in case you wanna play with it. I can't wait to come back again soon and pamper myself silly!! I'm already making plans with my fellow besties!
3. Mama Kim Sauna Mee Café
After an awesome pampering session, we moved on to "cure" our rumbling stomach!
A lot of people have a misconception that healthy food won't be tasty and vice versa. HerbaLine in-house cafe, Mama Kim aims to offer a comprehensive menu with a philosophy of "Where Healthy Is Yummy". The healthy recipes will implement the concept of 80% vegetable and 20% meat in a single dish to offer a balanced, healthy, and yummy meal. The principles of Mama Kim's dishes are:
5 major colors
Fresh ingredients
No MSG
No white flour
No sugar, less salt, less deep fried
Balanced nutrients
80% vegetables / 20% meat average
I've always enjoyed their Sauna Mee because the way it was prepared is very tasty yet healthy. The ingredients were washed using natural sea salt before placing them into a hot stone bowl that has been heated up at 250℃ for 50 minutes. Then, the flavorful soup was poured into it; enjoy the sizzling sound as you watch them cooked. I love it with pumpkin noodles – so slurpy!!
Address & contact details
HerbaLine Facial Spa @ Desa Sri Hartamas
Jalan 31/70A, Desa Sri Hartamas, 50480 Kuala Lumpur
Tel
: 03-2303 9831 / 012-702 8677
Business Hours
: Monday – Friday: 11 am – 7 pm Saturday: 10.30 am – 5.30 pm Sunday / Public Holiday: 10.30 am – 4.30 pm
Website
:
www.herbaline.com.my
Facebook Page
:
https://www.facebook.com/herbaline.my/
HealthLand Wellness Centre
Tel
: 03-2856 7877
Business Hours
: Daily 11 am – 11pm
Website
:
www.healthland.com.my
Facebook Page
:
https://www.facebook.com/healthlandmalaysia/
Healthland Happier Hour Promotion
Available everyday from 11am – 3pm
2 hours Thai Traditional Treatment for RM78 (RM82.68 after GST) + RM12 (optional add-on balm) = RM 94.68
2 hours Thainess Oil Treatment for RM88 (RM93.28 after GST) + RM10 (optional add-on aroma oil) = RM103.28
90 mins Foot & Shoulder Treatment + HealthLand Phlai Balm for RM63 (RM66.78 after GST)
Top up RM 10+ for weekends and Public Holidays
Mama Kim Sauna Mee Cafe
Tel
: 03-2858 4173 / 012-677 9895
Business Hours
: Daily 8 am – 10 pm
Website
:
http://www.mamakim.my/
Facebook Page
:
https://www.facebook.com/mamakimmalaysia