Moonshot is part of
YG Entertainment
that houses Big Bang, 2NE1, IKON, PSY, and other K-pop stars. Moonshot is inspired by the launching of a spacecraft to the moon which brought a new paradigm to the world.
Moonshot believes that every woman is beautiful in their own way. Hence, they strive to provide the necessary tools and creativity to provide a unique transformation phase to bring out their inner beauty.
K-POP + COSMETICS = MOONSHOT This is a unique concept whereby K-POP (music) and cosmetics collaborate together. It cannot be found in any other cosmetics or makeup brands. The YG spirit of music, creativity and style is what they strive for when they create their products.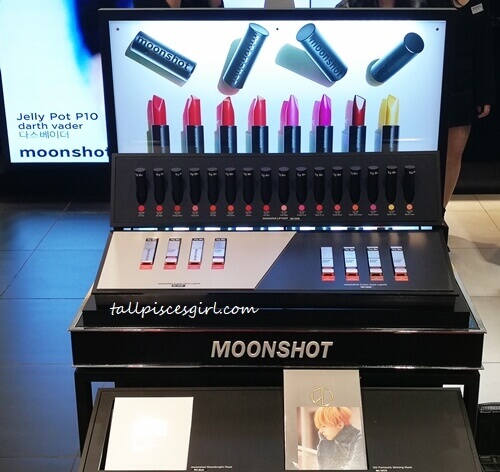 Moonshot Malaysia
Moonshot Malaysia
In just the span of 1 month, Moonshot Malaysia has launched 3 new stores which are located in Sunway Pyramid, 1 Utama Shopping Centre, and Pavilion KL. It was an honor to be invited to Pavilion KL's store preview for a sneak peek before they open to the public. Seo Chang Hyun, Moonshot Makeup Artist flew all the way from Korea to demonstrate how to use Moonshot cosmetics and create the perfect K-Look. Some notable Moonshot best-sellers include:
Layerable Ultra light Microfit Cushion
(RM 180) which instantly brighten up skin tone and contains anti-darkening formula
Face Perfection Liquid
(RM 238) which is a long-lasting, light texture liquid foundation which semi-matte finish that produces different effects of coverage by layering
Dark Spot Concealer
(RM 125) is one of the most hyped products as it does not only cover dark spots with excellent coverage; it also provides whitening / brightening effect to the skin.
Lip Products
Moonshot Lip Feat – 16 colors (RM 138) Moonshot Cream Paint Lightfit – 8 colors (RM 130)
Moonshot Cream Paint – 16 colors (RM 128) Moonshot Stick Extreme – 10 colors (RM 125) Moonshot Lip Treatment Glow (RM 128)
Jelly Pot is their signature product, a pigmented waterbase jelly formula eyeshadow which glides effortlessly and dries up quick. Available in 3 types: Glitter, Pearl, Matt. My favorite is Jelly Pot G02 in Moon Noir. Can't help but to stare at the bling bling effect!
BIGBANG fans will definitely go gaga over GD Fantastic Shining Mask, GD Eau De Toilette, BIGBANG10 Hand Cream, and BIGBANG 10 Lip Balm!
Had a simple makeover using their products and I really love them!
♥♥
On my lips is Cream Paint Lightfit and Jelly Pot G02 in Moon Noir on my eyelids. List of outlets: 1. Sunway Pyramid, Selangor – G1.81, Ground Floor 2. 1 Utama Shopping Centre, Selangor – LG313, Lower Ground Floor 3. Pavilion KL – P4.13.00, 4th Floor 4. Gurney Plaza, Penang (Coming Soon) 5. Ipoh Parade, Perak (Coming Soon)
Update (December 2019)
: Moonshot Malaysia has went from offline to online but some of the products may be available in-store at the Underwater store at Level 5, Pavilion KL. You can purchase Moonshot Malaysia products via online now:
https://wooh.my/collections/moonshot
Visit their Facebook Page for more updates:
https://www.facebook.com/moonshotmalaysia/