Last weekend was a fruitful one. I had the opportunity to be at the 'Live Presentation and Tasting session' of Jeff Ramsey, the head chef at Babe Restaurant. Babe is a popular restaurant in Damansara Heights, KL that serves 'Japas' (modern Japanese tapas) for a at CUBE_1 KL in Isetan The Japan Store KL. He is the first and still only American to earn a Michelin Star outside of the US!
Jeff Ramsey's culinary history: 1998 – Studied the art of sushi in Japan 2005 – Offered to lead the opening of the Tapas Molecular Bar of the 6-star Mandarin Oriental Hotel in Tokyo 2006 – Took the title of Seven Sushi Samurai's Sushi of the Year Award 2008 – Jeff Ramsey earned his first Michelin Star 2016 – Opened his own restaurant, "Babe" at Damansara Heights, Kuala Lumpur, serving "fun dining" Japas cuisine.
Live Presentation and Tasting session with Chef Jeff Ramsey of Babe
For this exclusive event, he curated a special Japanese food menu by using Marukome, a Japanese miso paste.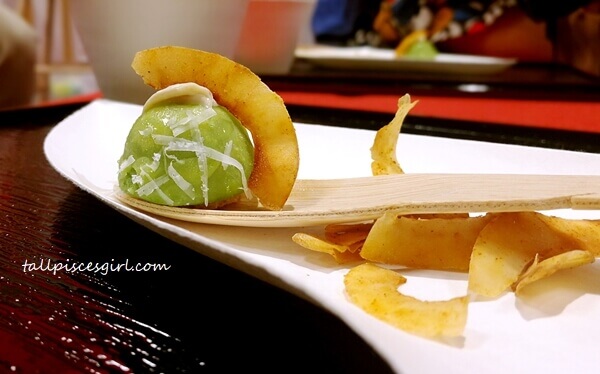 "Caesar Salad" Semi Frozen Salad Capsule
: When you say Caesar Salad, I'm sure everyone will know what to expect in their mind. The usual bunch of greens in salad dressing. We were all in awe, seeing that our Caesar Salad is actually in capsule form! Using frozen toasted Brioche, a type of French pastry, Chef Jeff Ramsey meticulously injected the taste of Caesar Salad into it. Hence, it might look tiny from the outside but packs a punch on the inside. The taste of Caesar Salad is bursting as the frozen capsule melts in your mouth. Jeff Ramsey also complemented this dish with coconut bacon. So it's a
pork-free bacon
! How did he do it? He uses roasted raw coconut flesh which was added with soy sauce, onion powder, and paprika to create the taste of bacon. If you're curious to know how it tastes like, head over to Babe.
Sashimi Spring Roll
: Sashimi wrapped in spring roll is definitely a fresh idea. It's Japanese food with Malaysia's local touch. Something that we can relate to.
Totally love the crunchy spring roll with fatty tuna belly pieces, Shoyu Koji jelly, and spring onion stuffing on the inside. Shoyu Koji jelly enhanced the umami taste of the dish as a whole. Koji is a mold species grown in rice which is an essential part of traditional Japanese condiments including miso and soy sauce to create depth.
Miso Butter Clam Chowder
: Chef Jeff Ramsey prepared this amazingly smooth Miso Butter Clam Chowder using warm potato mousse, onion jam, and ankake dashi. All the flavors blend together in harmony, sending foodgasm in our mouths.
Jeff Ramsey also used Ekimiso (Liquid Ryotei No Aji by Marukome), miso paste in liquid form that does not contain MSG in preparing this creamy clam chowder. So delicious, it makes me hungry for more.
Babe-n-Dazs
: I believe a lot people had ice cream sandwich before but definitely not one with V.S.O.P., foie gras, and aged mirin as filling, right? And this is exactly why Jeff Ramsey's method of food preparation is unique. Thanks to his creativity, we get to enjoy special dishes like this. I'm totally impressed! P/S: Don't forget to pay attention to the inspired packaging for Babe-n-Dazs as well!
A big thank you to Jeff Ramsey for this gastronomic journey! Can't wait to visit Babe Restaurant soon and try the rest of his creations.
Apart from the event entrance ticket, participants also received a coupon for a FREE sake tasting of their choice. The sake fair features 45 different types of sake from 9 areas in Japan including Aroma Umeshu, Junmaidaiginjo Murokagenshu Take and Suigei Junmaidaiginjo Yamadanishiki. Sake lovers are gonna go crazy over their competitive pricing! I took the chance to try out Kunizakari Rose Umeishu – loved the taste of natural rose!
If you're not a fan of alcohol, I recommend you to try Amazake, it's a fermented and nutritious rice drink which is made from rice, rice koji, and salt. It became a sought-after drink after being recognized as the new Japanese super food. What I love is, it's naturally sweet (so no sugar added) and contains 9 essential amino acids, antioxidants, and enzyme!
Don't forget to also check out these super convenient instant miso soup and miso paste. For updates on future events at Cube_1 Kuala Lumpur, stay tuned to their Facebook Page:
https://www.facebook.com/cube1kl/
.