Malaysians are so blessed. We have all kinds of big brands famous for their yummy food coming in. One of them is the famed F&B brand in Bangkok, Greyhound Cafe.
Greyhound Cafe @ ANSA Kuala Lumpur
Greyhound Cafe has been making waves since they first opened in Kuala Lumpur a year ago and today, they're still doing very well thanks to the quality fusion food they've created.
This Christmas, Greyhound Cafe is also getting into the mood of celebration. They have selected a few dishes from their menu to highlight during this season and decorate them according to Christmas theme.
Starter: Grilled Yellow Pumpkin with Sesame Tsoyu Dressing on Mix Lettuce & Pomegranate Seed
Who would have guessed that grilled pumpkin can taste this good? I love pumpkin but I usually had it Chinese style, so it's normally plain and soft. At Greyhound Cafe, the grilled pumpkin was seasoned really well so it tastes really awesome! You gotta try it to believe it. To spice things up, it also comes with sesame tsoyu dressing on mixed lettuce. I love that they decorated the plate nicely a la fine dining.
Main Course: Grilled Salmon Steak & Green Anchovy Sauce Served with Thai Basil Mashed Potato & Pomelo Pomegranate Salad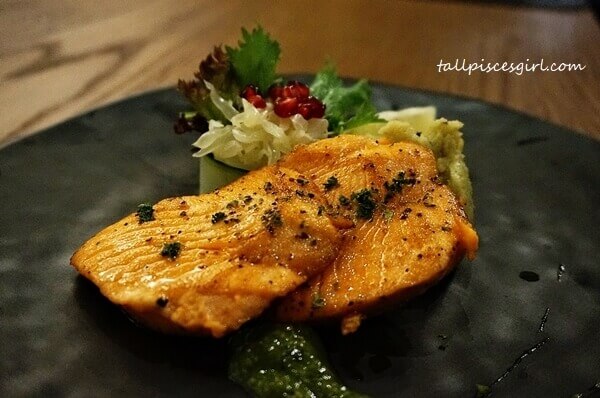 This Grilled Salmon Steak is very suitable for Christmas especially if you're a health conscious person. Don't get me wrong though. The reason I say this is because this is a healthy dish that is absolutely delicious so you don't have to feel guilty for enjoying good food!
Tip
: Try to eat the grilled salmon steak with and without the green anchovy sauce. Either way, they both tastes good but the taste is uniquely different!
Dessert: Greyhound's Signature Coconut Crepe Cake Served with Berries & Red Ruby
Last but not least, let's dig in into Greyhound's Signature Coconut Crepe Cake because a celebration is not complete without dessert. Everyone of us went crazy after having the first spoonful because it's just so so so delectable! The chunks of coconut flesh in between the smooth mille crepe adds texture to the cake so there are something crunchy to chew on. Don't forget to drop by at Greyhound Cafe @ ANSA Kuala Lumpur for a memorable Christmas date and gathering!
MERRY
CHRISTMAS
!!!
Address
: Greyhound Cafe Malaysia Lot No. 02, Ground Floor, ANSA Kuala Lumpur, 101 Jalan Bukit Bintang, 55100 Kuala Lumpur
Tel
: +603-2148 1188
Opening Hours
: Sun – Thu: 11:00 am – 11:00 pm Fri – Sat: 11:00 am – 12:00 am