The joy and excitement of owning your own crib is indescribable. However, the real headache comes when you think about renovation and interior design. Recently, my bestie also asked for my help to introduce trustable interior designers. Unfortunately, I did not renovate my home much because I too was worried about trusting the wrong contractor and interior designer. There are too many cases where they ran away with the deposit money in the middle of work. This shows that most people relied on word-of-mouth when finding renovation contractors and interior designer. Sure, Google search helps but then it might only lead to well-advertised companies which also might transfer their advertising cost to the clients.
Atap.co
It's such a pleasant coincidence to stumble upon Atap.co, a trusted platform that connects
interior designers in Malaysia
with people who wish to give their property a facelift. They currently have over 1,000 local interior designers onboard with them. Finally a place to search for trusted interior design firms which have been verified for authenticity and legitimacy!
With Atap.co, property owners can plan everything regarding the creation of their dream home here. If you're unsure of what you want, you can find inspiration by browsing
interior design photos
. When you stumbled upon anything you like, just add them into your album so you can show to your interior designer. You can also browse through interior designer portfolios before starting construction of your dream space! Remember, what's most important is not about popularity, but their unique design style. Atap.co also publishes useful
articles on home and space trends
, news, DIYs, and know-hows to educate and inspire home owners. Make sure you check them out!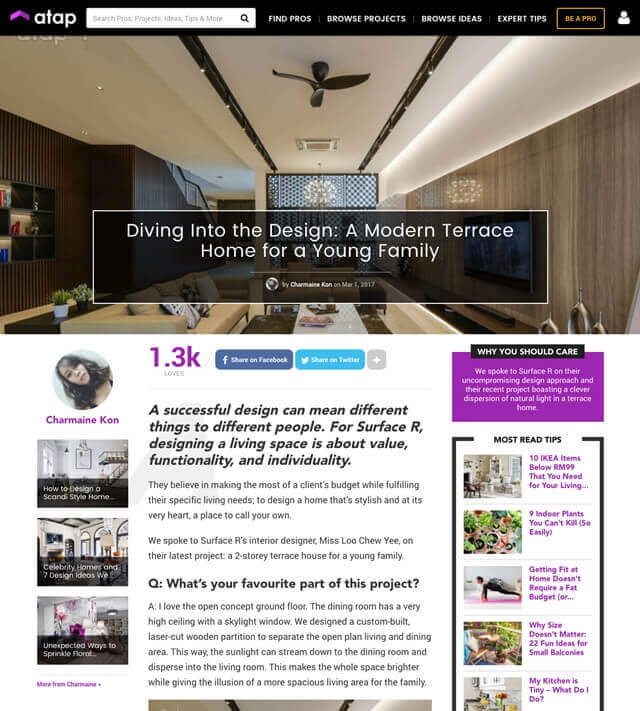 How to Use Atap.co
Narrow down interior designers by applying filters. I love the fact that they have many useful filters such as property type, area, style, work type, state, color, property size, property value, project budget, and many more!
Request a free quote from your preferred interior designer or send a general request through Atap.co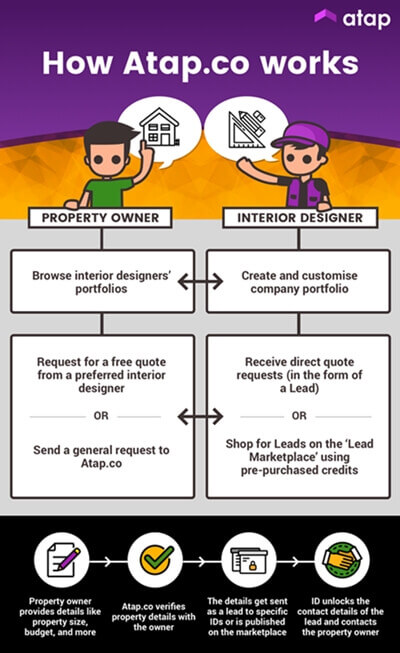 Apart from benefiting property owners, interior designers can also benefit from using Atap.co with these features:
Lead Management Tool
User-Friendly Profile, Portfolio, and Custom Website
Quality Assurance for Every Lead as their dedicate team will call and verify property details and requirements before posting them up
In a nutshell, Atap.co is creating a win-win situation for both home owners and interior designers. For home owners, they'll be able to find trustable interior designers and renovation contractors that matches their style while for interior designers, they get more online exposure and leads. So regardless if you're planning to hire interior designer for your new dream home or refresh the look of your current home, don't hesitate to check out Atap.co for a hassle-free experience. For more information or enquiry, kindly visit Atap.co's website:
https://atap.co/malaysia/en