If you can't live without a cup of great tea everyday, I have a good news for you! We can now savor high quality tea from Tetley, Britain's iconic tea brand as they finally arrived on our shores. Tetley tea leaves are sourced from 11 countries across 3 continents and only young leaves and unopened buds of Camellia Sinensis were used.
Tetley Malaysia
Being the 2nd largest tea brand globally, Tetley tea prides itself for its heritage of 180 years of perfecting the fine art of blending tea. Hence, it was such a great pleasure to join the Art of Tea Blending session hosted by globally renowned Tetley Tea Master from the UK, Sebastian Michaelis, at Cocott' @ The Greens, TTDI.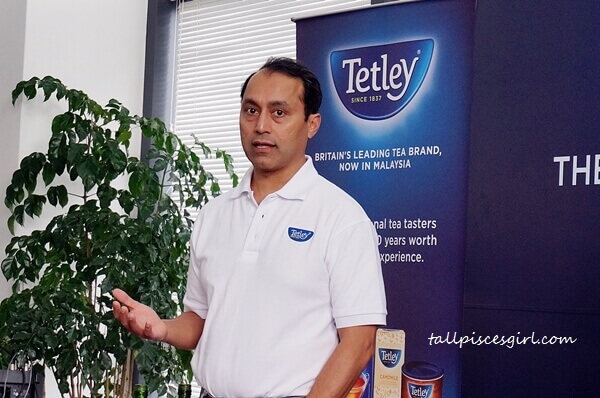 What a tea master do everyday is to source good quality tea leaves, blend tea to maintain its consistency, and lots of tea tasting. Every blend is taste tested 8 times before it can be judged good enough to be called a quality Tetley cuppa!
The process of tea blending starts by assessing the tea leaf and tea liquid's quality using a unique language called
Uhuru
. Then, they examine and grade the leaf density, color and record the shape, form and size of the leaf.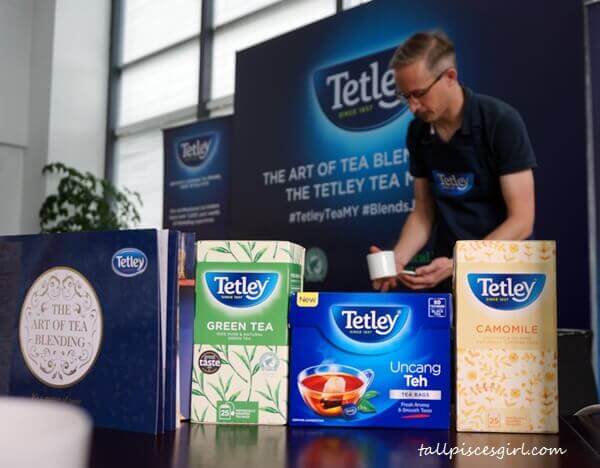 Tetley Tea Tasters assess the following factors of a tea liquid:
Sparkle – purity of the color
Color – from a deep red up to a bright yellow
Body – the weight of the tea in the mouth
Zing – overall liveliness of the tea on the palate
Every Tetley master blender tastes 40,000 cups of tea in a week! No wonder Sebastian Michaelis had his taste buds insured for £1 million!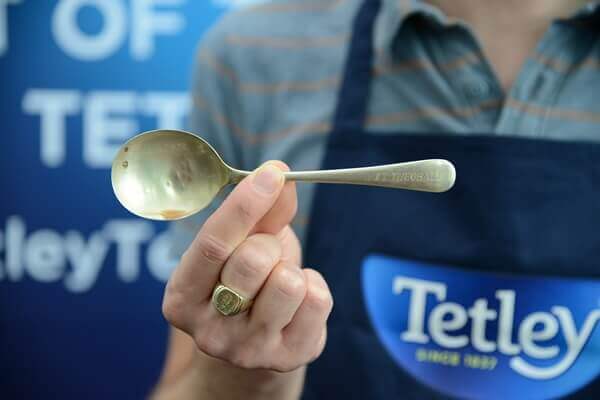 Whether your preference is Black, Green or Herbal, Tetley's teas are perfect for any occasion with quality assured by Tetley tea tasters.
Indulge in the all-time-favourite 
Teh Tarik 
with Tetley's Black Tea loose leaf range, specially crafted just for Malaysians by the blending masters themselves. Alternatively, add a splash of delight to your everyday routine with the robust, flavourful taste of Tetley's English Breakfast, Earl Grey or Chai Spice.
The refreshing, aromatic Tetley Green Tea, Green Mint Tea or Jasmine Green Tea is an exquisite treat for the taste buds, while Camomile tea offers a mellow, relaxing way to unwind after a hard day's work.
How to make that Perfect Brew
Vessel: A thinner lipped China cup or mug is the best vessel, as it allows you to taste a fuller flavor of tea with every sip.
Water: Use only once-boiled water. Re-boiling reduces oxygen levels and affects the taste.
Brewing Black Tea: Tastes best when brewed in water that has reached boiling point (100 Celcius).
Brewing Green Tea: Cool it! Once boiled let it cool for 2 minutes to avoid developing a bitter taste (80 Celcius).
Milk: Always add the milk after the tea has fully brewed.
Time: Leave the bag for at least 2 minutes. The, remove it. Do not prod and poke.
Temperature: Once brewed let it cool for about 2 minutes before drinking.
Storage: Always ensure that teabags are stored in an airtight container in a cool dark area.
Each cup of Tetley tea is sure to evoke a sense of comfort, warmth and joy from the very first sip, allowing family and friends to share in memorable light-hearted moments whilst enjoying that perfect cuppa.
Watch this video if you wanna know what Sebastian shared with us during the session: What I love most about Tetley is their commitment in ensuring its process of growing, sourcing, buying and blending tea is socially fair and environmentally sustainable. They are one of the founding members of the Ethical Tea Partnership and focused on sourcing teas from Rainforest Alliance farms. Currently, more than 50% of Tetley tea worldwide is Rainforest Alliance Certified.
Where to Buy Tetley Tea in Malaysia
Tetley's products come in a variety of distinct packaging, including String & Tag tea bags, round tea bags, teapot bags and loose tea. They are available at major hypermarkets and supermarkets across Malaysia. String & Tag tea bags and Canister tea bags are priced at a recommended selling price of RM11.90 and RM8.90 respectively. Meanwhile, tea bags, teapot bags and loose tea are priced from RM6.50, RM8.00 and RM8.90 respectively. Tetley teas are certified
Halal
. Remember to bring back some Tetley tea home the next time you go for grocery shopping! For more information, visit
www.tetley.com
.