Hey guys, recently I was introduced to Breakout. Have you heard about it before? I'm sure many are familiar with
escape room game
, right?
Breakout
Breakout is the latest entertainment outlet that provides surreal escape gaming experiences. So far, they have 2 branches in Malaysia; Avenue K and Nu Sentral. I'm all in for discovering new fun experiences so here I was at the Avenue K branch together with my blogging comrades for some play time!
Breakout offers a twist to the usual escape game by incorporating real-time role playing strategies into their games. Currently, they have a total of 12 unique thematic game rooms (7 in Nu Sentral and 5 in Avenue K). Each theme room is suitable for 2 to 8 players. However, it is advisable to choose the easier one if you have less player because you need more brains to breakout from the harder rooms. You can still take up the challenge though if you think you're smart enough haha!
Breakout Avenue K
Each game room is designed to have its own storyline, mindboggling puzzle, tasks and stratagems to be completed within 45 minutes. At Avenue K, the game room choices from the easiest to the hardest ones are:
Project Fallout

Project Fallout – Handcuffed from the start?!

Project Fallout – This is exciting! Anyone wanna get handcuffed with me?

Project Fallout – I've forgotten who I am but I'm mixing something out just because I was told to

Chamber of Hocus
Mr. Oswald's Greatest Show
Since we have 9 people in total, we were divided into 2 groups. My group has 5 people, so we decided to challenge the second hardest game which is Mr. Oswald's Greatest Show! But first, it's briefing and role-assigning time!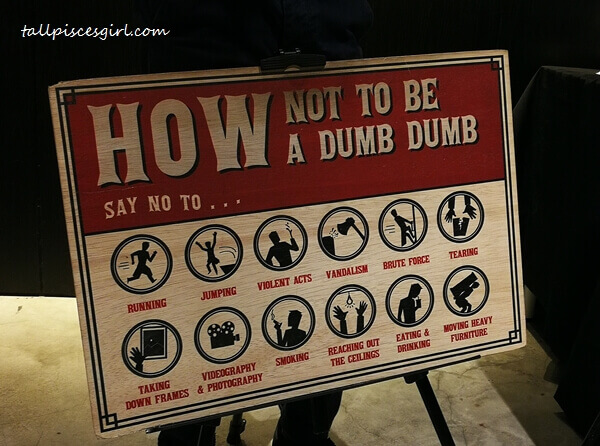 So yeah, in short, don't act like a monkey! The clues will be very straightforward and easy to find. Hence, vandalism isn't necessary.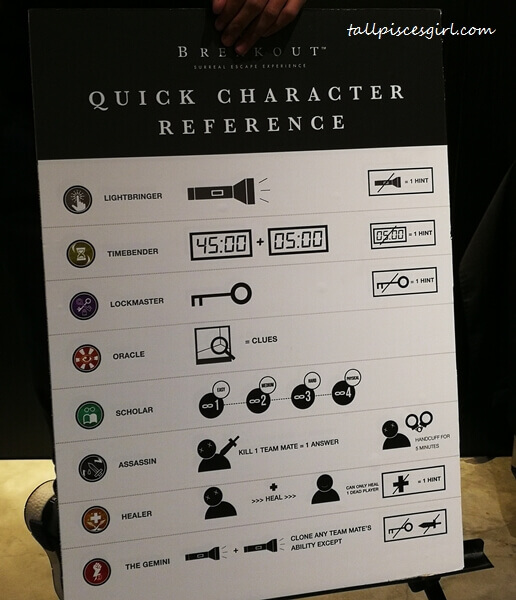 So our goal is to break out from the room within 45 minutes. The interesting part is where you decide which member gets assigned to which role because you need to pick the most suitable person for the job. There's no need to be too worry though as the game master gave us some tips and guided us for this. Guess what's my role? I'm the HEALER! As you can see, my power is to heal the killed member if I wish but if I choose to forfeit my power, we'll get one hint.
Breakout – Mr. Oswald's Greatest Show
As soon as we entered the game room, we were handcuffed together. Then, the lights went out.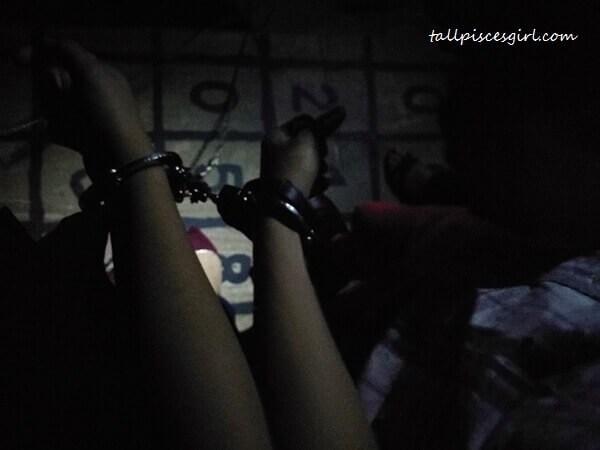 The game master asked us to close our eyes as he began to tell us the story on how we got to the scene of Mr. Oswald's puppet show. It was very immersive and our hearts were pumping fast. Will something drop out of nowhere? Will there be creepy sound beside our ears?
I'll let you guys find out for yourselves because spoilers are not cool at all.
During the process, we had so much fun trying to figure out where the clues are, what the codes are, and how to overcome the obstacles. Thanks to our wits, skills and teamwork, we managed to solve the puzzles and breakout from the room on time! Woohoo~~! That was the best feeling ever! So much satisfaction because we won as a team.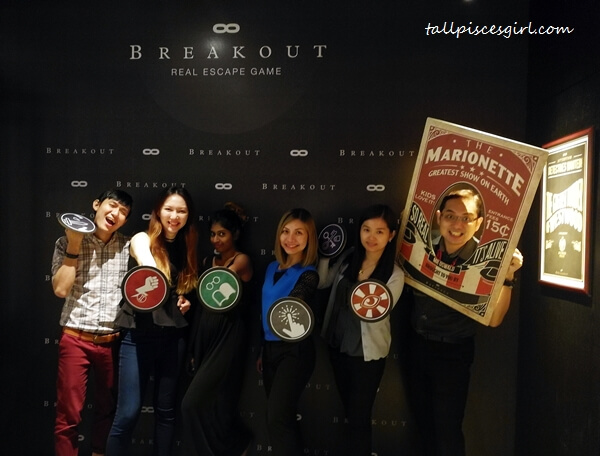 The addition of characters with special abilities for role playing purpose made the game much more interesting and it helped us a lot in solving the puzzles. I also realized that through this, we're able to utilize our analytical, time management, decision-making and strategizing skills. Perhaps, we might be able to discover what's our strength and weaknesses through this game. Breakout is suitable for all age range from teenagers to working adults. They also cater for large group activities such as team building sessions, birthday parties, events as well as commercial collaborations. I personally feel that it's extremely suitable as team building activity because through this game, the team leader can find out what his/her team members are good at and assign work responsibilities based on their strengths. FYI, Breakout is a proud homegrown Malaysian brand that has been rated as No.1 on TripAdvisor Malaysia under Fun and Games category! Plus, they have expanded to various countries worldwide including Canada, South Korea, USA, Saudi Arabia and more.
Buy 1 Free 1 Breakout Game with The ENTERTAINER
The ENTERTAINER is the region's leading Buy One Get One Free incentives brand that include over 1,200 deals for hotels, restaurants, cafés, attractions, leisure activities, spas, fitness, retail and more. With ENTERTAINER Malaysia 2017, you can save up to MYR 415,000! With the Ongoing Sale, you can purchase the app at
only RM 75 instead of RM 145
! If that doesn't excite you enough yet to click on the BUY button, how about an
additional 10% discount
for being my reader? Double YAY!!! All you need to do is key in this special promo code:
ENTERTAINER7
Thanks to The ENTERTAINER app, you'll be able to get 6 Buy 1 Free 1 deals (3 at Avenue K branch and 3 at Nu Sentral branch)!!! Isn't that super worth it? For more information on the ENTERTAINER, check out
https://goo.gl/jKtn2s
.
Address
: L2-16 (Level 2), Avenue K Shopping Mall (Reachable via LRT KLCC station), 156, Jalan Ampang, 50450 Kuala Lumpur
Tel
: 603-2181 1835
Operation Hours
: Daily 10 am – 10 pm
Website
:
https://www.breakout.com.my