Most friends would know how much I love my coffee and yes, I'll die without coffee. Hence, ARISSTO Happy Maker Coffee Capsule Machine is literally my life saver. I must have at least a cup of coffee everyday without fail. I don't need it to keep me awake or alert but I simply need to have it because I feel less stressed when I'm having my cup of coffee. However, sometimes I need to rush out for events and I don't have the time to brew my own coffee. I'd have to settle for instant coffee which I don't prefer. If you haven't know, instant coffee doesn't contain actual coffee beans. The coffee flavor is made using artificial flavoring. Even if they did use real coffee bean, it is in low quantity and quality. The rest are just sugar!
ARISSTO Happy Maker Coffee Capsule Machine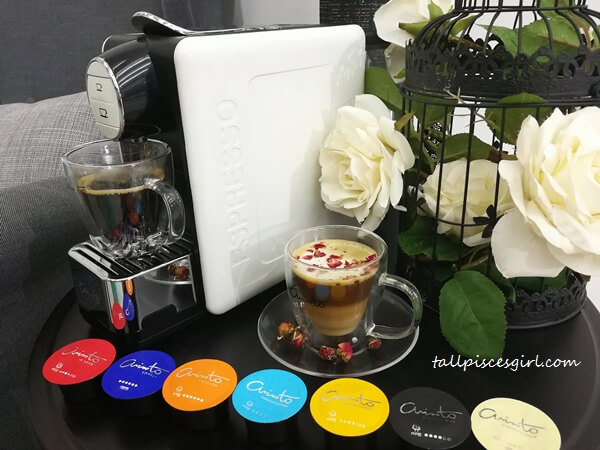 With ARISSTO Happy Maker Coffee Capsule Machine, I can finally enjoy a cup of premium Italian coffee in just 30 seconds at the comfort of my own home. Heating water to 92.5°C with 19-bar pressure, it brings forth the wholesome essence of a perfect cup of premium coffee. The coffee machine comes with an elegant and classy appearance. The best thing is, it is compact and thus, space saving. This is the perfect coffee machine for people who has limited kitchen area.
ARISSTO Italian Premium Coffee
ARISSTO presents a revolutionary invention of coffee capsules as the original taste of premium coffee powder is preserved in specially designed capsules.
Why Choose ARISSTO Italian Premium Coffee
Unique ARISSTO Signature Flavours Expertly crafted by Italian coffee masters, ARISSTO uses coffee beans that are of the highest quality of Arabica from the high mountains of Brazil, Colombia, Costa Rica, Guatemala, Togo, Kenya, Ethiopia and more countries.

ARISSTO Premium Italian Coffee

A healthier choice Exclusively low-calories milk capsule (only 40 calories per capsule) makes it the perfect choice for those who are health conscious. The amount of calories is 5 times lower than ordinary coffee. Even if you're not a health conscious person, there's no reason why you shouldn't choose the healthier choice, right?
Save more money! Thanks to ARISSTO, I get to enjoy premium Italian coffee at 80% below the price of cafe-crafted coffee. ARISSTO Coffee's price can be as low as Espresso: RM2.30 Long Black: RM2.30 Cappuccino: RM3.80
ARISSTO Signature Flavours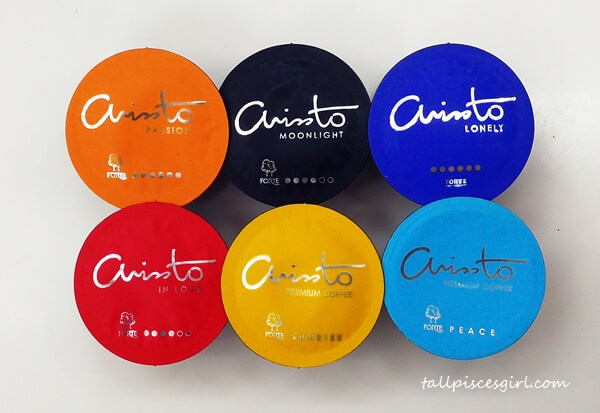 There are a total of 6 ARISSTO Signature Flavours excluding the milk:
Sunrise – A perfect balance of nuttiness and richness. It is spirited and pleasing. A perfect match for Americano and other types of coffee.
Moonlight – A perfect balance of satisfying medium body and crisp acidity with citrus-fruit note. It expresses a light rounded blend of exquisite fresh fruits.
Peace – Contains 100% premium Colombia Supremo coffee beans. It's a perfect drink especially for those who fancy Americano or Colombian style.
Lonely – A blend using the finest beans from 5 continents to create rich, high intensity roast that results in a balanced taste with hint of bitterness.
In Love – In Love is a well-balanced coffee of medium acidity and body. A great choice for those who dislike bitterness because it has low bitterness level and has a sweet deep flavor.
Passion – As the name suggests, it is strong bodied with a robust taste like dark chocolate. Due to its strength and is less affected by milk, it is suitable for coffee variations such as cafe latte or cappuccino.
How to Use ARISSTO Happy Maker Coffee Capsule Machine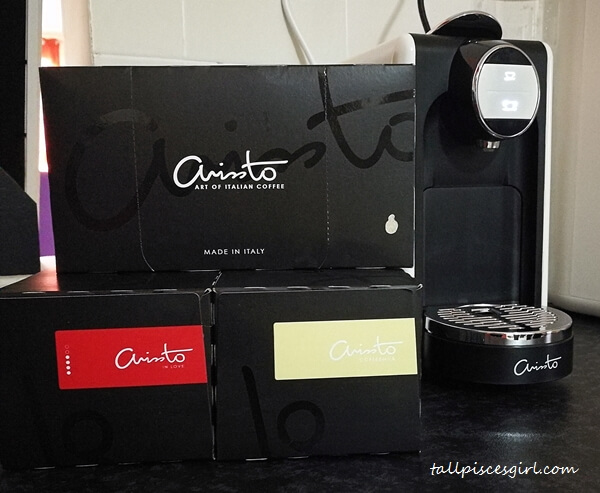 Turn on the power supply and switch on the coffee machine.
Wait till it beeps to indicate that it's ready to use.
Lift up the lever fully and put in ARISSTO coffee capsule. Putting milk or coffee first is depending on personal preference. I prefer milk first because it feels smoother.
Close the lever.
Depending on the level of intensity that you prefer, choose small or big cup. If you're adding milk, I suggest to choose small cup to avoid overflowing and the coffee taste is stronger.
Repeat step 3-5 for the second capsule (coffee/milk).
Lift up the lever again to release the capsule into the container. The container can hold 8-10 capsules at once but I prefer to empty it every time I'm done for hygiene purpose.
Sit back, relax, and enjoy your barista quality coffee.
ARISSTO Capsule Coffee Maker makes me happy. No wonder it is called Happy Maker! 🙂 Now, let's spread the happiness by joining the their Coffee Charity Challenge!
ARISSTO Coffee Charity Challenge
All you need to do is register here:
https://arissto.com/my/
. Select your favorite coffee, time, and venue of the challenge. You can do it at home, office, or any preferred place. Their coffee ambassadors will deliver ARISSTO coffee to the venue and start the challenge. You (and your friends, colleagues, and family) can compare the taste and purity of the coffee. No matter what your conclusion is, they will donate to help the poor children as long as you upload your challenge photos to Facebook.
Do join this meaningful charity project while you get to enjoy a cup of good coffee! For more information, Arissto RM1 Coffee Machine Plan
https://arissto.com/my/rm1-coffee-machine-plan/
Arissto Official Website
https://arissto.com/my/
Arissto Facebook Page
https://www.facebook.com/arisstomalaysia/