Hey pretties! Sorry, this post is dedicated to gals but if you're a guy, you can recommend this to your girlfriend(s) la, ok? For those who have been following my Instagram and Facebook closely, I'm sure you've seen my teaser photo for PUPA Sport Addicted range, right? Paiseh for taking so long to come out with this review. These few weeks have been pretty crazy for me; running here and there.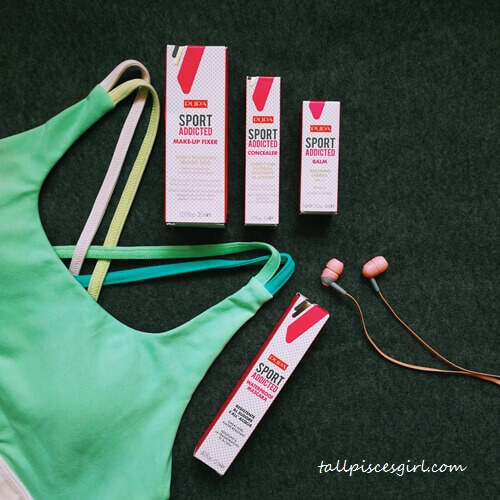 Just in case if you haven't know, PUPA Milano is a renowned cosmetic brand in Italy and the best selling make-up in Italian perfumeries. The best thing is, PUPA Milano cosmetics are available in Malaysia! Where? You can get PUPA cosmetics, including PUPA Sport Addicted Range from Sasa Malaysia. Aren't we all so blessed?

PUPA Sport Addicted
So here I am, introducing their latest makeup collection called PUPA Sport Addicted. This range is an exclusive line of makeup specially formulated to be sweat-proof, waterproof, and totally sport-proof to deliver extremely long-lasting make-up for sports lovers. YASSSS, finally we can workout without looking like a ghost. You know la, now month 7 hahaha better don't give people heart attack.



There are a total of 6 products for the face, eyes and lips but I'm going to share about those I've tried:
PUPA Sports Addicted Concealer
On the first impression, the concealer looks more watery than my current one. However, I found that the coverage is still pretty good, my acne scars and pigmentation weren't visible anymore upon application. I just dot them on the area that I wanted to cover and dab to spread it evenly. The texture was a bit sticky when I dab it. However, there's no need to worry because it's lightweight and doesn't feel sticky on the skin.
Available in 3 shades: 001 Light Beige, 002 Natural Beige (I'm wearing this!), 003 Intense Beige
PUPA Sports Addicted Mascara
I was a little skeptical about this mascara at first because a lot of products claimed to be waterproof and smudge proof but couldn't fight with the oil I produce.
After walking and running for 45 minutes, it proved to be as claimed! Passed with flying colors as there isn't any smudges seen. By the way, I applied double coat on my lashes for more volume. If you prefer a natural look, go for single coat instead. The applicator is made with a mix of 2 fibres with different rigidity. Soft ones for volume and more rigid ones for combing and defining.
PUPA Sports Addicted Balm (Lip Balm)
The shade I got was 001 Pure Vanilla, so it's transparent when applied. But I like it very much because it made my lips look super glossy and it's easy to glide on! The scent when I opened it was very pleasant too. I'm a big fan of vanilla! Color wise, I preferred tinted ones like Nude Rose more so that I can look more girlish 😉 It comes with SPF15 for protection against harmful rays.
PUPA Sports Addicted Make Up Fixer
For the last step, spritz on this magical, innovative water-based spray that acts like a film to protect your makeup, making it sweat-proof and sport-proof.
After workout and full of sweat, I'm happy to find that my makeup didn't melt and turn into chocolate shake hahaha!
If you wanna get these sport-proof makeup, remember to check them out at Sasa Malaysia outlet near you.
Follow Sasa Malaysia's Facebook Page: https://www.facebook.com/SaSaMalaysia and Instagram: https://www.instagram.com/sasamalaysia for more updates.