BMS Organics has always been my choice when it comes to healthy organic food. This time around, BMS Organics is back with their organic mooncake selections (有机月饼) in conjunction with Mid Autumn Festival celebration that is coming very soon! A big thank you to BMS Organics for having me at the launching event held at MyTown Shopping Centre last week.
BMS Organics Mooncake
BMS Organics emphasizes on taste and quality. With consumers' well-being in mind, they ensure that only the finest and freshest materials like organic unbleached flour and all-natural ingredients specially sourced from Taiwan are used for their mooncakes. All these nutritional mooncakes were created and baked with love by a veteran professional baker specially invited from Taiwan.
This year, BMS Organics offers 2 types of organic vegetarian-friendly mooncakes: Cantonese Style Selection and Suzhou Style Selection. The difference between these both lies on the skin itself; Cantonese Style mooncake has shiny and smooth skin while Suzhou Style mooncake has flaky skin.
Their mooncakes were categorized precisely. From Vegan, Ovo Vegetarian, Ovo-Lacto Vegetarian to Lacto Vegetarian. There's something for everybody!
Let's see what are the 8 healthy mooncake choices BMS Organics is offering: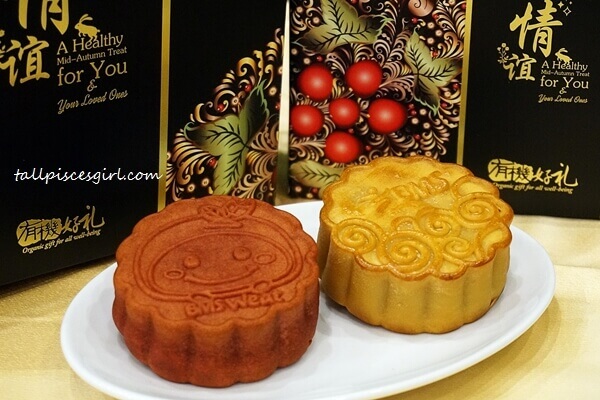 Japanese Tangerine (Vegan)
Stimulate your taste buds with this brand new creation from BMS Organics. Instead of using traditional egg yolk, they replaced it with a whole Yilan tangerine, providing an extra zing to your palate. The honey-soaked lime blends perfectly with BMS Organics' very own Japanese-styled red bean paste. The sweet and sour sensation is definitely interesting.
Red Bean Walnut (Vegan)
BMS Organics places great emphasis on the authenticity, freshness and flavours of each vegan mooncake. The crust is baked with natural red yeast rice. The texture is surprisingly amazing – you get to taste chunky red bean bits and crunchy walnuts with every bite. Simple but delectable and healthy!
Pure Lotus with Yolk (Ovo Vegetarian)
Savoury egg yolk and BMS Organics' own unique paste made from premium lotus seeds is the perfect match. This healthy version of the traditional mooncake contains less fat and sugar, but it certainly does not compromise the silky-smooth texture that we've all come to love.
Purple Chinese Yam Mooncake (Vegan)
Purple Chinese Yam Mooncake looks very interesting as we don't always see purple-colored mooncakes. But rest assured that the color is made using natural ingredients, which is the color of purple Chinese yam itself. The lovely purple Chinese yam filling is not only pleasing to the eye but also high in nutrients. Feel the taste of subtle sweetness, silky texture and the unique aroma of the purple yam in your mouth, a taste that will leave you wanting for more.
Mixed Nuts Delight (Vegan)
If you think that this Mixed Nuts Delight is the traditional mooncake flavour that you always have, you're in for a surprise! At BMS Organics, they have upgraded this classic mooncake into a healthier version. The nutritional values are multiplied because traditionally used nuts are replaced with superfoods such as white sesame seeds, pumpkin seeds, tangerine, walnuts and almonds, which promote digestive, respiratory health and overall well-being.
Matcha Red Bean (Vegan)
Baked at a low temperature to preserve the nutrients, Matcha Red Bean mooncake comes with a natural shade of green that indicates goodness within. Red beans that were specially handpicked from Wandan, Taiwan, are enveloped in a warm fragrant paste made of natural matcha powder, making this an unforgettable treat. Remember, not all matcha powders were created equal as some were made artificially using coloring and flavoring. Opt for natural ones instead.
Taro Pastry (Lacto Vegetarian)
Sink your teeth into this fibre-rich pastry made with the finest yam sourced from Dajia District, Taiwan. The yummy yam bits, coupled with their chef's handcrafted spiral crust make this a pleasure for both the eyes and the taste buds.
Red Bean with Tangerine Pastry (Ovo-Lacto Vegetarian)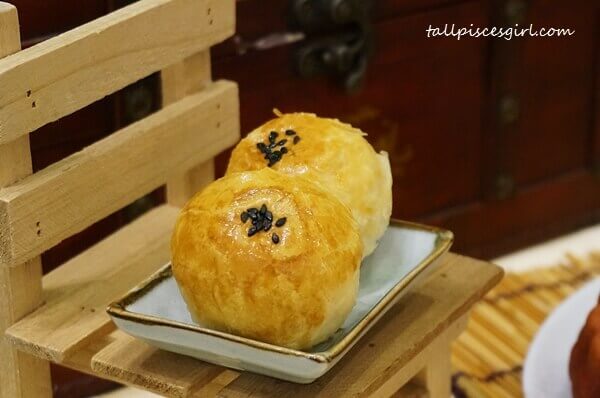 Red Bean with Tangerine Pastry is a refreshing new treat from BMS Organics. It's an awesome combination between Wagashi-standard red bean paste and flavourful tangerine from Yilan, Taiwan that will give you a lingering sour-sweet aftertaste in your mouth.
These nutrition-packed round goodies are set to satisfy your cravings yet bring you tremendous health benefits. What's not to love about them? They are also free from artificial flavouring, colouring and preservatives.
It's the perfect choice, whether it's to pamper your taste buds, or as gifts for your loved ones.
You can buy BMS Organics Mooncakes by shopping online at https://www.bmsorganics.com/ or from their outlets.
List of BMS Organics outlets: https://www.bmsorganics.com/pages/location.