DoubleTree by Hilton Kuala Lumpur has been hosting Shiok! Malaysia Buffet since last 2 years to celebrate Merdeka and Malaysia Day. This round, they're back to offer more with Shiok! Malaysia 3.0!
Shiok! Malaysia 3.0
Aiming to bring you bigger, better and more delicious dishes from all over Malaysia, they went all their way to bring in their chefs extraordinaire from Makan Kitchen, Johor Bahru and Kota Kinabalu. They were each known for their culinary prowess of hometown favorites. JOM MAKAN Shiok Malaysia Buffet with me and see what are the featured favorites during this buffet spread!
Fern Shoots Salad with Dried Shrimp
An interesting salad with young fern shoots, they're crunchy and in every bite, you get to taste different textures of various ingredients.
Kacang Pool
Kacang Pool is a traditional food from Johor and thus, the chef behind this yummy dish was specially brought in from DoubleTree by Hilton Johor Bahru. Made using peas and beans, the sauce tastes similar to Indian Dal but with the addition of lime juice and green chilli, it tastes even better. The correct way to enjoy it is to mix everything together and eat it with the egg and toasted bread.
Nyonya Itik Tim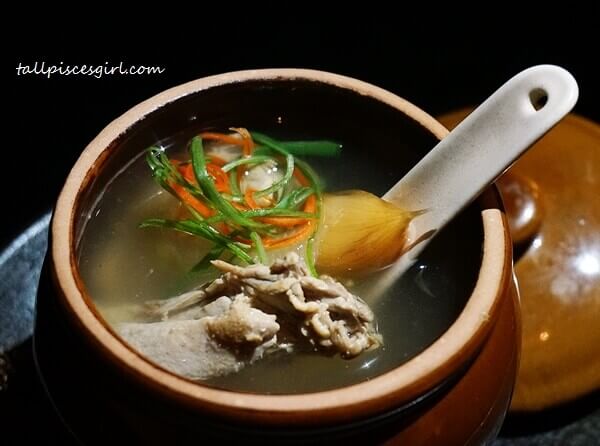 A hearty bowl of warm duck soup with garlic flavor gives me the feeling of bliss on a rainy day.
Lamb Briyani with Telur Pindang
Malaysians can't live without rice and I truly second that! That's why this Lamb Briyani with Telur Pindang is a life saver hahaha! I love the smell of herbs they use, it's so appetizing! And the tender lamb meat tastes amazing.
Kari Udang Nenas
You can't miss out curry when you have Malaysian food. This version even has pineapple taste as a twist. The spicy sour taste is soooo appetizing!
Beef Rendang Tok
The most classic beef rendang is the best: Tender beef cooked with sambal of perfect consistency; not too watery and yet not too thick.
Fish Head Curry Kandar Style
This Fish Head Curry Kandar Style goes VERY WELL with rice, 'nuff said! P/S: I love this shot very much too, it's like a masterpiece
*syok sendiri*
Signature Roasted Duck
Roasted Duck is actually one of my favorite food and I must say that I like the juiciness of Makan Kitchen's Signature Roasted Duck. Not to mention that the crispy skin is very addictive!
Pisang Goreng with Sambal Udang Kering
It's been so long since I had pisang goreng and having it really brings back some nostalgic feeling. Don't forget to dip it into the special Sambal Udang Kering sauce for extra oomph!
Ice Kacang
Behold – the most interesting dish that will caught you by surprise. Is it cotton candy? Nope! Or maybe yes, but there's more! Inside, a bowl of icy Ice Kacang is awaiting for you! SURPRISEEEE!!!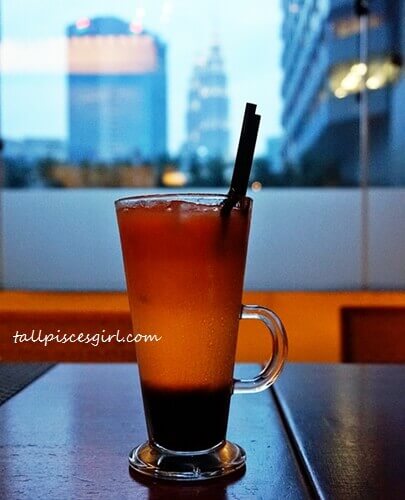 MARI MAKAN MALAM SPECIAL
14 August 16 September 2017 Mondays till Sundays (6:30pm to 10:30pm) Price: RM135 nett per person Indulge in 80 other regular dishes of Makan Kitchen along with dishes such as:
Sarawak Laksa
Larkin Kacang Pool
Beef Rendang Tok
Penang Fish Head Curry Mee
Mamak Sambal Sotong
LAGI SHIOK WEEKEND BUFFET
19 August 16 September 2017 Saturdays & Sundays (12:30pm to 4:00pm) Price: RM91 nett per person Together with special treats for the little ones, free pool access and a wide variety of brunch dishes, serving you dishes such as:
Penang Rojak Pasembur
Johor Laksa
Ipoh Chicken Rice
Melaka Nyonya Fish Asam Pedas
Otak-otak Spring Roll
Enjoy up to
35% off
when you dine with MAYBANK, CIMB, HSBC, AFFIN or WATSONS. For more information on Shiok Malaysia Buffet, log on to
https://flavoursbydoubletreekl.com
or call +603-2172 7272 for dining reservations.