The Theme Park Hotel in Resorts World
Genting
has finally re-emerge as Hotel on the Park last month after a full makeover. Formerly known as Highlands Hotel, Theme Park Hotel holds many nostalgic memories for generations of guests since it was built back in the 70s and known for its proximity to Malaysia's only mountaintop amusement park. When the amusement park was closed in 2013 to make way for the first-in-the-world Twentieth Century Fox World theme park, Theme Park Hotel took the chance to undergo a creative hotel expansion.
Theme Park Hotel @ Resorts World Genting
The newly renovated Theme Park Hotel took me by surprise. The result of the recent makeover was a fantastical take of imagination from fairy tales. As soon as we walked into the 8,000 sq ft lobby, we were greeted by a stack of giant tea cups that reach the ceiling. There's also a giant bench for customers to sit on while waiting to check-in. Clumsy Boy had to help me getting on the bench cos I was a little clumsy too. If you're agile, you should be able to hop on and hop off easily.
The hottest "attraction" at the lobby area is the trick mirrors that exude an exciting world of creative madness inspired by Alice in Wonderland. Don't forget to take a shot (or two) there! 😉
While heading to our room, we were greeted by direction signs in handwriting. "Wow, that's unique.", I thought.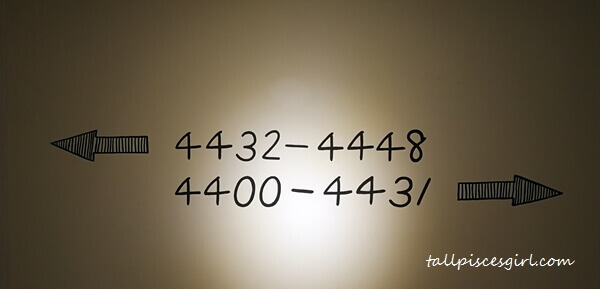 However, we couldn't locate our room. Where's the room number? AHA! Apparently, the room number was written on the floor.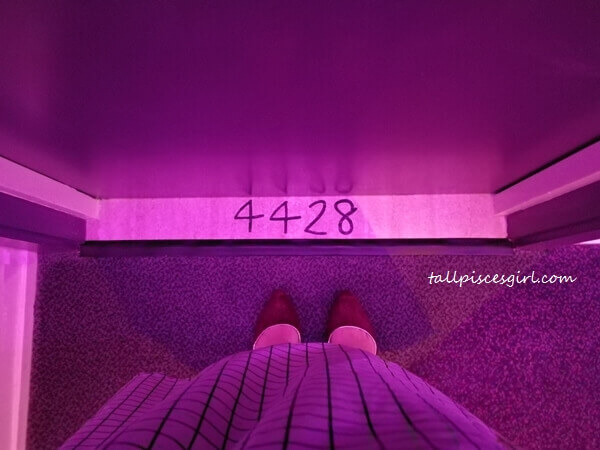 We were too busy admiring the surroundings that we forgot to look at the floor.
Upon opening the door, I was so surprised. OH MY GOODNESS! The room was full of quirky decorations and art was cleverly blended in into making the room more exciting to stay in. Hotel on the Park has outdid themselves by transforming into a fun hotel, just like the AirBnB homestays in Taiwan.
Quads Room @ Hotel on the Park (Price: RM 256/night)
Expecting an influx of visitors when Twentieth Century Fox World Theme Park is opened later, the capacity of each room is now doubled. Hence, the maximum occupancy in this hotel is now 4 pax per room. In our
Quad Room
, the 2 built-in tatami-style queen sized mattress on a raised platform is the central feature of the room.
The raised sleeping platforms were cleverly utilized as extra storage spaces. You'll find a compartment to store luggage, room safe, and a pair of comfy bedroom slippers there.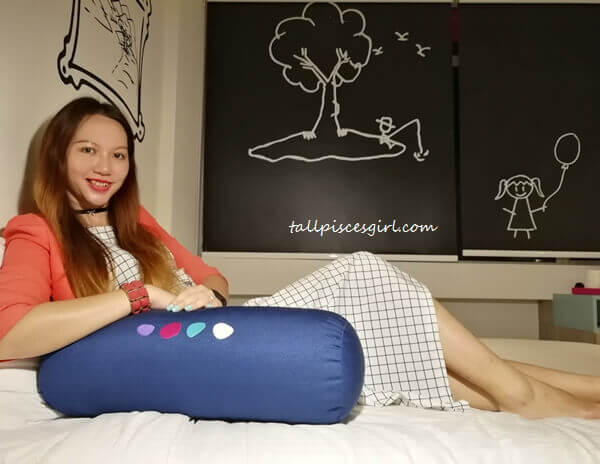 Inside the room, it is filled with so many cute stuffs, it immediately delivers a lot of positive vibes to the guest staying here. Instead of expensive heavy drapes and curtains, blackout roller blinds with unique hand drawn designs in white paint was used.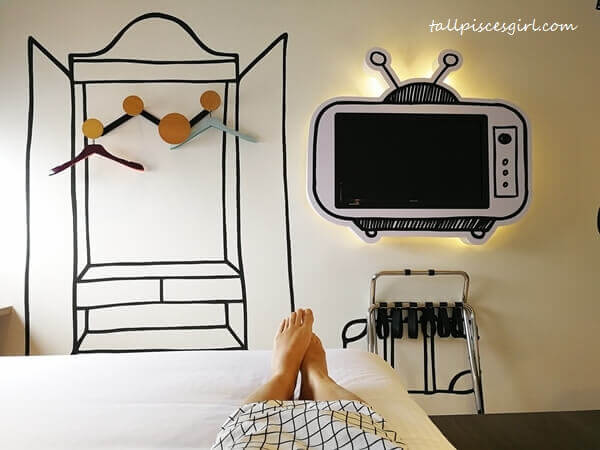 Clothes are hung on knobs around which artists have drawn outlines of closets. The TV set too is hung on brackets, with artwork around it to make it seem as if it was enclosed in a TV cabinet. Interesting, isn't it?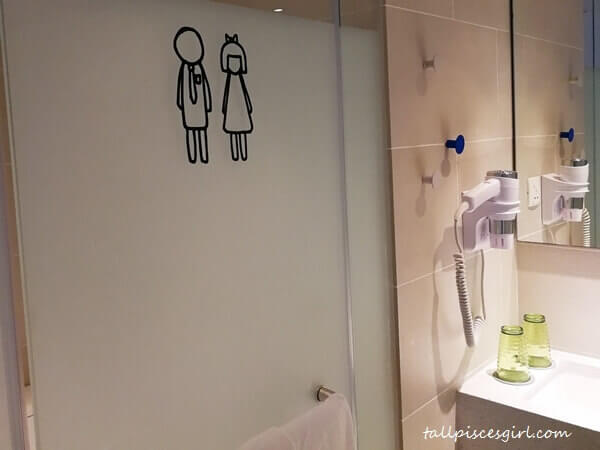 As for the washroom area, it is divided into 2 separate cubicles so you and your partner don't need to fight for the toilet. One is the loo and another is the shower area.
The basin area is spacious enough to accommodate 2 person so if you've never tried brushing your teeth together with your partner, now you can! I'm glad they also have a hair dryer so I don't need to bring my own. It makes my luggage lighter!
The best thing is, they also provide free toiletries. Look how cute the packaging is!
Sixers Room @ Theme Park Hotel (Price: RM 295/night)
For big families, Sixers Room would be perfect as it can accommodate up to 6 pax per room. Parents don't need to worry about being separated into different rooms anymore.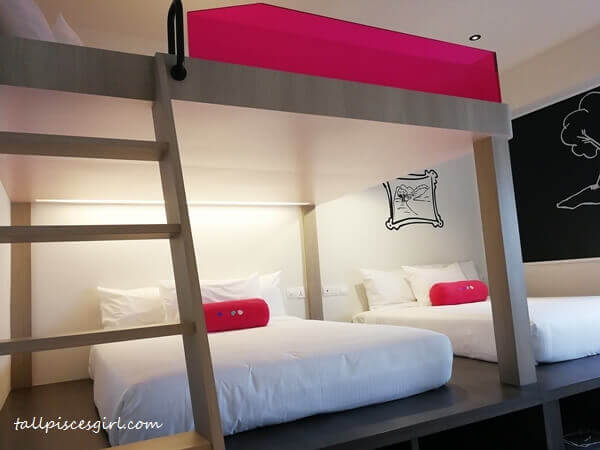 The novelty of the bunk beds are bound to have children clamouring to sleep on top, allowing parents to get a well deserved rest without fidgety children in their proximity.
Putting user experience as priority, the Sixers Room also gets a more spacious washing area. Thumbs up for that!
Kings Room @ Theme Park Hotel
Kings room is built specifically to cater for disabled travelers. This room is designed to be wheelchair accessible.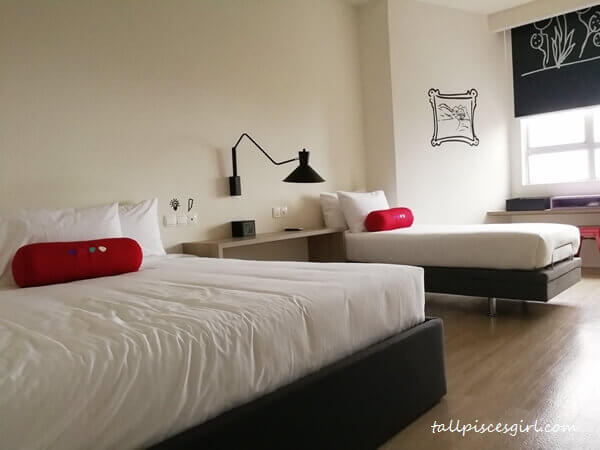 There are one queen sized bed for the guardian and one single bed for the disabled person.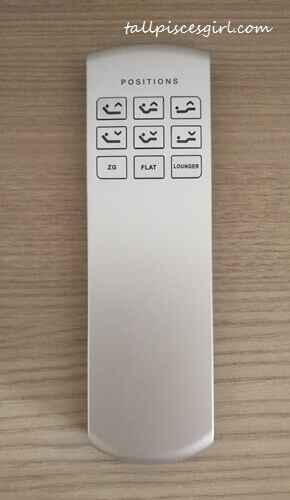 The single bed can be adjusted using the remote provided for maximum comfort.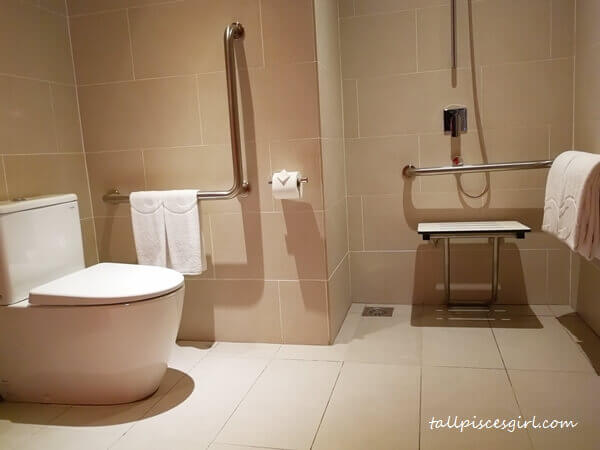 The washroom was also very spacious to ensure that it is wheelchair accessible.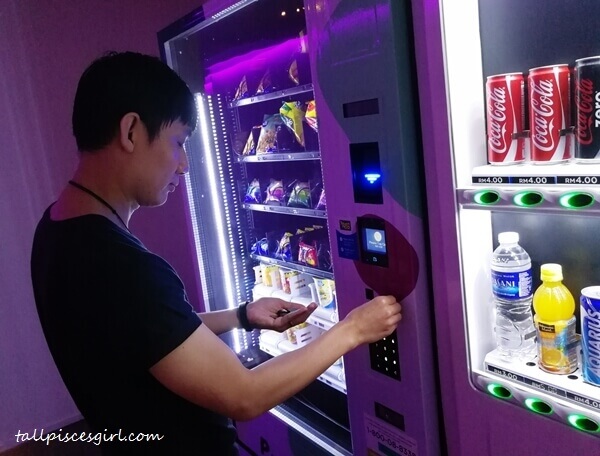 Along the corridors, you'll find vending machines for you to grab a quick bite. Here's a short video tour of the Quads Room @ Genting: For more information on Theme Park Hotel (formerly Hotel on the Park), visit 
https://www.rwgenting.com
 or call 03-6101 1118. Do note that the price stated is normal room rate and is subject to change according to season (low/normal/peak).
Check-in time
: 3.00 pm
Check-out time
: 12.00 pm