Every year, when Christmas is near, I will definitely shop at
Sephora
. I'll buy some skincare products or cosmetics to reward myself after working so hard through the year. Plus, sometimes the
Christmas sets
 are just too pretty I had to buy them for myself or gift them to friends!
Sephora Eye Makeup Haul
This time, I had the chance to shop around for Christmas at Sephora again! Thanks Sephora Malaysia! But this time, instead of shopping at Sephora Malaysia's store, I shopped online instead because my schedule this month is just too crazy. I'm not complaining though 😉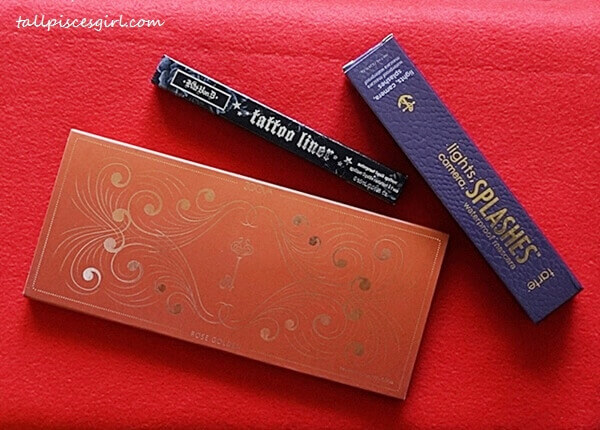 I decided to order some eye makeups since I have a lot of products for my skin already. What I need most are
eye products
that are waterproof and smudge-proof because most of the products I've tried made me have panda eyes. They smudge, no thanks to my super oily eyelids. It's so annoying that I think I'm better off without any eye makeup. Uber happy that my orders from Sephora arrived safely after 2 days! Here's the result of my Sephora haul!
tarte Lights, Camera, Splashes 4-in-1 Waterproof Mascara – Black
Kat Von D Tattoo Liner in Trooper
ZOEVA Rose Golden Palette
tarte Lights, Camera, Splashes 4-in-1 Waterproof Mascara – Black
When I opened the box, my first impression was "WOW! The faux leather packaging is so cool!". I thought it was just a casing but no, that's the mascara itself! So I basically just have to twist this tube in faux leather to open it.
Tarte Lights, Camera, Splashes has 4 functions, which explains why it's called 4-in-1 waterproof mascara. The 4 functions are lengthening, curling, volumizing, and conditioning your eyelashes. It is also enhanced with
Skinvigorating™ ingredients
such as beeswax mineral pigments, and carnauba wax that are known for their soothing and softening properties. Tarte Lights, Camera, Splashes's formulation is FREE FROM:
Parabens
Sulfates
Phthalates
Synthetic fragrances
Synthetic dyes
Petro-Chemicals
Cruelty-free
I was totally amazed by how much my eyelashes have lengthened within the first coat! I've seriously never seen my eyelashes at such length before. The wand actually looks pretty normal like the usual ones in the market but I do realize it's slightly longer. This means I can just swipe once in order to coat all my lashes. And, the awesome formulation doesn't clump. It also adds extra volume on my eyelashes!
You'll need a really good makeup remover (those that are intended for waterproof makeup) in order for it to come off but I'm not complaining! Anything as long as it stays!
Another noteworthy plus point is, tarte Lights, Camera, Splashes 4-in-1 Waterproof Mascara is the most affordable choice compared to other popular waterproof mascaras.
Price
: RM85
Kat Von D Tattoo Liner in Trooper
When I was asking for recommendations of Facebook, quite a number of my friends suggested Kat Von D Tattoo Liner so I decided to get it. The reviews online was super amazing too; holy grail for some. So I have pretty high expectation on this.

The look of Kat Von D Tattoo Liner itself is classy: Matte black finish with silver wordings.

Uncapped it and I was greeted by the superfine brush tip. Brush tip has an advantage over traditional felt tip liner as it is more flexible and will not fray. It is also easier to control the thickness. The tip is so flexible, I can even write calligraphy with it! But obviously mine is not proper calligraphy cos I've never learn it before. This is just for demonstration purpose.
To draw a thin line, I just have to gently draw and if I want it to be thicker, I'll put a bit more pressure on it. The result? Highly pigmented line with maximum precision that stays all day.
I like my eyeliner to be thin, just like the Koreans. Very often, their eye makeup looks so natural it feels like they're not wearing any eye makeup but still look so pretty! Do note that extra care is needed to prevent build-up on the tip. Make sure to wipe the tip with damp tissue before and after using it.
Price
: RM99
ZOEVA Rose Golden Palette
The moment I saw the words "Rose Golden", I knew I had to get my hands on it because it's my favorite color! Rose, gold, and rose gold are all my loves. And the colors look super pretty!
Looking at the eyeshadow colors just reminds me of having a shimmering, bright, and romantic Christmas!
♥♥♥
Don't they all look beautiful? There are a total 10 colors in the palette; 7 metallic and 3 matte eyeshadow colors.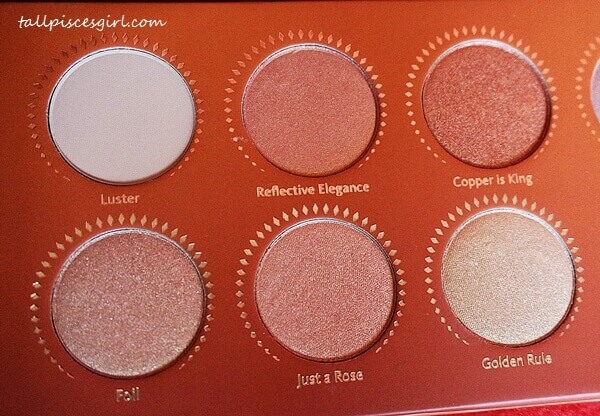 Metallic colors: Reflective Elegance, Copper is King, Shining Bright, Foil, Just a Rose, Golden Rule Matte colors: Luster, Rusty Petals, Harmony, Wonder Full
The exquisite details on the palette itself makes me thought "Oh, this product is a must-have for an Egyptian goddess". This is how imaginative a Piscean is :p
After swatching them, I found that the colors are just undoubtedly gorgeous and highly pigmented, especially the shimmery ones. They might look a little chalky but after I blend them, they actually look great. Plus, there's no fallout!
The colors are easy to blend and definitely buildable. I can't wait to try more looks with other colors! This would make a great gift this Christmas!
Price
: RM134
Shop for your favorite
eye products at Sephora
now and receive a sample with every purchase! P/S: Please excuse my eyebrows, I'm having bad brow day. LOL!