If you're a foodie, you'll realize that
Sanoook Thai-Japanese Restaurant
is the latest food buzz in Sunway area. Sanoook is opened in the new wing of Sunway Pyramid Shopping Mall called
Sunway Pyramid West Hotel
. The building is still fairly new with a few F&B outlets like Sanoook, Impressoul, Menya Miyabi Hokkaido Ramen, and Starbucks Coffee. If you're going from the shopping mall, just look for H&M, head outside and walk straight.
Sanoook Thai-Japanese Restaurant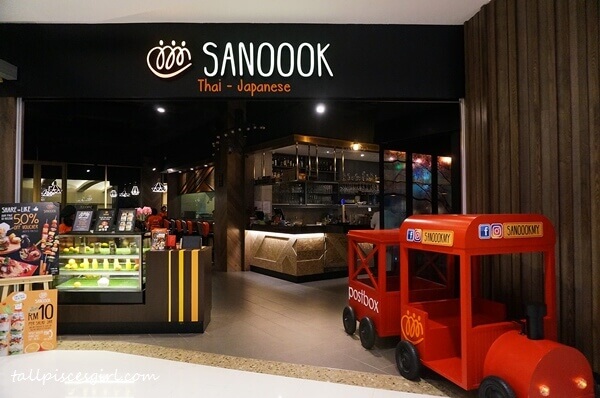 You'll be greeted with this fun looking themed restaurant – and a cute bright red mini train. You can witness live cooking action from the chefs with the open kitchen concept indoor. If you're an outdoor person, there's a cheerful garden-like setting too!
We're all familiar with the word 'Sanook', which means 'fun' in Thai. The extra 'O' in the brand name was added to represent a circle of friendship. Hence, Sanoook means having fun with friends! Of course, things are more fun with yummy food too!
When I have gathering with friends, it's almost certainly that we'll be going to barbeque joints. Maybe because girls prefer masak-masak? It just feels more fun! Besides, grilling at home takes away all the fun when you have to clean up the oily utensils and all. Leveraging on that, Sanoook is running a special
Skewer Night Fever
promotion daily from
5pm onwards
.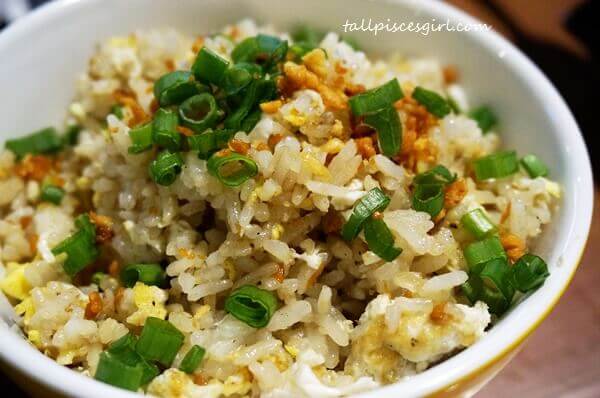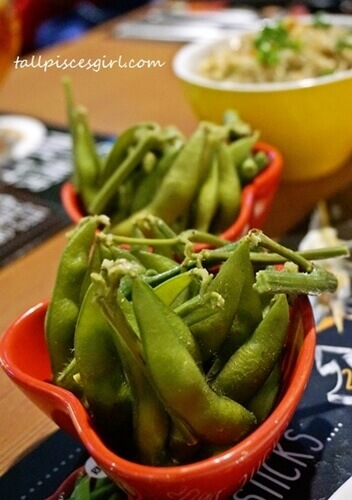 Just in case you're too hungry and can't wait for the skewers to be ready, you can have some
Garlic Fried Rice
and
Edamame
as starters. The Garlic Fried Rice is to die for! Full of smoky flavor (the Chinese calls it wok hei) with nice garlic fragrance.
With 20 varieties to choose from, I'm spoilt with choice. So…
LET'S ORDER ALL OF THEM!
RM 3 per stick
:
Zucchini
Capsicum
Onion
Cherry Tomatoes
Pineapple
Green Apple
Corn
Eringi Mushroom
Shiitake Mushroom
Broccoli
RM 4 per stick
:
Prawn
Shisamo
Beef
Chicken
Chicken Wing
RM 5 per stick
:
Totally loving the atmosphere here as we enjoy the fresh skewers while chit-chatting about lame stuffs and laugh non stop! A big thank you to my companions that night (you know who you are!) for such a fun session. My personal favorites are mushroom, chicken wing, shisamo and butterfish.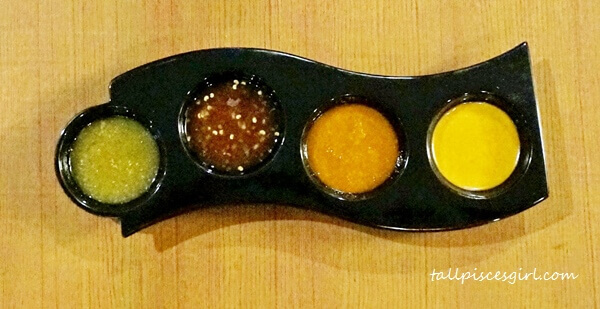 One of the most important things when eating BBQ is the
dipping sauce
! Agree? When made right, dipping sauce can bring the taste of skewers to another level. I'm proud to say that Sanoook has definitely achieved it. The crowd-pleaser is
Sanoook Sauce
, thanks to the well-formulated recipe using various spices. Massaman Sauce was also one of my favorites as it reminds me of the Thai food in
Krabi
.
To make your BBQ experience a lot better, don't forget to pair it up with Tiger Draft Beer. With the ongoing promotion daily from 5 pm onwards, you can get half a pint of
Tiger Draft Beer
at only RM 12!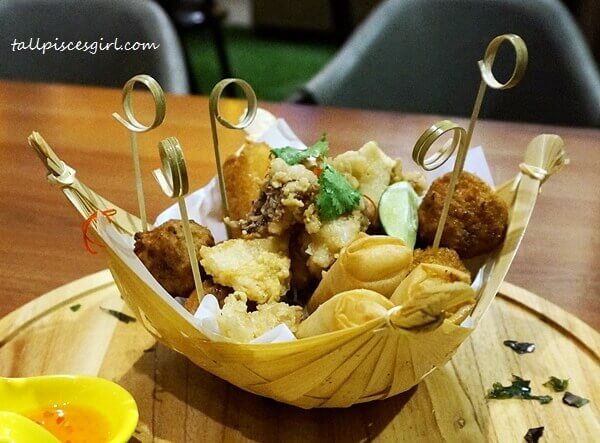 If you have a group of people, I'd recommend
4-Season Platter
as snack. Sample different mini Thai snacks from Crispy Calamari, Salmon Cream Croquette, Crispy Thai Chicken Ball, Thai Fish Cake to Vegetarian Spring Roll. Remember to dip them into the sauces for more OOMPH!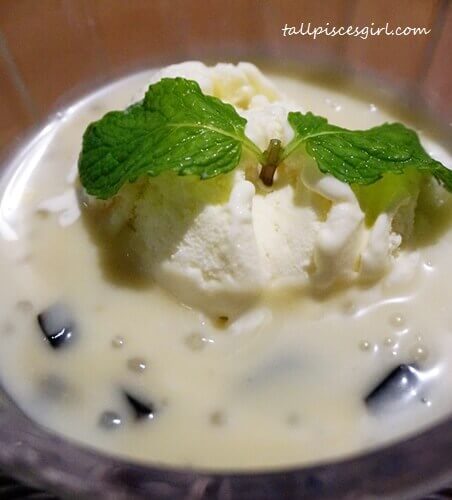 Desserts are a must for a sweet ending to an awesome meal with friends. Malaysians have always loved anything durian. If you're a durian lover as well, you must not miss Sanoook's
Fresh Durian Ice Cream with Coconut Milk
. You'll be drowned in the creamy texture of freshly blended durian pulp and sago. It's so heavenly!
Fancy some Thai-inspired desserts?
Thai Volcano
will surprise your palate with eruptions of Thai milk tea flavor from their shaved ice which is perfectly textured with flour cake, green tea pearls and sago. Most of their desserts are sharing portion, so don't forget to share the good stuff!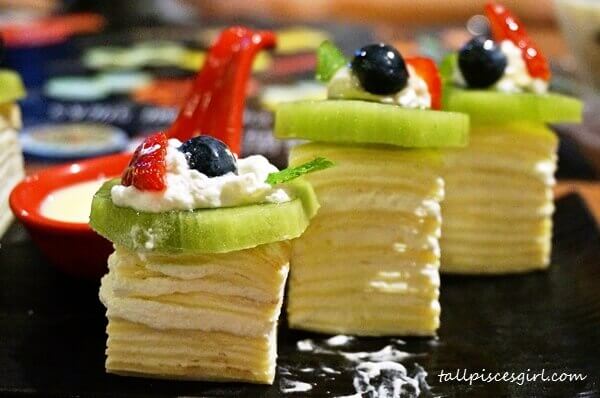 If you prefer something less icy as dessert, go for
Honeymoon Vanilla Crepe
. I love the layers of creamy vanilla crepes topped with kiwi slice, strawberry and blueberry.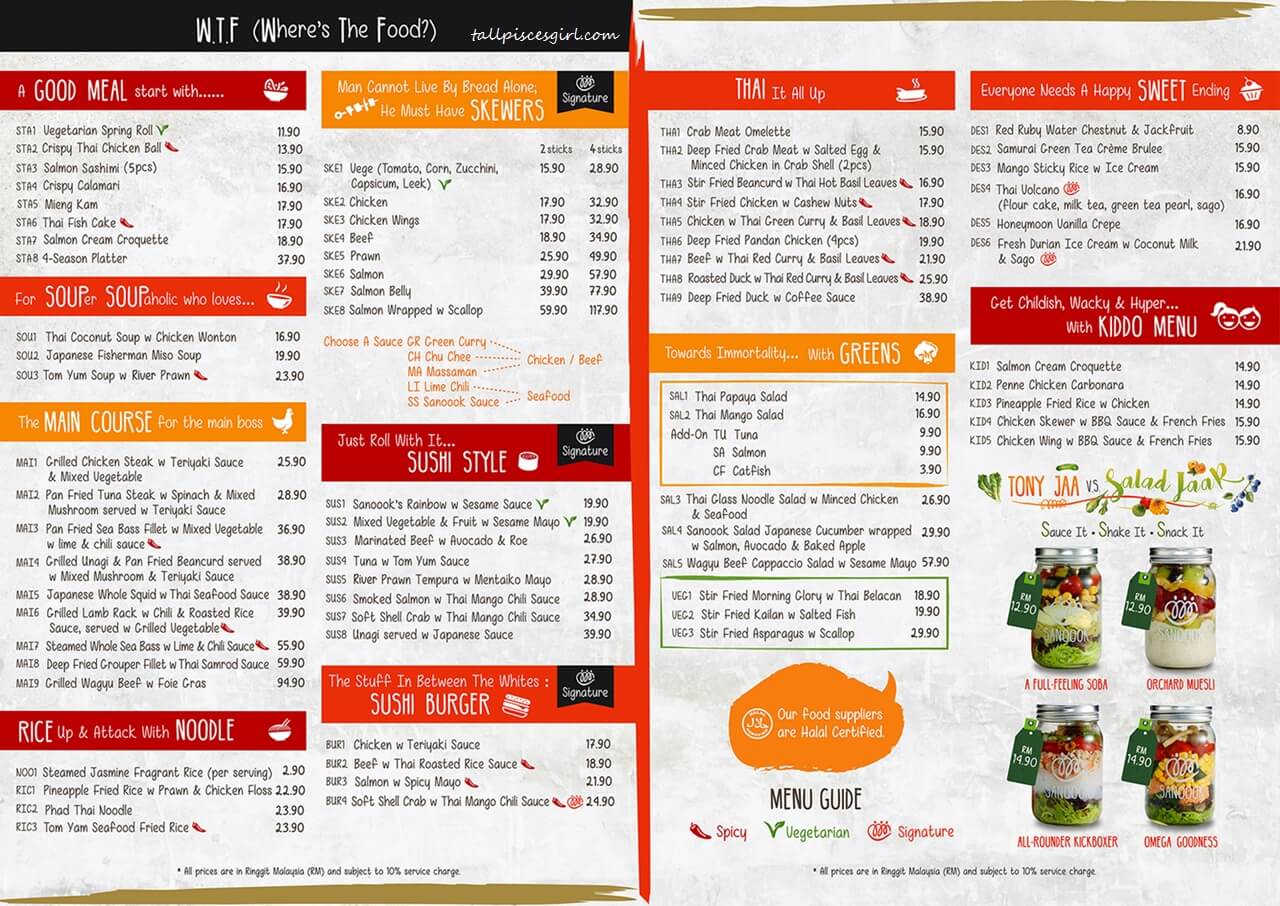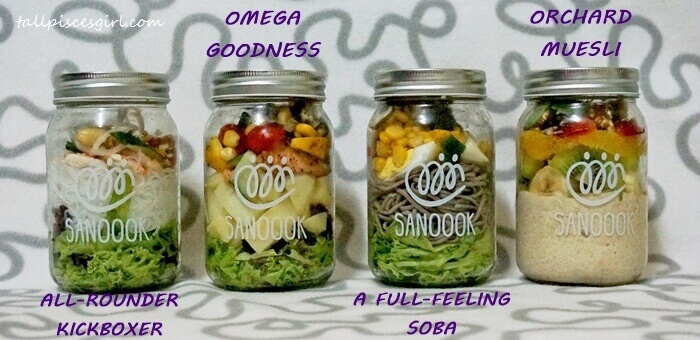 Sanoook also sells
Salad Jars
for those who are always on the go but prefers to eat healthy food instead of fast food. Since the food is in a jar, you can conveniently eat it anywhere – even in the car!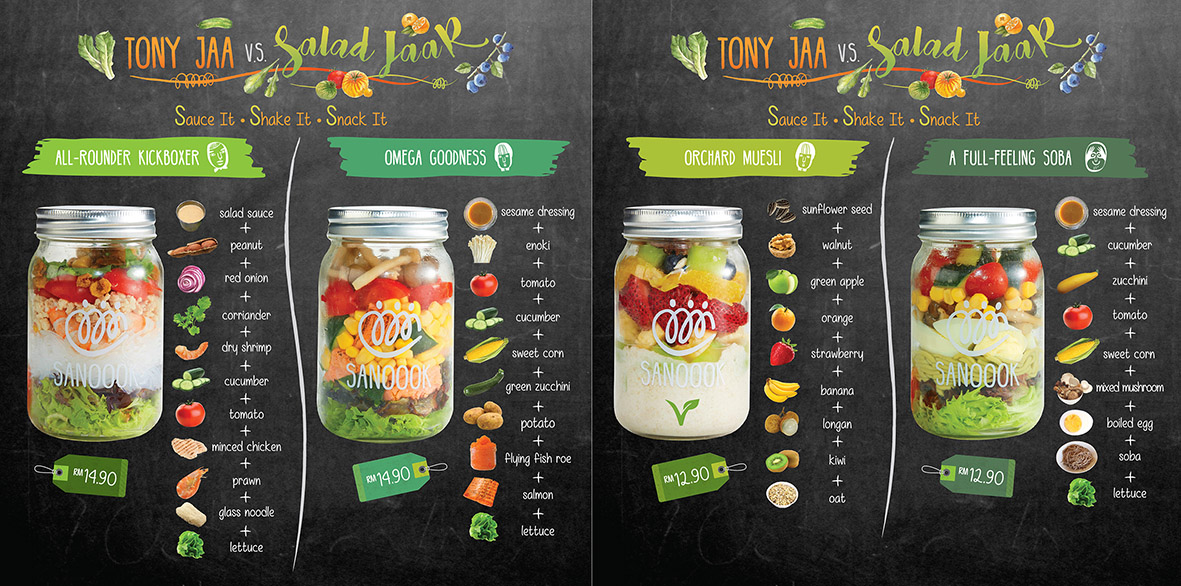 There are 4 varieties to choose from:
All-Rounder Kickboxer: A Thai-inspired glass noodle salad jar packed with well-balanced amount meat and vegetables. Comes with appetizing spicy sour sauce.
Omega Goodness: As the name suggests, get your daily omega nutrition from yummy ingredients that packs a punch with sesame dressing.
A Full-Feeling Soba: My favorite from all 4 selections, the soba tastes so delectable with sesame dressing. The corn is so sweet and all ingredients goes well with each other!
Orchard Muesli: With 6 different fruits mixed with sunflower seed and walnut, this overnight oat is set to give you the energy and nutrition you need to start the day!
Address
: Sanoook Thai-Japanese Restaurant Lot 4, Ground Floor, Sunway Pyramid Hotel West, Bandar Sunway 47500 Petaling Jaya, Selangor Sanoook Pavilion Lot 1.104.00 Level 1, Pavilion Shopping Centre, Bukit Bintang, 55100 Kuala Lumpur
Tel
: 03-56505169 (Sunway) / 03-21105756 (Pavilion)
Facebook Page
:
Sanoook
Opening Hours
: Daily 10am – 11pm
Map
: