Snorkeling
and
kayaking
are the most popular and definitely not-to-be-missed water activities while in
Krabi
. Therefore, remember to reserve at least an hour in your itinerary for tour hunting as soon as you reach there. Normally, you will need to book your tour a day in advance. Tip: For best experience, check the tide level of Krabi before deciding which date to sign up. The higher the tide, the better it is. If the tide level is too low, your kayak will be easily stuck in the sand. After visiting a few tour agencies, we found that
Phranang Full Moon
gave us the best deal. It's actually easier to get lower rates if you're there during low season a.k.a. rainy season.
Activity: Half Day Kayaking in Krabi at Ao Thalane(without lunch) Time: 8.30 am – 12.30 am Price: 600 baht for adult / 450 baht for children aged 4-11 years old Tour: Phranang Full Moon Address: 157/5, Moo 5, Ao Nang Beach, A. Muang, Krabi 81000 Thailand Tel: +66(0) 90-1730743 / +66(0) 86-5933441 Facebook Page: https://www.facebook.com/PhranangFullMoonKayaking/
I can't remember what's the actual price we signed up at (but I think we got almost 40% discount) so I'll just list the usual rates.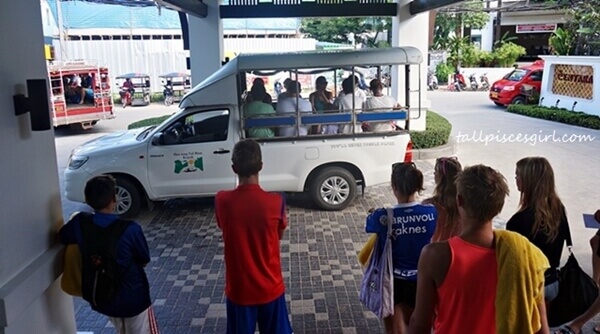 Kayaking in Krabi @ Ao Thalane with Phranang Full Moon
Ao Thalane (Thalane Bay) is nominated as one of the most beautiful mangrove forests in Thailand. Early in the morning, we were picked up in front of our hotel by the tour agency's pick-up truck. That's how all the tour agencies there work. Most of the time, they include hotel transfer service.
We arrived at a small fishing village at
Ao Thalane
for some coffee and tea while getting briefed on how to canoe and collect our safety jackets. Should you decide not to wear the safety jacket, the tour guide will not be responsible of your safety. I'm glad that they also provided us dry bags. It can prevent our belongings from getting wet and in case it dropped into the water, the
dry bag will float
.
We started our adventure by kayaking into the open sea. It was really tough for us since we seldom exercise and hence, lacking stamina. We need to fight against the ocean current. Before halfway there, my arms felt like they were about to detach and my back was sore. Deep inside, I started to regret. After much hard work, we finally caught up and arrived at the
ancient cemetery of 'people of the sea'
. We were allowed to climb up and enter the Sea Gypsies Cave.
We decided to just stay on our canoe since there's not much inside and it's quite difficult to climb back down. We can still hold the human bones left there for photography purpose.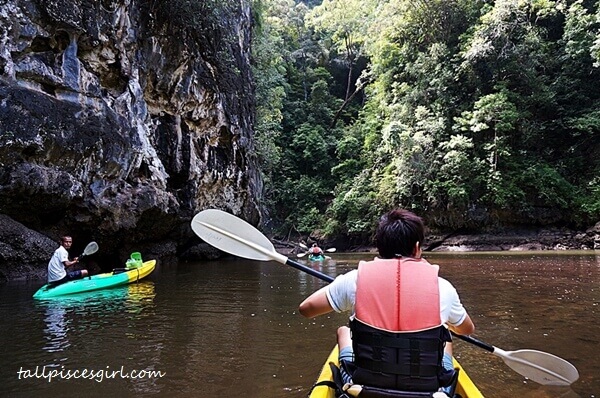 Continuing our journey, we passed by small and large canyons along the way. Little did we know what's in store for us. We were greeted with lots and lots of mangrove trees and the view was breathtaking! Once we were inside, maneuvering around takes only a little effort since the sea current doesn't affect us anymore.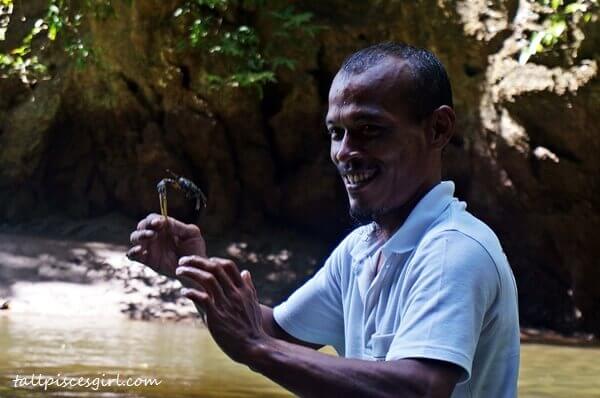 Feel the serenity and the security as the mangrove trees around you closes up, like heaven on earth. Take a deep breath as you become one with the nature. The tour guide gave us a detailed explanation on everything we encountered. He also helped us to take photos for remembrance!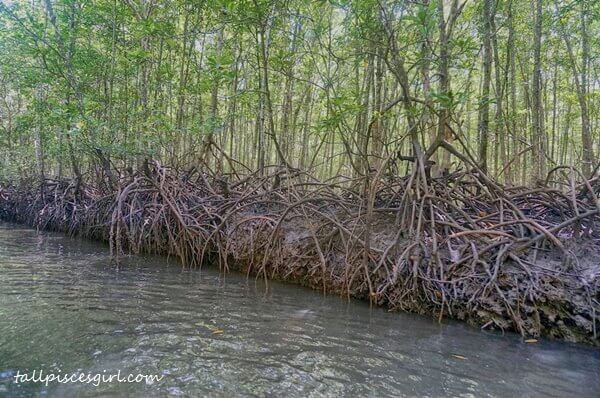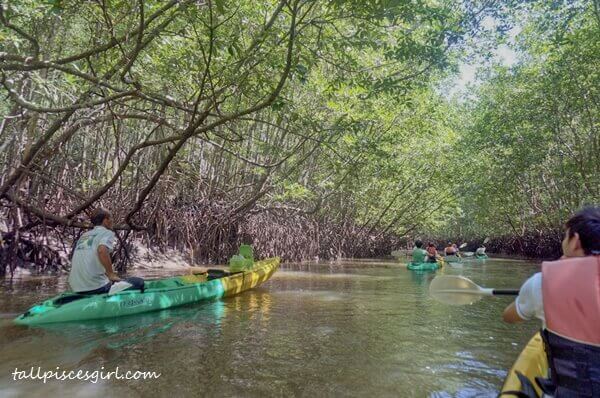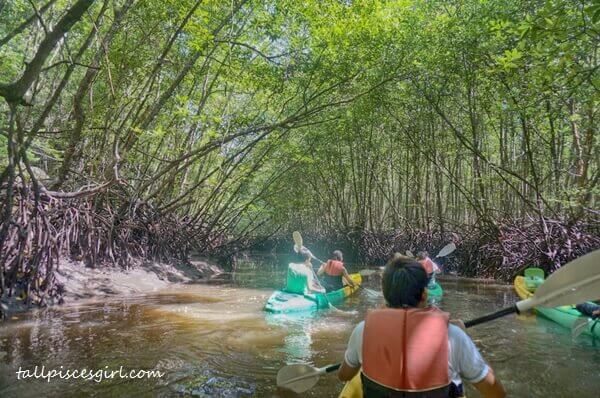 This is the perfect escape for urbanites who are surrounded by concrete jungles and engrossed in gadgets. Here, there's only nature, you and your loved one. The only jungle you have here is mangrove jungle.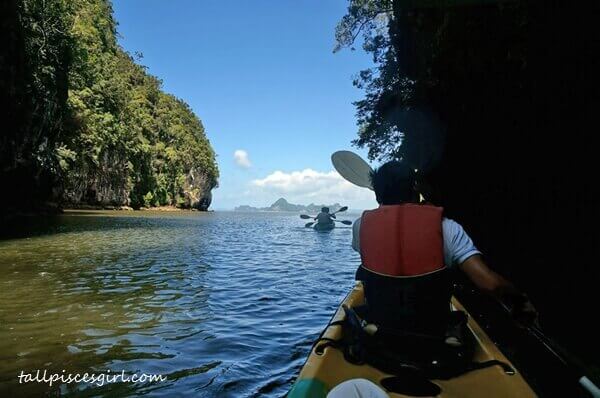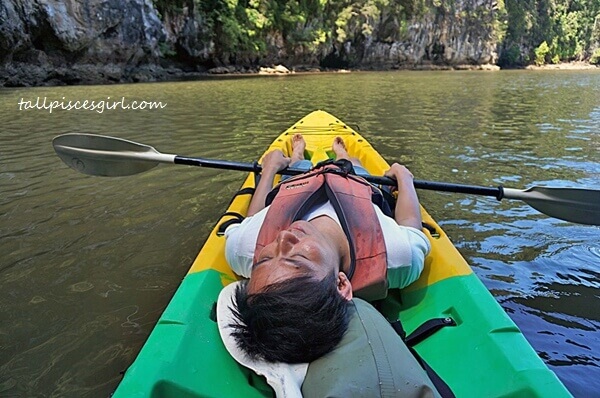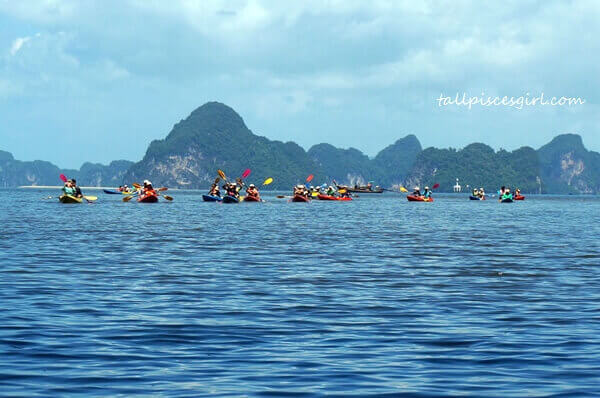 At the lagoon, the tour guide prepared some fresh fruits for us to quench thirst while we continue to admire the beauty of karst landscape.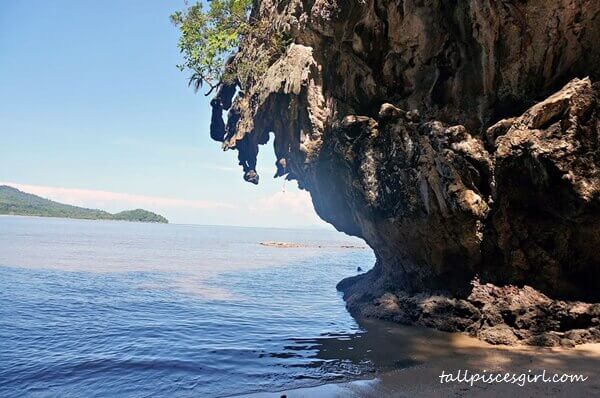 We had a few slices of watermelon accompanied by monkeys. They're not hostile but remember not to feed them. Once they're used to being fed, they will not find their own food and will turn hostile if not fed.
Kayaking back into the open sea was as smooth as breeze since we're now heading parallel to sea current. While on our way back to hotel in the pick up truck, the tour guide treated us to more fruits! It was also fun chatting with people from other parts of the world. At the end of the trip, everyone of us wanted to give the tour guide some tip but he refused profusely. This is very commendable as tipping is a common practice in Thailand. Not only did he not ask for it, but he also refused it. All in all, it was an enjoyable and fun back to nature experience. The regret feeling has been replaced with
gratefulness
– grateful that we have signed up for this activity.
Kayaking at Ao Thalane
is the activity I always recommend to my friends and family whenever they told me they'll be going to Krabi. Last but not least, thank you Clumsy Boy for canoeing non-stop while I try to shoot perfect photos! If you don't want to waste time shopping for tours, you can just book a tour from the link below.
>>
Book Krabi Mangrove Kayak Trip here
To get the most comfortable hotel for your honeymoon in Krabi without breaking the bank, use
HotelsCombined
price comparison website. They will help you to find the best deals from top travel sites like Booking.com, Expedia, Hotels.com, etc. You'll just have to sit back, relax and choose!