b.liv
has always been one of the trusted brands I support because their products were made potent by beauty salon formulation; Cellnique, to be exact. And I have been using their products during facial so I know their products are of high quality. Let's talk about b.liv Deep Impact this time.
b.liv Deep Impact
b.liv Deep Impact is the most gentle exfoliator that I've ever encountered. The consistency and color is similar to yoghurt. Just squeeze the amount of 50 cents coin and gently massage into the skin. The amount of product needed depends on each individual's face size. The beads are formulated with 100% pure natural Jojoba beads. Hence, it doesn't feel harsh to the skin at all. Instead, it feels like I'm massaging tiny jellies on my skin.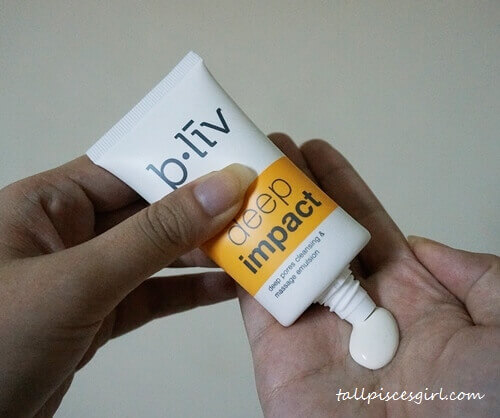 It takes some time for the Jojoba beads to completely dissolve so I have to keep massaging for around 2 minutes. But that's ok, in fact I wish it to have more Jojoba beads because it feels cleaner this way. Be patient, good things come to those who wait. The smell is very pleasant, just a mild smell from Kaolin (natural clay mineral) that is famous for oil control properties. Ingredients also include Aloe Vera that promotes wound healing and moisturizes the skin. Tea tree is added to soothe inflamed skin thanks to its anti-bacterial and antiseptic properties.
My pores look noticeably smaller without feeling dry and tight after using b.liv Deep Impact. Will be using this twice a week to maintain healthy glowing skin.
How to use b.liv Deep Impact
Apply necessary amount of product onto damp skin
Gently massage in a circular motion until Jojoba beads dissolve completely
Rinse thoroughly with water
Rating: ★★★★☆ Price: RM 65 / 50 ml Where to buy: www.bliv.com, all SaSa Malaysia outlets and exclusive sets in Watsons Malaysia