Nowadays, the only dramas I watch are Korean dramas. I even went to the extend of watching Korean variety shows like Running Man, Infinity Challenge and Show Me the Money. The thing that always caught my attention was the actresses'
smooth, dewy skin
. I can only watch with envy.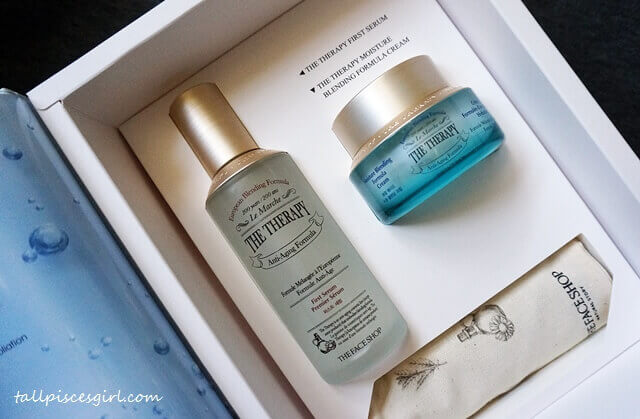 THE FACE SHOP The Therapy First Serum
Recently, I came to know about an amazing product that can help me achieve dewy and radiant skin. It's none other than
THE FACE SHOP The Therapy First Serum
. As I had just recovered from high fever, all the moisture has literally evaporated. So basically my skin's moisture level is at its lowest and all that I can feel is roughness whenever I apply any beauty product. Don't get me wrong, the products I'm using are moisturizing but I can feel that they're just at the surface. It's not the products, it's me. Sounds like a breakup excuse eh? LOL!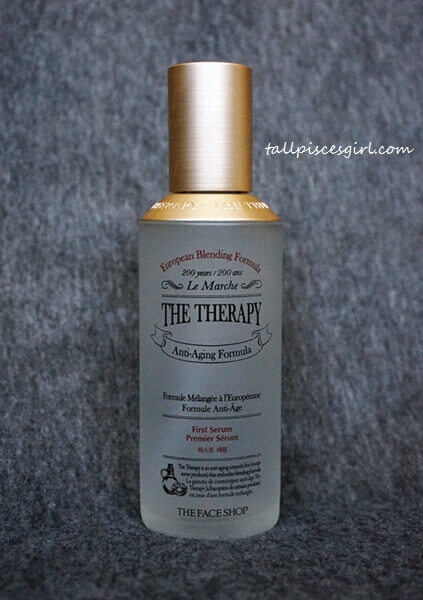 The Therapy First Serum is designed to be a
pre-serum
, meaning it should be the FIRST product to use after cleansing and before toning. This is to let the top class blending formula from Europe Therapist's essential oil recipe and French Thalassotherapy essential ingredients prep your skin instantly, allowing maximum absorption for further products used.
"The first product you use on your skin is as important as your first meal in the morning"
The Therapy First Serum has 4 distinct effects: Anti-aging, anti-dryness, moisture boosting and exfoliating effect. For a better exfoliation effect, use it with The Therapy Green Tea Cotton Pad that contains finely milled natural jade stone and green tea powder. Since it is an anti-aging product and targets normal to dry skin, it is more suitable for those who are aged 30 and above.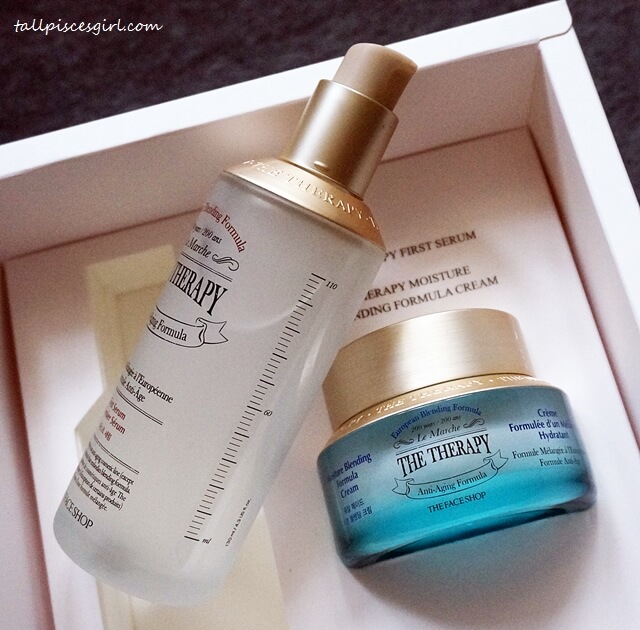 The Therapy First Serum is housed in an elegantly designed frosted glass bottle with matte gold pump dispenser and cap. The best thing about this bottle is, I'm able to know the exact measurement of product left! There's a measuring label on the side, so witty! :p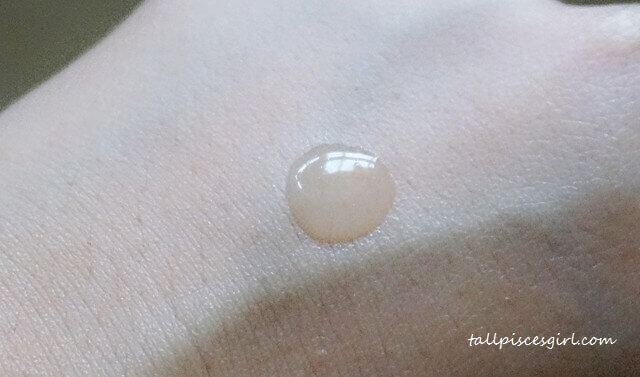 I'm using one whole pump for my face but I'm just showing you how one drop looks like. It's as clear as water but the consistency is a little thicker than water. It stays on my skin like that but when I moved my hand a little, it will start to roll down like water. The Therapy First Serum is able to spread on my skin easily thanks to the
Water Blending Crystal
a.k.a. Micro Crystal Particle. It is created when the natural essential oils (Palmarosa, Avocado, Sandalwood) blended with natural polysaccharide using 200 year old natural blending technology from Europe. These essential oil were quickly absorbed into the skin, forming a crystal coating to prevent moisture from escaping. Hence, healthy glowing skin is revealed! Despite various essential oils content, it doesn't feel oily or sticky at all.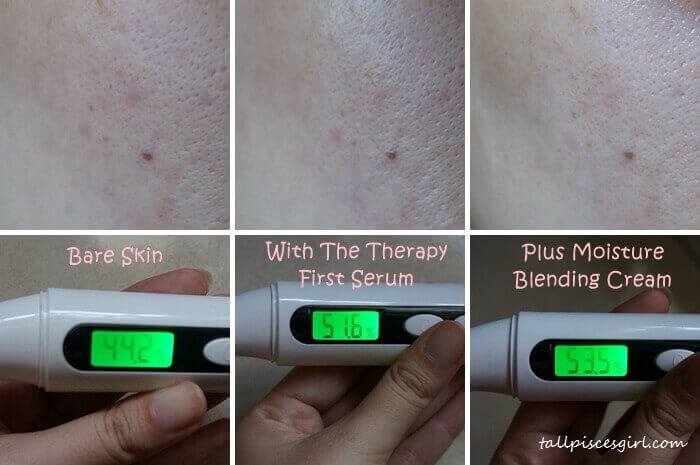 I can say all the good things about this product but numbers don't lie. Just look at the readings on my before/after photo. My
moisture level went up
from 44.2% to 51.6% after applying The Therapy First Serum! I'm so happy to see immediate results. Upon application, I can feel the rough skin slowly rehydrate just like a desert was fed water. The main ingredient that contributed in such amazing result is 
Thalassotherapy essential water
. Derived from Greek language, '
thalasso
' means sea while '
therapia
' means treatment. Thalassotherapy essential water is formulated with 3 components; sea water (minerals like calcium, magnesium, magnesium sulfate, calcium carbonate, etc.), blue algae (anti-oxidant called phycocyanin) and Oligofurcellaran (moisture barrier). The sea water used to produce Thalassotherapy essential water comes from France and contains 100 times more mineral than Evian mineral water! Imagine pampering your skin with the healing benefits of the French sea water.
THE FACE SHOP The Therapy Moisture Blending Cream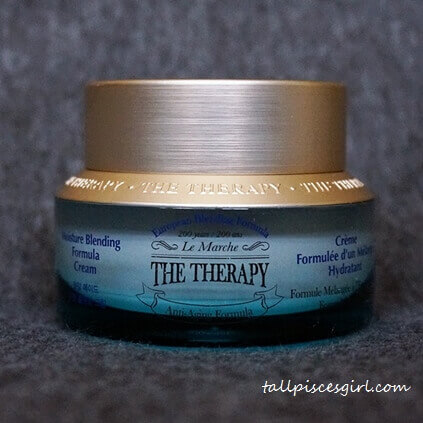 THE FACE SHOP The Therapy First Serum can be incorporated into your skincare routine without changing current skincare products. This is what makes it so lovable. It just blends in into my current regime. But since I've gotten The Therapy Moisture Blending Cream with me, why not try using them together?
If you look carefully, you will notice that there are 2 layers in The Therapy Moisture Blending Cream. The clear upper layer contains oil gel cream that consists of 3 essential oils (Palmarosa, Avocado, Sandalwood) and Thalassotherapy essential water. The blue colored lower layer is an anti-aging rich moisture cream. Unlike The Face Shop's Oil Blending Cream which has heavier texture,
Moisture Blending Cream is lighter
but yet provide more moisture to the skin with Thalassotherapy ingredients.
You will need to mix both layers for at least 10 seconds with the spatula provided. The result will be a unique, freshly produced moisture gel. I love the effect so much! Did you notice that my moisture level was further revved up from 51.6% to 53.5%? Now I can have smooth, dewy skin like Koreans too!
♥ ♥ ♥
For more information, kindly visit
The Face Shop Malaysia website
. Remember to follow
The Face Shop Malaysia's Facebook
and
The Face Shop Malaysia's Instagram
for future updates too.