The first item in our itinerary was to visit
Masjid Raya Medan
(Masjid Raya Al Mashun). Also known as
Great Mosque of Medan
, this mosque already has
more than 100 years of history
.
I actually wanted to go in and have a look but it seems that it would be hard for non-Muslim to enter. Plus, we were running out of time after getting caught in a massive jam from Kualanamu International Airport to Medan. What seemed to be an hour's trip became 2 hours!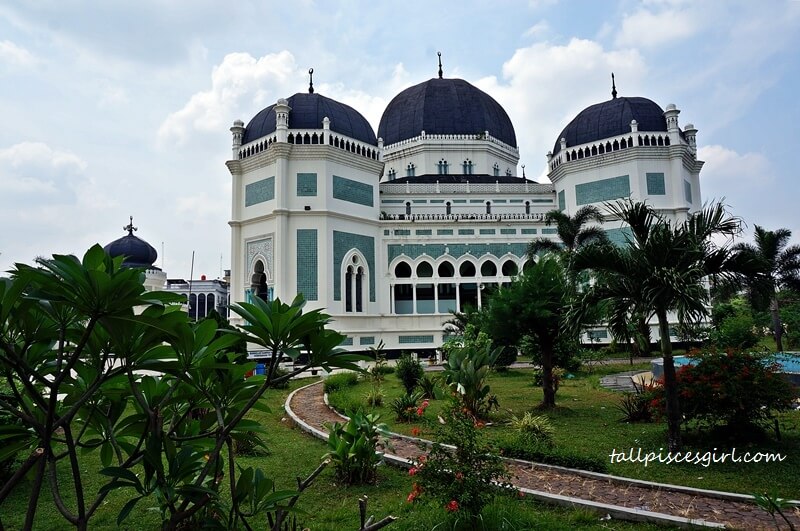 Anyways, I can only admire the architecture from outside. It looks pretty nice (though not too impressive) from outside but I'm not sure how's the condition inside. A quick glance through TripAdvisor's reviews had many people commented that it's quite run down and needs lots of upkeep.
Bakmie Hock Seng
Later on, we actually planned to have our lunch at Bihun Bebek Kumango. Surprisingly, our private driver brought us here:
Bakmie Hock Seng
. Even after confirming with the driver that what we wanted is Bihun Bebek, he said it's correct.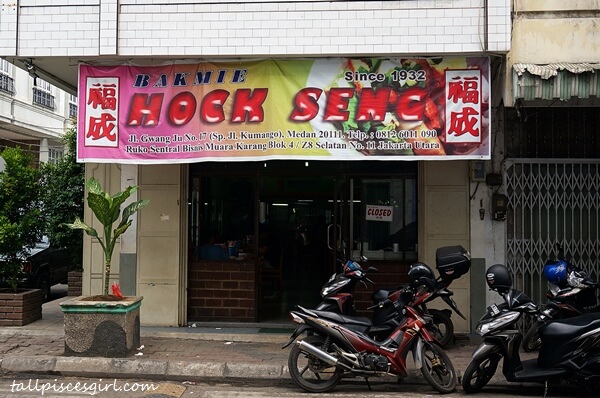 In the restaurant, we kept asking the waitress about bihun bebek but she looks rather annoyed and doesn't seem to understand what we were talking about despite asking in Bahasa Melayu. In the end, we ordered a bowl of Bakmie each.
Bakmie is also called Hokkien Noodle. Bak means meat in Hokkien dialect and Mie means noodle in Bahasa Indonesia. But as you can see, it is very different from the ones in Malaysia. The Hokkien noodle in Kuala Lumpur is fried thick noodle with black soy sauce while the Hokkien noodle in Penang is prawn noodle with spicy prawn broth. We were also very surprised that the bowl of noodle came with so much seafood! Among the ingredients include a medium sized prawn (not those that looks like dried shrimp), crab claw meat, stewed pork meat and fish balls, just to name a few. I love the light yet tasty broth that has a slight similarity to Thai Boat Noodle. Funny conversation with my besties… A: Is this really Hokkien Mee? It's so different with Malaysia's Hokkien Mee… B: Erm… Since this shop is called Hock Seng, is it possible that the noodle is named after his dad who is called Hock Kien? OMG it makes sense!! Hahahaha! Price wise is quite steep (RP 50,000 / approx. RM 15 per bowl) compared to the usual Indonesian food fare but since this is considered like a seafood noodle, it's actually worth the money. A place where even the locals love to come, I'd say that Bakmie Hock Seng is a good choice to get your
breakfast in Medan
. Try to be there by 10 am to avoid disappointment!
Address
: Bakmie Hock Seng No. 17, Jl. Gwang Ju (Sp. Jl. Kumango), 20111 Medan, Indonesia
Tel
: +62 0812 6011 090
Business hour
: 7 am – 12 pm P/S: Later on, I found out that the shop that sells Bihun Bebek is called Axie. If I ever go Medan again, I'll be sure to try it!