Hanna & Kent
is an interesting local skincare brand that was first being introduced in Penang carrying a cute image. You can find Hanna & Kent in Penang at Queensbay Mall and Gurney Plaza respectively. This month, Hanna & Kent finally arrives in Klang Valley at
Da:men USJ
, one of the largest shopping malls in Subang Jaya!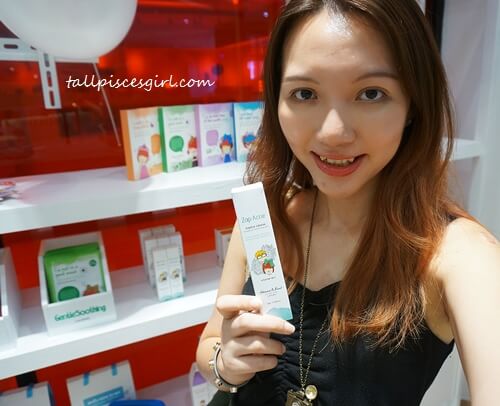 Hanna & Kent
All Hanna & Kent products are formulated naturally using plants which makes it suitable for sensitive skin and environmentally friendly (bio-degradable). They totally have my full support for being so caring to the environment! All products are also safe to use because they are
SLS, SLES and Paraben-free
. SLS is very common in skincare products, shampoo and detergents to create foam. But if you haven't knew yet,
SLS strips moisture from your skin
which makes you tend to develop allergy and the most serious case is, it can
cause cancer in long term usage!!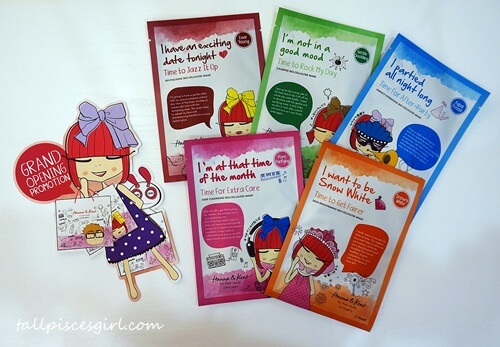 Hanna & Kent's best-selling product and my favorite pick is their
Bio-Cellulose Mask
. Initially, I thought that it's just like any other masks; nothing special, but I was wrong! With the latest bio technology, the mask is from the fiber of fermented coconut juice which has 
10 times stronger absorption power
compared to usual fiber. The texture of the mask was jelly-like and it sticks firmly onto the skin so you don't need to keep readjusting and pat it back onto the skin. This means your skin will be exposed and absorbing all essence from every inch of the mask!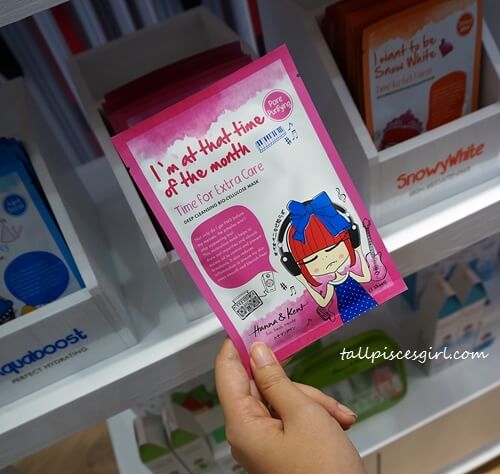 The cutest thing is, they have different mask for different scenario. Check this out! All masks are priced at RM 13.50 per piece and RM 63.50 for 5 pieces.
Hanna & Kent Bio Cellulose Mask Types:
Scenario: I partied all night long What you need: AquaBoost (Hydrating)
Scenario: I have an exciting date tonight What you need: EverYoung (Revitalizing)
Scenario: I'm not in a good mood What you need: Gentle Soothing (Calming)
Scenario: I'm at that time of the month What you need: Pore Purifying (Deep Cleansing)
Scenario: I want to be Snow White What you need: SnowyWhite (Brightening)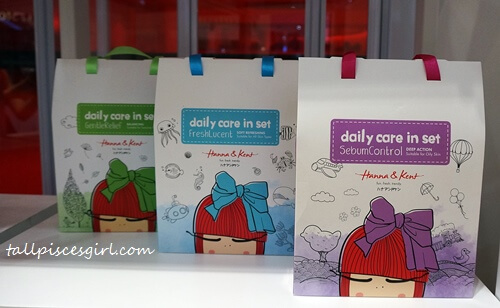 For daily skincare regime, the process of choosing suitable products for your skin is as easy as breeze. They have 3 types of
Daily Care in Set
which contains cleanser (150ml), toner (150ml) and essence (50ml).
FreshLucent
 is basically suitable for all skin types but it is especially suitable for those with dry skin because this range is designed to deliver hydration for a more translucent skin. 
SebumControl
range is suitable for
oily skin
and those who are suffering from clogged pores. This is the most common skin type for growing teenagers.
GentleRelief
is formulated with anti-inflammatory ingredients and soothing effect for
sensitive skin
.
Hanna & Kent also has travelling kit available so we can bring our favorite products along during travel. So convenient!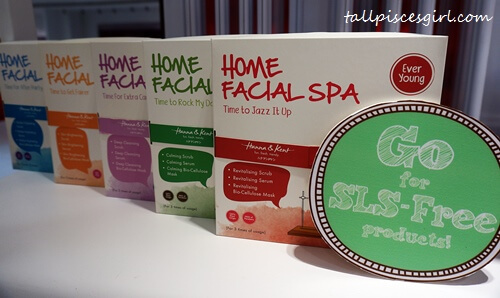 I'm usually lazy to make appointment and commuting just for a facial session. Now I can do my own facial without leaving home with
Hanna & Kent Home Facial Spa Set
! Each set contains facial scrub (10ml), serum (5ml) and 3 pieces of Bio-Cellulose Masks.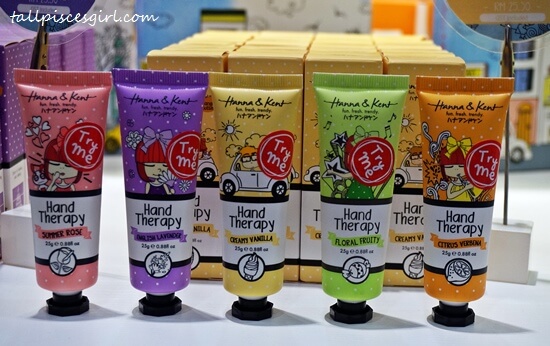 I know a lot of women who love to use hand lotion while working and I think it's a pretty good habit. Just put a tube of
Hanna & Kent Hand Therapy
on your working desk and apply it whenever you feel like wanna take a break. There are 5 delicate scents to choose from: Summer Rose, English Lavender, Creamy Vanilla, Floral Fruity and Citrus Verbena. All of them smells pretty good; it's just a matter of preference.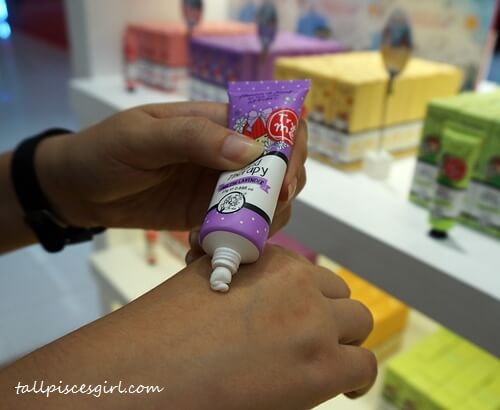 My favorite scent is English Lavender since lavender has calming and soothing effect; perfect as stress reliever. They currently also sell all 5 assortments of Hand Therapy in mini/travel size that's enclosed in a cute box. I think it's a good gift idea!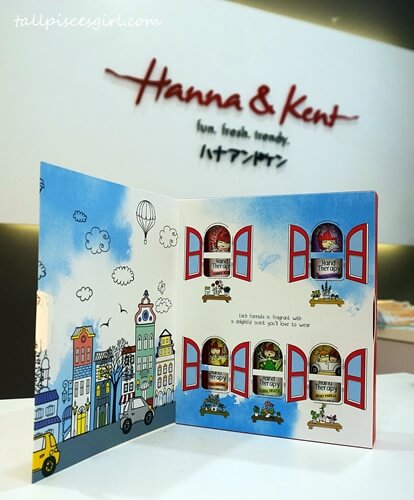 Protecting our skin from harmful UV Rays is very very important in a country where the sky is always sunny like Malaysia. There are 2 types of sunblock from Hanna & Kent which is
Daily UV Defense
 SPF30 PA+++ (RM 59.90) and
Corrective UV Defense
 SPF50 PA+++ (RM 63.90).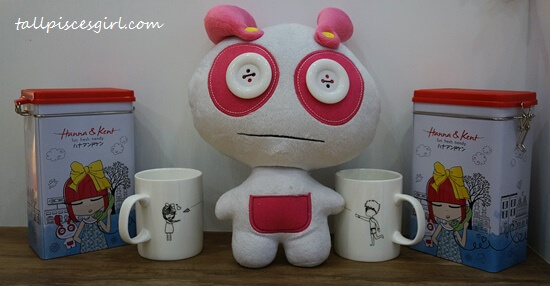 They have pretty cute merchandises for sale like mugs, containers and plush toy too. Remember to grab them!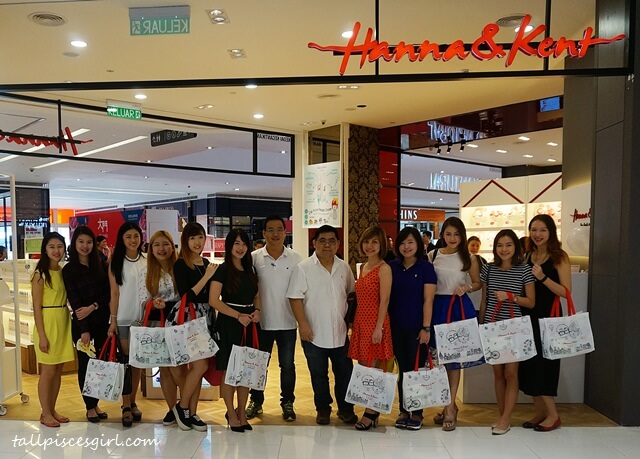 Guess what – here's a good news! It's
GIVEAWAY TAIME
 in conjunction with
tallpiscesgirl.com
's 7th anniversary~~ I'm going to choose 5 winners with the best answer and each winner will 1 Bio-Cellulose Mask of your choice and 10% discount voucher (Valid til 29th Feb 2019).
Here's what you need to do
:
Like Hanna & Kent's Facebook Page at https://www.facebook.com/hannaandkent.
Tell me which product do you wish to try most and why in the comment section.
Leave your Facebook Name and email address in the comment too!
Terms & Conditions
:
Giveaway will end on 5th February 2016.
Winners are required to collect the prizes at Hanna & Kent Da:men to choose desired mask type.
Winners will be contacted via email.
Failing to respond within 48 hours will result in prizes being forfeited and new winner will be chosen.
Winner List
: Camy Lau, Sherrie Pui, Athia Mohamad Yazid
Hanna & Kent Outlets Address
: Da:Men, USJ | Lot G-41, Ground Floor Gurney Plaza, Penang | Lot 170-05-09 Queensbay Mall, Penang | Lot 3F-37 (A18) Facebbok Page:
https://www.facebook.com/hannaandkent/