Chinese New Year
is gonna be early this year! With exactly a month to go until Chinese New Year, it's the time of the year where I'll shop for gifts for house visitations. When everyone has a hectic schedule, it is so rare to be able to gather with friends, families and business partners. That's why I wanted to select the best gifts that symbolize my sincere wish to them for an auspicious and smooth sailing year ahead especially during the trying times in this economy condition. In conjunction of the Red Fire Monkey year,
Coca-Cola
has released fiery hot designed cans that are full of auspicious symbols and well-wishes, perfect for conveying auspicious greetings to usher in the new year with.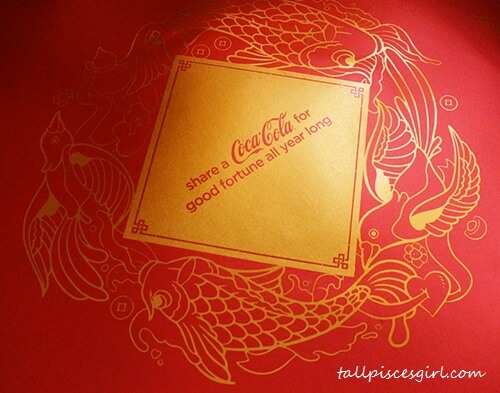 A positive start stems from a positive mind. Since I heard that the year of Goat will be a challenging one, I would want to dedicate a can of Coca-Cola with specific auspicious wish to my friends and family members according to relevance. This will be a special touch beyond the general wishes like Gong Xi Fa Cai.
The Eight Coca-Cola Chinese New Year Cans
Auspicious Message: Smooth Sailing Career (事业顺利) Auspicious Symbol: Sail Boat Perfect for: Working people who are career minded
Auspicious Message: Flourish In Love (情场得意) Auspicious Symbol: A pair of Magpies Perfect for: Love birds who have just started a budding relationship
Auspicious Message: Abundance In Wealth (财源滚滚) Auspicious Symbol: Pineapples, Coins, Ingots Perfect for: Suitable for all
Auspicious Message: Lasting Youthfulness (青春常驻) Auspicious Symbol: Cranes, Peach Buns, Plum Blossom Perfect for: Elders who are young at heart
Auspicious Message: Benefactors Aplenty (贵人相助) Auspicious Symbol: Ruyi Knot, Peach Blossoms Perfect for: Suitable for all
Auspicious Message: Academic Success (学业有成) Auspicious Symbol: Brush, Ink, Paper Scroll Perfect for: Students
Auspicious Message: Prosperity In Business (生意兴隆) Auspicious Symbol: Double Gold Fish, Water Perfect for: Those who are running their own business
Auspicious Message: Peace In The Family (合家平安) Auspicious Symbol: Gourd, Stone Lions Perfect for: Suitable for everyone especially older generation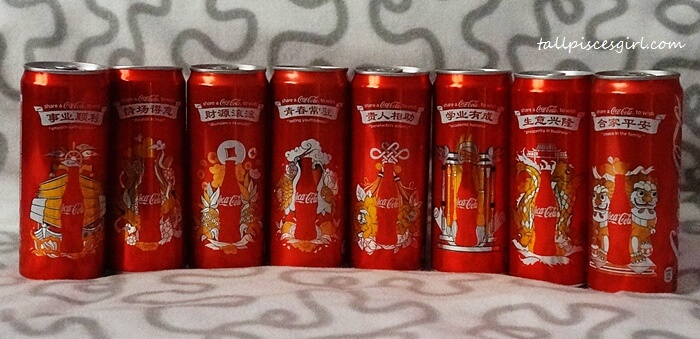 Seeing these striking red Coca-Cola Chinese New Year cans makes me feel festive immediately! I bet they will complement the traditional gift of Mandarin oranges really well while carrying positive messages to bless the recipient. As older generation likes physical messages than greetings via smartphone or social media, emptied cans can also be kept for future remembrance. Stand a chance to win
limited edition Coca-Cola collectors gift sets
when you share Chinese New Year celebrations photos on Facebook and Instagram with the hashtag
#CokeCNYmy
.
The limited edition Chinese New Year Coca-Cola cans will be available in stores from mid-December 2015 onwards. Limited edition Coca-Cola collectors gift sets will be available at these selected locations and dates while stocks last: 16 January 2016: Aeon Bandar Utama 17 January 2016: Giant Kota Damansara 23 January 2016: Aeon Big Mid Valley 23 January 2016: Giant Klang 24 January 2016: Aeon Big Kepong 30 January 2016: Aeon Bukit Indah (Bukit Indah, Johor) 31 January 2016: Aeon Queensbay (Penang) For more updates, visit
https://www.facebook.com/cocacolamy
.