Konnichiwa minna-san! It's the end of June already and I'm finally back with more beauty reviews! As you know, I was busy travelling in the month of June – Singapore,
Melaka
, Banting and Genting, Can't wait to share the details with you all.
Canmake
, one of the most popular cosmetic brands in Japan is celebrating their 30th anniversary this year! Congratulations! Just newly launched in May 2015, I got the chance to review Canmake Flaring Curl Mascara and other Canmake cosmetics. Let's check them out.
CANMAKE Flaring Curl Mascara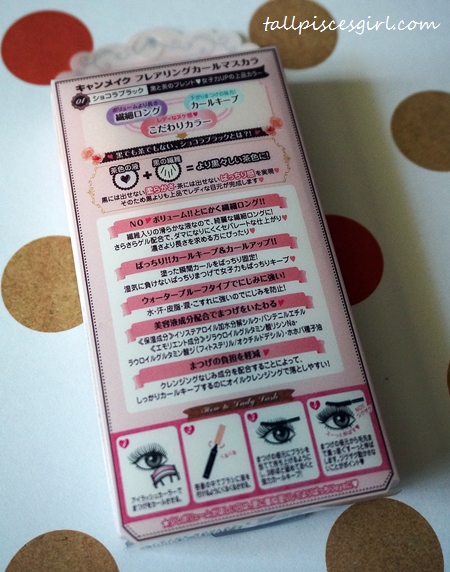 Seek no more if you've been finding for a mascara that gives you a natural kawaii look because the answer is here –
CANMAKE Flaring Curl Mascara
. While brown mascara tends to blend into the background too much and thus reducing the impact of your eyes, black looks too harsh. They have cleverly came out with a solution which is combining brown fluid with black fibers that are usually added to make black mascara look jet black. Hence, the color Chocolate Black that gives a soft yet wide-eyed look.
It contains 5 types of ingredients to condition your lashes while you're wearing it:
Moisturizing agents: Isostearoyl hydrolyzed silk, panthenyl ethyl
Emollient agents: Sodium dilauramidoglutamide lysine, phytosteryl/octyldodecyl lauroyl glutamate, and jojoba seed oil
I totally love the effect (
wide-eyed and zero weight
) and it doesn't clump together thanks to the silky gel in their ingredient. The key is to sweep the brush smoothly in a straight line from the roots to the tips of your lashes instead of zig-zag motion. I'm impressed that it is
waterproof
since they didn't claim so. Nothing came off when I used my wet hands to rub it although it did smudge a little (only once in 6 hours) when my eyelids turned oily.
Price
: RM 42.90
CANMAKE Dual Eyebrow Stick in 01 Natural Brown
The dual colors in Natural Brown are
Beige Brown (light) and Dark Brown (dark)
. This color is recommended for those with black to natural brown hair. It has a
4.9 mm broad tip
to achieve the now trendy Japanese style thick eyebrows easily. Take note, thin eyebrows are out of date already! The colors can be used separately or mixed together. For convenience, I just mixed them together by applying it over my eyebrows a few times from the inner corner, working outwards.
If you prefer to use the colors separately, follow these steps:
Use the light shade at the inner corners of your brows
Rotate to mix the two shades for the center of your brows
Use the dark shade at the outer corners of your brows
I love how easy it is to draw my eyebrows with just a few strokes. It's perfect for beginners since the color won't come out too intense so you can slowly work on it, bit by bit. It can stand against rubbing, the color will fade a bit but the line is still there but sadly, it's not waterproof as I can easily wash it off with water.
Price
: RM 42.30
CANMAKE Just for Me Essence Rouge Lipstick in 04 Pink Coral
I fell in love instantly as soon as I saw this lipstick! Looks familiar isn't it? Yes, the cap features a ring motif with a crystal highlight, just like an
engagement ring
! It's a symbol of Canmake's hope that all the girls who wear this lipstick will be lucky in love. Aww… ?
Besides the sweet pink color, I also like the fact that they included a lot of moisturizing ingredients (honey, shea butter, hyaluronic acid, squalane, avocado oil, peach leaf extract, rosemary extract, Somei Yoshino cherry leaf extract, oat kernel extract) into this lipstick as I always have cracked lips.The effect looks natural enough, not too glossy and not too matte.
Price
: RM 42.30
Since I'm guilty for not organizing any giveaway lately, here's a special giveaway for all my beloved readers! I'll be giving out 
Canmake Color Mixing Concealer 01
to one lucky reader.
Just follow the instructions from the widget below ya. GOOD LUCK!
a Rafflecopter giveaway