Maintaining my hair has always been a hassle because I just have frizzy and dull looking hair even though I rarely do chemical service. Nevertheless, I'm constantly searching for ways to revive my hair and bring back the shine. To be honest, people do judge. When they see you with frizzy and unmanageable hair, they will label you as "messy". In order to get rid of this label, I decided to try something new –
Tsubaki Shining Hair Care range
. Tsubaki has been in Malaysia for 2 years and I'm sure you have chanced upon their products in pharmacies and supermarkets while shopping for hair care products. But unlike many brands in the market, Tsubaki is actually a premium hair care brand in Japan under Shiseido group.
Tsubaki Shining Hair Care Range
Tsubaki stands for Camellia in Japanese, the main and signature ingredient in their hair care products. Carefully
selected Camellia Oil
is responsible to envelop hair for shine while Camellia Leaf Essence delivers moisture into hair shaft, repairing it from within. Tsubaki's Camellia is sourced from Japan as they have been producing the finest Camelia for 140 years.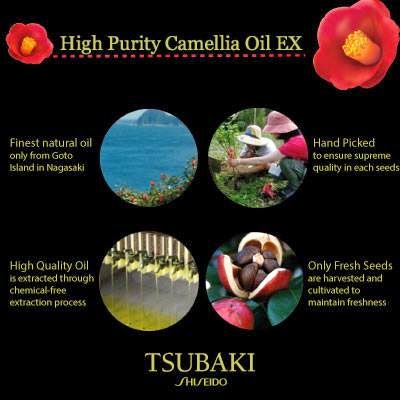 Tsubaki's new formulation now includes a new key ingredient –
Arginine
, a semi-essential amino acid that is crucial to repair melanin holes caused by UV light and heat whilst restoring the inner structure of the hair fibre that enables light to be reflected from every angle, revealing lustrous and shiny hair.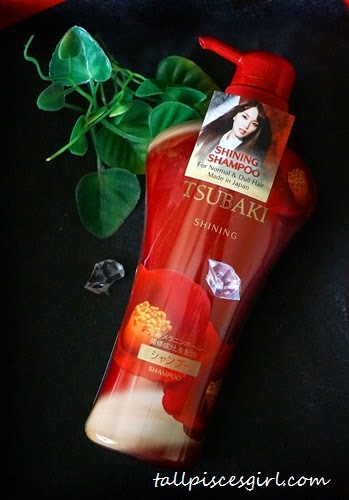 As soon as I pumped
Tsubaki Shining shampoo
out, the light scent from a unique blend of flowers and fruits captured my heart. Ahhh… this is what you should use if you want a guy to keep sniffing your hair… The shampoo has a creamy texture and lathers easily so I only needed 1 pump or 1.5 pump for my whole scalp. Just like how I usually wash my hair, I gently massaged the shampoo onto my scalp with fingertips. Remember not to scratch too hard or you'll hurt your scalp!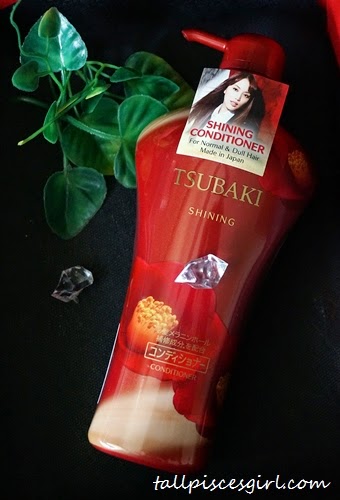 After rinsing off the shampoo thoroughly, I tried to get as much water out from my hair as possible before applying
Tsubaki Shining conditioner
to make sure it stays on my hair. Tip: Make sure to apply conditioner onto the ends of your hair. Avoid the root and scalp area to prevent from getting oily scalp.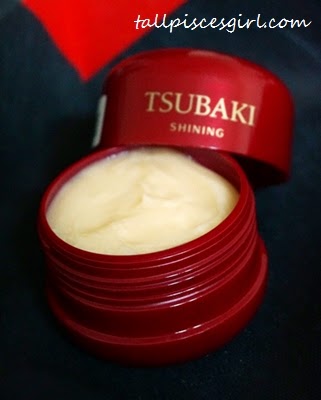 In order to maintain a lustrous shiny hair, use the
hair mask
twice a week! Just need to leave it on for 5 minutes after shampooing my hair. I'm surprised that there is an immediate difference after using it.  It felt as if I've done a spa hair treatment at a fraction of the time normally used. I noticed my hair is softer and smoother to touch and looks shinier as if it has been enveloped by a protective layer. Totally loving Tsubaki's products!! Say bye-bye to dry and frizzy hair! Hello to shiny, manageable hair with mild floral scent! Before – Frizzy, dry and unmanageable hair: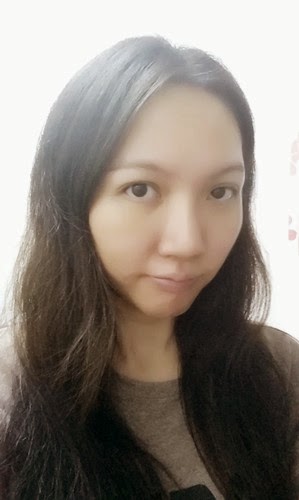 After – Shinier and tamer hair, smoother to touch and doesn't look messy: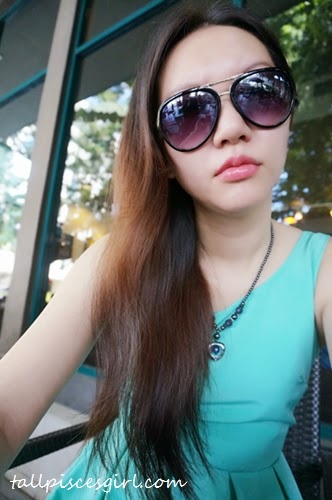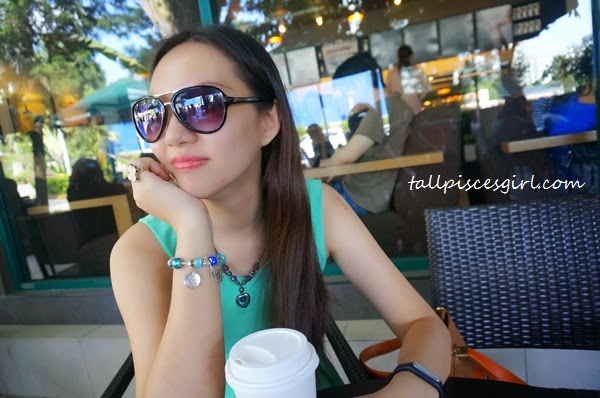 With Tsubaki Shining range,
internal shininess
is restored with Arginine that repairs melanin hole to allow light to be reflected evenly while
external shininess
is achieved with Camillia oil's shine sensor mechanism that protects and coats hair, thus dramatically enhances shine level and smoothness. Restore your confidence and shine from every angle! Tsubaki Shining Shampoo 550ml (Price: RM 38.90) Tsubaki Shining Conditioner 550ml (Price: RM 38.90) Tsubaki Shining Shampoo 220ml (Price: RM 18.90) Tsubaki Shining Conditioner 220ml (Price: RM 18.90) Tsubaki Shining Hair Mask (Price: RM 44.90) For more information and updates on Tsubaki Malaysia, follow them at
https://www.facebook.com/tsubaki.my
.