I've wrote about the grand opening of
Spotlight IPC
just a month ago and it seems like this Australia's largest fabric, craft, party and homemaker superstore is continuing to expand in Malaysia. Spotlight's expansion is further established with the opening of its largest store yet in
The Mines Shopping Mall
.
Spotlight @ The Mines Shopping Mall
The good news is, Spotlight is going to absorb the 6% GST and hence, their prices are going to remain the same! YAY!
To celebrate this joyous occasion,
Arisa Chow
, an uprising designer and avid cosplayer was there to demonstrate and exhibit her designs using Spotlight's fabrics and haberdasheries.
Wall Art @ RM 38.49
This is so cheap considering that the size is pretty big. I needed to decorate my empty walls so I bought the one on the left because it's about my favorite topic – Love. 2.
Bakewares with recipe @ RM 49.99
These are so awesome! The recipe is on the bakeware so you don't need to Google for recipes or refer to recipe books to whip up a pan of yummy Apple & Rhubarb Crumble. 3.
Brampton House Bolster Pillow @ RM 9.99
I nearly brought this home because it's soooo fluffy and soft! Too bad I already have one at home. Maybe next time (after I dumped mine LOL). 4.
Crest-a-lon Fibre Filling for Toys & Pillows @ RM 33.74 for 1kg
Went crazy when I saw this! Just what I need to fill in the little pillow I had since childhood. It's now so flat already. My grandma used to fill it for me when she was still around but I'll need to handle it myself now. 5.
'Living Space' Ikon Floor Cushions @ RM 39.99
If you love sitting on the floor even though you have a sofa (yeah, that's me), then you might wanna grab a floor cushion to support your butt! Flat butts are definitely unflattering haha… 6.
'Desire' Bath Towels @ RM 29.99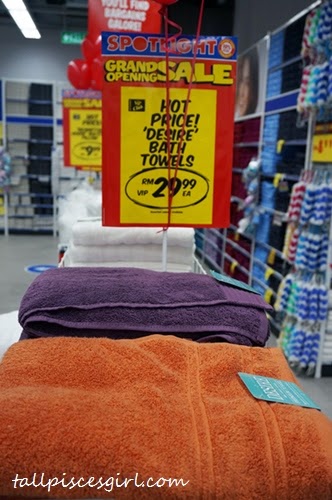 I bought a piece of 'Desire' Bath Towel at Spotlight, IPC during their media preview and I'm very happy with the quality. Smooth and soft on the skin. I can feel the difference! 7.
'Dream Away' Polyester Quilt @ RM 49.99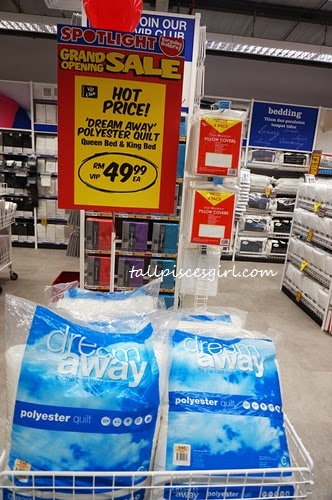 The perfect quilt for air conditioned rooms would be this – as described by a reliable blogger friend, Jess Lee =p So I'm going to recommend to all of you! The plus point is, it's machine washable! 8.
Rainbow Loom Kit @ RM 24.99
If you (or your kids) are crazy about Rainbow Loom, Spotlight is now offering a very good price for it so be sure to grab it before they're gone! 9.
'Kaisercraft' Woodcraft Script Words @ RM 9.xx
(sorry, I forgot the price =p)
I just love these woodcrafts! Had a hard time deciding which one to buy and I ended up picking DREAM. Because dream is the most important thing in our lives, it defines us and gives us soul (what am I talking about?). 10.
Yarns @ RM 3.49 onwards
Yarns are one of the best-selling products at Spotlight because they are offering a very extensive array of yarns here. For beginners or if you're under a tight budget, you might want to try out with their value ball first.
If you fancy cute colors that are suitable for baby, "Bella Baby" Yarn is the perfect choice!
BONUS!
Don't miss this awesome deal if you're a fan of Hello Kitty! Spotlight is now selling this
Brother Portable Free Arm Sewing Machine (Hello Kitty edition)
at only RM 859 instead of RM 1059! The sale will also be available at Spotlight Ampang and Spotlight IPC! Here's a special giveaway for my readers! This time,
I'm giving out a set of Monster Tail Rainbow Loom kit!
a Rafflecopter giveaway
Address
: Spotlight L4-16, The Mines Shopping Mall, Jalan Dulang, Mines Resort City, 43300 Selangor