I've ate the tastiest Fortune Salmon Yee Sang ever this year at SAKAE SUSHI all thanks to Samsung Galaxy Life! As you all knew, I won a Samsung Galaxy Note 3 last December. I noticed that Samsung offers a lot of useful apps exclusively for their users and I think it was a very good move to make their phones more distinctive.
Few weeks ago, my friends introduced me to Samsung Galaxy Life app. With Samsung Galaxy Life, I can enjoy local and seasonal deals, app recommendations and expert interviews specially selected to match my interests.
SAKAE SUSHI Fortune Yee Sang comes with 8 pieces of sashimi salmon but I think it is not enough for a salmon lover like me *greedy mode on*. Luckily I knew that there's a SAKAE SUSHI promotion on my Samsung Galaxy Life app. Let me check check and see what it's all about.
Samsung Galaxy Life app
I think Samsung Galaxy Life is a pretty smart app because it knows what interest me most and compile all relevant offers for me. Most importantly, I can save money! Wee~~!!
In a nutshell, The Samsung Galaxy Life app is your passport to exclusive privileges, app recommendations, sweepstakes, and expert interviews.
Samsung Galaxy Life gives you:
Daily deals with discount coupons (barcode, voucher)
Selection and reviews of apps
Exclusive content from experts
Rewards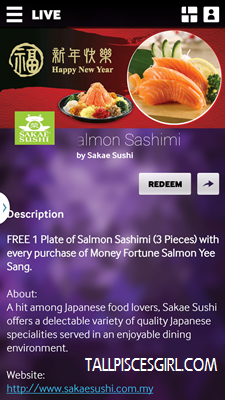 SAKAE SUSHI Free Salmon Sashimi deal
YAY! We get to have 1 plate of Salmon Sashimi (3 pieces) for free with every purchase of Money Fortune Salmon Yee Sang! And that's worth RM 6.90 yo!
A word of caution though: You can only click the redeem button when you're close to paying for the meal because it will only be valid for 60 minutes. You'll also need to place an order for 1 plate of Salmon Sashimi so it can be deducted from your bill later.
Show this to cashier
Cashier will press 'Yes'
The price for 1 plate of Salmon Sashimi will be deducted
It's as simple as ABC! There are 7 pillars under Samsung Galaxy Life app which are – Live, Entertain, Learn, Play, Connect, Work and Surprise. SAKAE SUSHI's promotion is under Live section; I think I'll be browsing in this category very often! Oh, not to forget Entertainment too! Their apps recommendation for movie making is very interesting and I've just installed Lapse It from there.
SAKAE SUSHI Fortune Salmon Yee Sang
SAKAE SUSHI Fortune Salmon Yee Sang was truly a masterfully prepared dish with fresh authentic Japanese ingredients such as air-flown salmon from Norway, seasoned jellyfish, scallop, seaweed, sesame, radish, tanuki flakes, and a unique citrus-infused sauce prepared using a homemade recipe. I'd have to say that these ingredients are much better than the traditional ones because they taste a lot better and healthier. The homemade citrus-infused sauce is also not too sour nor too sweet. Just a perfect blend!
It was an honor to Lou Sang with Froggie!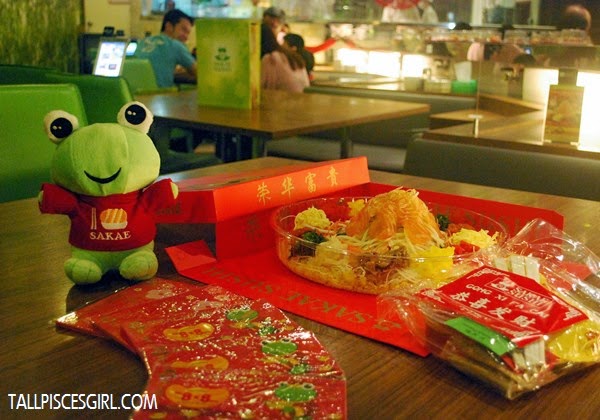 SAKAE SUSHI Fortune Salmon Yee Sang takeaway set
For their takeaway set, it comes with a beautiful red box that has magnetic features on the side for easy detaching. After the meal, the box can be easily re-attached again with convenience.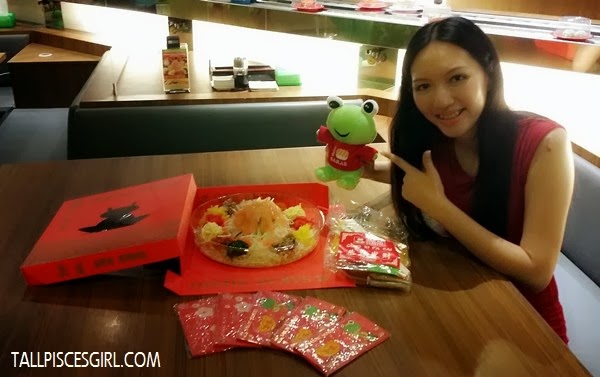 Fortune Salmon Yee Sang comes in 2 sizes which is Success (1-2 pax) at RM 28.80 and Money (6-8 pax) at RM 48.80. We had the Money set that comes with 8 pieces of salmon sashimi slices! *drooooling*
Posing with my piece of salmon
Had a fun night at SAKAE SUSHI! We'll be back for more!
We'll definitely be back for more scrumptious Japanese food at SAKAE SUSHI and I also look forward to more promotions from Samsung Galaxy Life app so I can save more money and eat more!P/S: My Samsung Note 3 is truly my life companion (like a wife!) because she can save money well LOL!