I still remember that Kevin?? of ????? used to say that your eyes are windows and eyelashes is the curtain. It is very important to 'open the curtain' so you could see the view clearly. But the thing is I really seldom draw eyeliner and mascara due to various reasons: My eyesight not good enough to draw nicely, not skillful enough and lazy to practice and very often, they will smudge in less than an hour making me look like panda so in the end, I gave up :X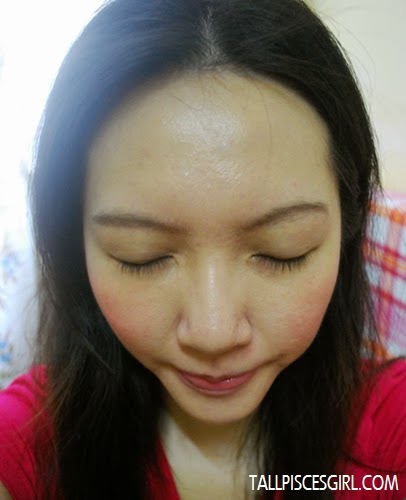 I was given an opportunity by Pink Passion to try out their
eyelash extension
2 weeks ago. Prior to that, I've heard all sorts of stuff about eyelash extension that kinda freaks me out especially about falling lashes! I totally can't afford that!! But since I've already agreed to go, just go lahhh… need to experience it at least once in my lifetime!
*challenge accepted*
Actually I thought that Sunway Mas Commercial Centre is at Sunway but luckily I realize that the distance on my GPS is getting further and further the more I approach Sunway! Later on, I realized it's actually at Aman Suria (consequences of not checking Google Map before heading there). I was late half an hour when I reached. Luckily it's very easy to spot Pink Passion because the pink colored shop really stands out.
The interior of the shop was cozy and decorated in their signature color, pink that gives a very romantic and welcoming feeling.
Pink Passion
has been in business since
6-7 years ago
and is considered as one of the pioneer in eyelash extension industry. They also provide eyelash extension education, body pampering services and facial services.
I was led into a comfortable room with soft and slow jazz song playing from the speaker. Somehow, it managed to calm down my anxiety. It's pretty normal to feel nervous when trying something new 😉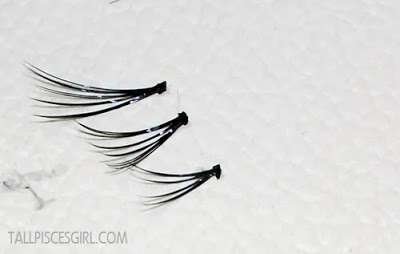 Pink Passion is offering
Bundle Lashes
in 3 lengths – 8mm, 10mm and 12mm. They will combine 2 lengths to create a natural eyelash effect and since this is my first time doing eyelash extension, the staff recommended that I combine 8mm and 10mm because 12mm might be too uncomfortable for a first timer like me to adapt.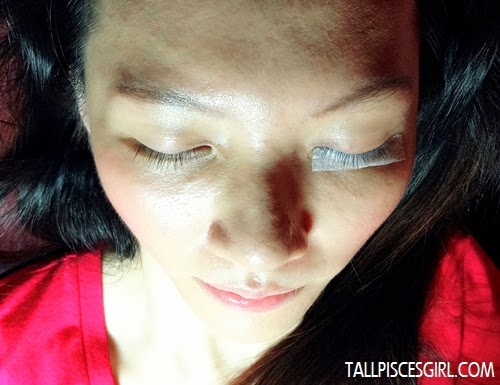 Firstly, a small piece of surgical tape was glued onto the lower eye area to prevent the glue from getting into my eyes and to properly separate my upper lash and lower lash. There's
no pain involved
during the process (phew!); even ticklish feeling also very rare! The only thing I noticed was the glue smell and sound of scissors cutting stuff. THAT'S IT! I heard that their eyelashes and eyelash glues are imported all the way from Korea and thus has better quality. And that means you can enjoy having beautiful eyelashes for a longer time because they wouldn't fall so fast =) After an hour, my ordinary lashes turned to pretty flirtatious ones!
*turns up voltage and bat eyelashes*
I also asked the staff whether will my eyelashes drop a lot after this (need to mentally prepare myself) but she said as long as I'm gentle in caring for it, it won't drop much. She said that eyelashes falling is very normal just like our hair falls everyday and it will certainly grow back. Phew… that made me feel less worried!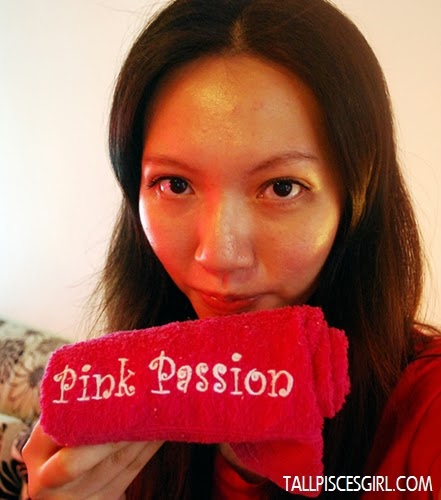 The thing I love about this eyelash extension is it looked really
natural
! People wouldn't notice that I have something fake on but yet it enhances my look :p I can now get away without eyeliner or mascara and still look good hehe!
I've been having these eyelashes on for 2 weeks now. The first few days, it felt as if something is obstructing my view, just like having falsies on permanently. I need to be extra careful when washing my face and avoid from rubbing my eyes (my bad habit!). Luckily I'm a disciplined person and managed to control myself. Sometimes it's a bit ticklish so I just blink my eyes more. Don't try to pull your extensions off or rub it or your natural eyelashes will fall! Since I'm so careful, I really didn't notice any eyelash fall. So don't be afraid to try!
ATTENTION!
For being a reader of mine, Pink Passion is now offering Rich Lashes Extension to you at only
RM 88
instead of RM 228. On top of that, you'll get a
FREE touch-up service
within 7 days from your eyelash extension service. It's a steal!! All you need to do is save this image, print it out and show it to them. Alternatively, you can also mention my name and blog URL but remember to make an appointment first ya!
Address
:
Pink Passion The Signature Salon
No. 37-1, Jalan PJU 1/3C, Sunway Mas Commercial Centre, 47301 Petaling Jaya
Tel
: 03-7805 7285
Website
:
www.pinkpassion.com.my
Opening Hours
: Tue – Sat: 11:00 am – 7:00 pm Sun: 11:00 am – 6:00 pm