To be honest, method isn't a really common brand in the household for cleaners but mind you, uncommon doesn't mean that the products are not good. It just means that the brand is not widely known yet in Malaysia and needs more testimonials from people who have used it before. Mainstream brands doesn't mean they have good quality too!
I was thrilled when Julia from Brand 360 Degree invited me to Mad about Method Bloggers Tea Party at MiCasa All Suite Hotel. I'm interested to know more about them after receiving a few products from them in a giveaway. I gave some to Clumsy Boy's mum and she said she loved the Laundry Detergent with Smartclean Tech because it's so convenient. All she need to do is pump out the content instead of pouring it out. As her hand was injured previously, pouring from large bottle is a no-no.
I was glad I wasn't the last to arrive although I'm a bit late, having to rush from a food review at Mid Valley and the road wasn't kind to me. The first thing we did upon arriving is of cos, TAKE PICHAS!!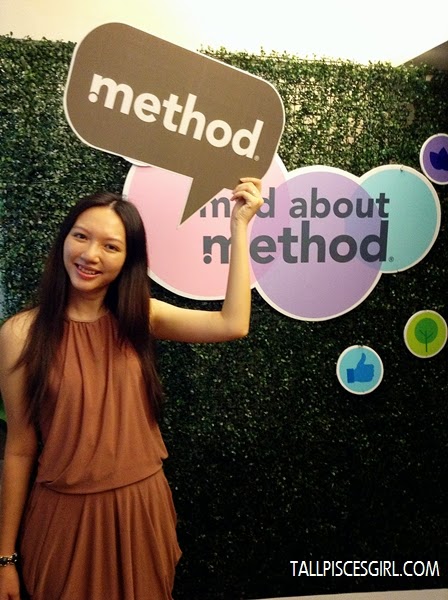 I'm mad about method!
I can't get enough of method I had to pose with method hand wash prop…
…and pump it on Clumsy Boy! LOL!
Method Home Products
Lots and lots of products were there for us to play around… Oops, I mean try it on our own because obviously, action speak louder than words right? Once you tried it and see how effective it is, you're sold!

After some mingling session with the higher management of method Malaysia, the tea party officially started with Mr. Ian Samson, director of WMS Marketing who gave us a brief introduction about method. Taglined "people against dirty", method is about more than just cleaning your home and body; it's about cleaning the way we clean.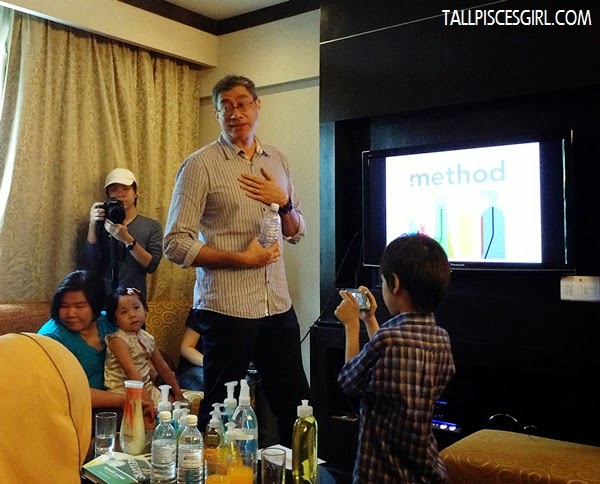 Mr. Ian Samson, director of WMS Marketing
The main tenets of method are Clean, Safe, Green, Design and Fragrance.
Clean – They used powergreen technology – a cutting-edge green technology made with naturally derived ingredients that work by dissolving and removing dirt.
Safe – Mums can also finally stop worrying about their kids consuming toxic detergents because method products are non-toxic! Besides, you won't experience stinging eyes, burning lungs and headaches due to heavy ammonia content anymore. Cleaning is now people and pet-friendly =)
Green – Using safe and sustainable materials, they made sure that every product sent out is a little agent of environmental change. How do they do that? Simple. They made their cleaning bottles using 100% post consumer resin (PCR), which means they're recycled bottles.
Design – Finally detergents and cleansers can take the limelight and be something that you'll be proud to display out thanks to the pretty product packaging! You don't need to hide them inside your cabinets anymore. Aside from looks, they made their liquid laundry detergent very convenient to use by storing it in one-handed pump bottle
Fragrance – Ammonia and bleach fragrance is not an indication that the place is clean. In fact, it suffocates the person who cleans it and the person who uses it. At method, they use fragrances that contain essential oils like eucalyptus mint, ylang ylang and lavender. A breath of it reminds me of nature~~
Next, Ms. Fiona of Ecocentric Transitions talked to us about sustainable lifestyle. There were actually many things that we can practice to just save the world a little like making enzymes on our own and recycle our wastes!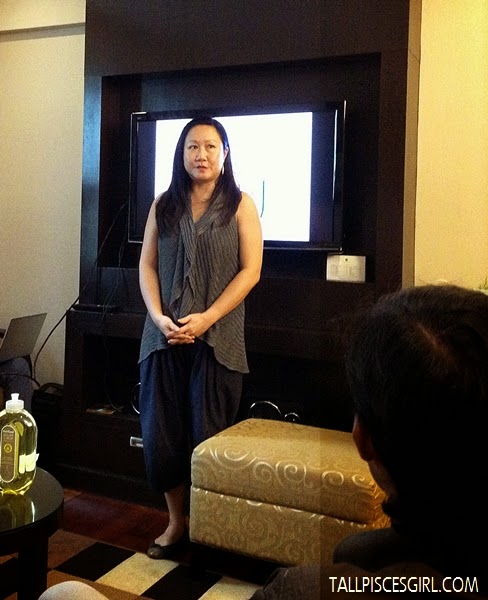 Ms. Fiona of Ecocentric Transitions
After sitting for such a long time, it's time for us to get our butts off the seats and work a little! We were all required to list down all the method products used in 7 sections of the suite. RUSHHHHH!!! There were some pretty and handsome models cleaning the room while dancing with the product on their hands so we had quite a hard time figuring out the name of the products LOL! Luckily I managed to ask them freeze!! Then, we all gathered after the activity and compare with the answer given by Julia. We have to raise our hands quickly in order to walk away with the products. Luckily I was fast enough hehe…
On the other hand, Clumsy Boy was too slow!
And some of his answers were incomplete =.="
Clumsy Boy living up to his name hahaha
Exhausted after all the 'workout', it's nom nom time! Cupcakes, tarts and biscuits are not to be missed for recovering energy lost LOL!
Overall, it was such a fun experience to learn so many new things about the environment in a jolly good environment. Before we left, we snapped more photos!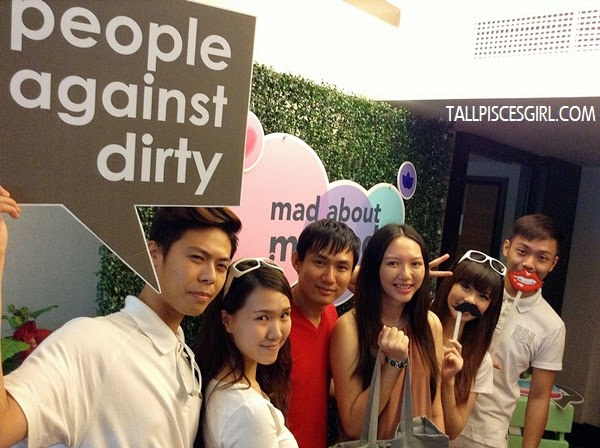 Together with leng luis and leng chais!
The products are so heavy yo! *Lifts it up and down like a dumb bell*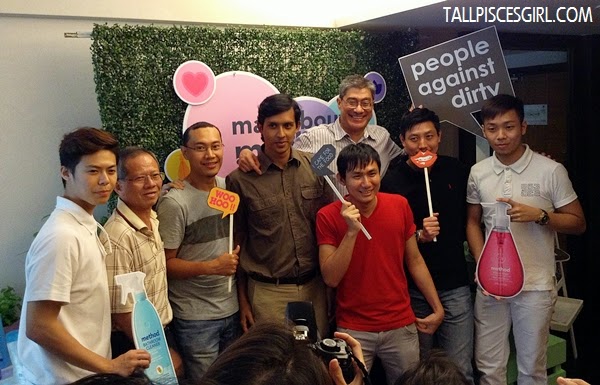 The vain guys who wanted a group photo haha!
Interested to make a difference in the way you clean? Method products are available at Jaya Grocer, Isetan KLCC, selected Tesco hypermarkets, Mercato Pavilion and you can also purchase online from method Malaysia.
Let's make the world a better place to live in! ♥