Hello my beautiful (and handsome) readers!
Feeling so blessed recently as I've been receiving quite a lot of beauty products to review recently. Thank you my dear sponsors! Today, I'm going to share with you one of my sponsors,
HiShop
! Actually, HiShop is already very popular among girls who love to shop for cosmetics and skincare products online because they provide the best deals i.e.
lowest price and free samples
*screammmmsss*
to their customers!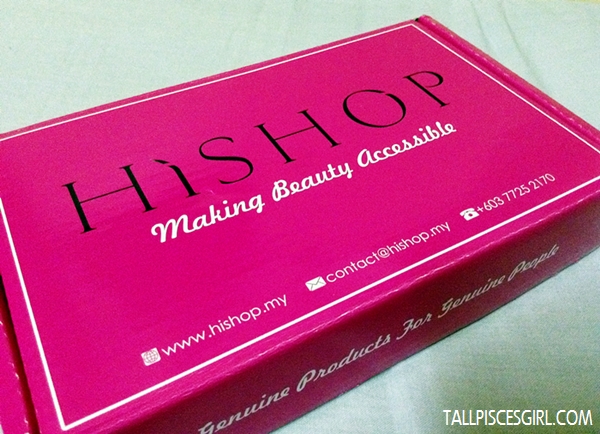 HiShop Beauty Ambassador Welcome Pack
I'm so thankful that they've selected me to become their Beauty Ambassador and sent me a Welcome Pack for review purposes. Let's see what are the goodies inside!
1. Arty Professional AP Mania Face Color – PZ (RM 45)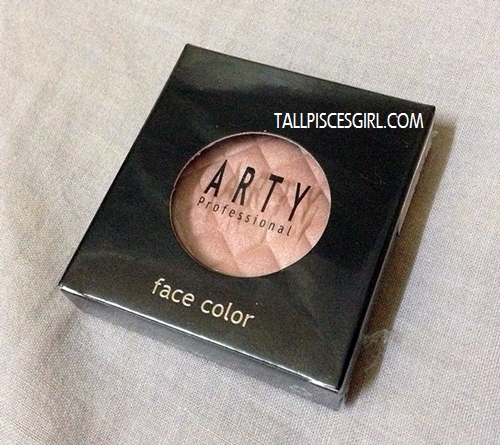 Arty Professional AP Mania Face Color – PZ
Vibrant colour and amazing comfort. Unique formulation ensures true colour intensity and long-wear performance. Highly pigmented soft texture makes for easy blending. Available in an array of more than 60 mesmerizing hues in either a matte or shimmer finish from coral pink to mikado yellow and muted turquoise. Provides unlimited creativity to let your eyes sing, smile and smoulder.
Can be used on both the eyes and cheeks.
Contains Apple and Peach extracts for healthier skin, Avocado as a natural moisturizer with Cranberry extracts rich in anti-oxidants to help neutralize free radicals.
Charmaine says: Ooh how I love colors! And this is an exciting 2-in-1 product as it can be used on face and eyes! I'll try it soon and let you know how it fared 🙂
2. Touch In Sol Natto Mask Pack (RM 5.90)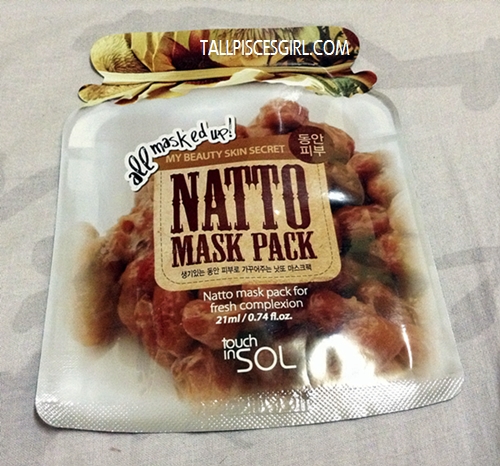 Touch In Sol Natto Mask Pack
The Natto mask helps your skin retain its natural moisture levels as it exfoliates and replenishes dry skin. Proteins and fatty acids from fermented soybeans provides intense hydration, with lotus flower extract leaving skin silky smooth.
Charmaine says: I'm all in for moisture boosting products! My face is oily but down in the epidermis, it's suffering from dehydration 🙁
3. Nature & Co Vital Purity Lift Mask Sample (Full size price: RM 88.90/140ml)
Nature & Co Vital Purity Lift Mask
Description:
Tightens pores and smoothens skin texture
This cool-feeling lift mask smoothens out sagging skin
The natural clay ingredients banish dullness to produce soft, smooth skin
No artificial coloring
Charmaine says: With organic lavender and chamomile essence extract, I'm sure this is gonna smell very good! If you haven't known, lavender and chamomile helps to relieve stress and relaxes your mind. Will I fall asleep while using it? LOL!
4. Nature & Co Pure White Lotion Light Sample (Full size price: RM 58.90/180ml)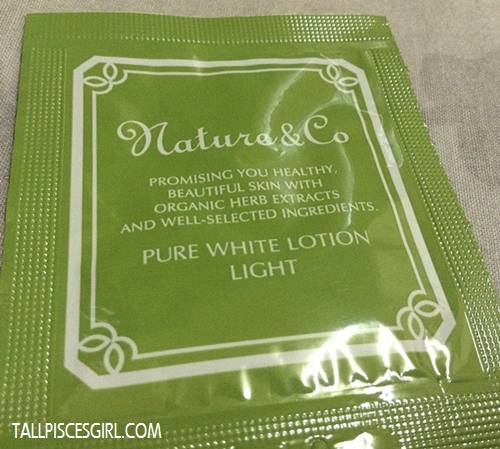 Nature & Co Pure White Lotion Light Sample
Description:
Whitening skin toner that penetrates easily into the skin to fill the skin with moisture and make your wish for pure and transparent skin come true.
Softens skin and boosts its ability to soak up nutrients, while at the same time delivering whitening ingredients deep inside the skin. It leaves skin healthy and teeming with pure translucence. Vitamin C derivative (base compound) suppresses melanin generation and wards off spots and freckles.
It has a lush, moist texture that won't feel sticky on the skin.
Delivers a pleasant sensation with rich moisture you can feel.
It has a scent of fresh herbs that will make you want to breathe in deeply.
No artificial coloring
Dermatologically tested. (Caution: this does not mean that the product is guaranteed non-allergenic for all users)
5. Nature & Co Pure White Milky Lotion Light Sample (Full size price: RM 58.90/130ml)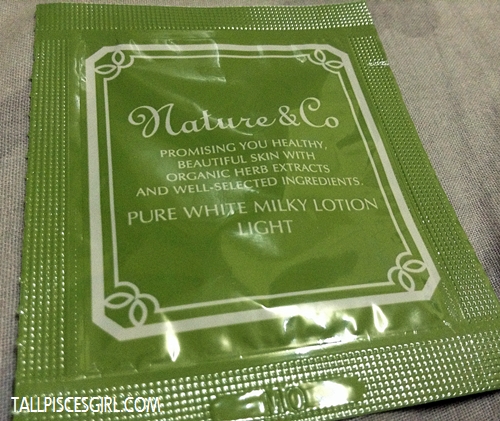 Nature & Co Pure White Milky Lotion Light Sample
Description:
Goes on with a fresh texture and blends delectably into skin. Whitening lotion that leaves skin moist, creamy, and exceedingly soft to the touch.
A whitening lotion that wraps skin with dry tendencies in a solid veil of moisture, leaving skin noticeably plump and firm.
Vitamin C derivative (base compound) suppresses melanin generation and wards off spots and freckles.
It has a lush, moist texture that won't feel sticky on the skin. Delivers a pleasant sensation with rich moisture you can feel.
It has a scent of fresh herbs that will make you want to breathe in deeply.
No artificial coloring.
Dermatologically tested. (Caution: this does not mean that the product is guaranteed non-allergenic for all users)