As all Malaysians know, today,
5th May 2013
is
Malaysia's 13th General Election Day
aka #GE13. Many Malaysians including me have been feeling very nervous since yesterday night!
Malaysia 13th General Election
I purposely woke up at 8am to prepare myself and a browse through Facebook in early morning gave me a shock! So many friends of mine already voted and many of them reported long queue everywhere!! I hurriedly ate my bread and dash out from Cheras to
Sekolah Rendah Agama Kampung Puah
(Sekolah Rendah Bilal bin Rabah). KIASU! But by the time I reached, the queue already very long T_T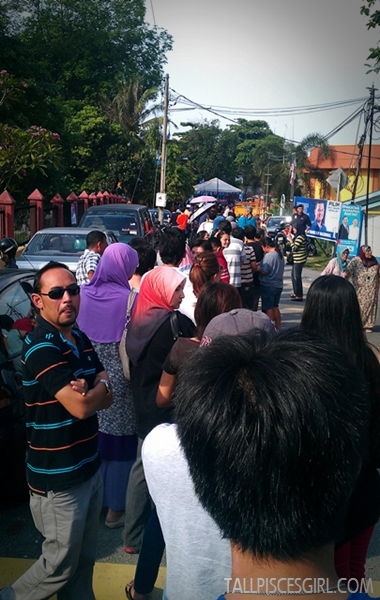 Luckily my dad brought me an umbrella from the car (Thanks dad!). I waited for around 30 minutes in the queue. Suddenly, everyone moved into the school quite fast and then it hit me. WE DON'T NEED TO QUEUE WAN! =.=" Yeah, we actually don't need to queue into the school… we can just walk in. The place became crowded because people go check their voting channel (Saluran) and No. Siri only. Those who already knew these info can proceed to queue up according to their Saluran.
Seriously, I almost fainted from the heat as I've been standing near the window for more than 30 minutes! The flow should be more in control and police should guide us instead of just looking and watching. The voters around me were very friendly though, chatted with quite a number of them. That's a very good environment =)
My father was lucky because he's considered as warga emas so he doesn't need to queue up much. Or so I thought. Turned out that the police failed to make the voters queue up in one line! See the photo above! My dad also said there are some impatient voters who push around and insisted to vote together with their gang =.= No bangla spotted at the time I voted though, which is a good thing.
Used tissue to wipe off as much
indelible ink
as possible after taking photo using my phone camera outside the school. Time taken definitely more than 1 minute lor… who said it was supposed to dry completely in 3 seconds? Anyways, tapau-ed Ayam Goreng McD home for lunch to reward myself. Don't dare to use left hand to eat cos scared the indelible ink is poisonous. But still, it's very hard to eat chicken single-handedly so I still use it to hold the chicken bone. To my horror, the ink came off when in contact with the oil! :O
I saw that the person from SPR said that he's not worried that the indelible ink will come off quick because we cannot vote tomorrow and our names have been crossed off. Yes, I know. But the thing now is, why you spent so much money buying some inks that we can wash off easily? Use marker pen only la!