Hey peeps! I'm sorry for being quiet for such a long time… Grandma has been admitted to the hospital again after she vomited some blood and I'm worried sick 🙁 Among all the negativity, I actually feel blessed when I received stuffs from sponsors, especially from my favorite sponsor, MIVVA!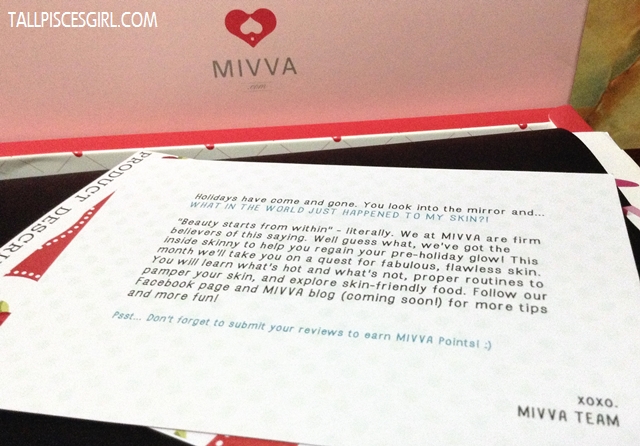 MIVVA Beauty Box March 2013
The theme for March 2013 edition is Know Your Skin, as the folks at MIVVA cleverly knew that our skin has became dull and congested after consuming all the CNY snacks and Valentine's chocolates! Hahaha! Without further ado, let's take a look at what MIVVA has to offer this month.
1. Murad Hybrids Skin Perfecting Primer Dewy Finish
Full Product Price: RM 150 for 30ml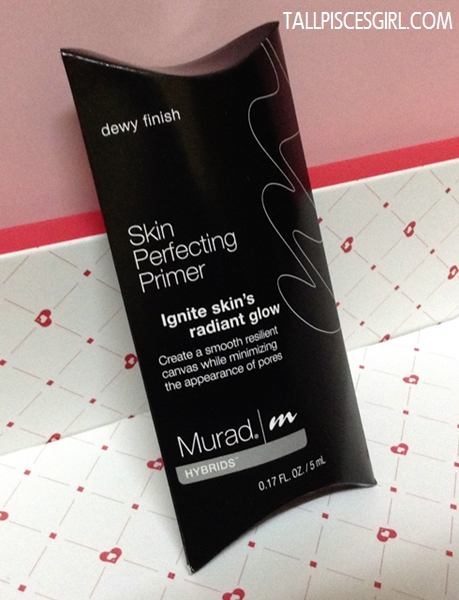 Sample Price: RM 25 for 5ml Skin Perfecting Primer Dewy Finish is an oil-free primer in a universal shade that balances oil production, disguises flaws, evens skin texture and minimizes the appearance of pores. Used under or in place of foundation, Skin Perfecting Primer Dewy Finish creates the perfect radiant glow. This is the product that I love most from MIVVA Beauty Box March 2013 Edition because it's like tailor made for my skin. My oily face doesn't look shiny anymore and glows like baby skin!
2. Secretleaf Pure Oil Series 01
Full Product Price: RM 75 for 15ml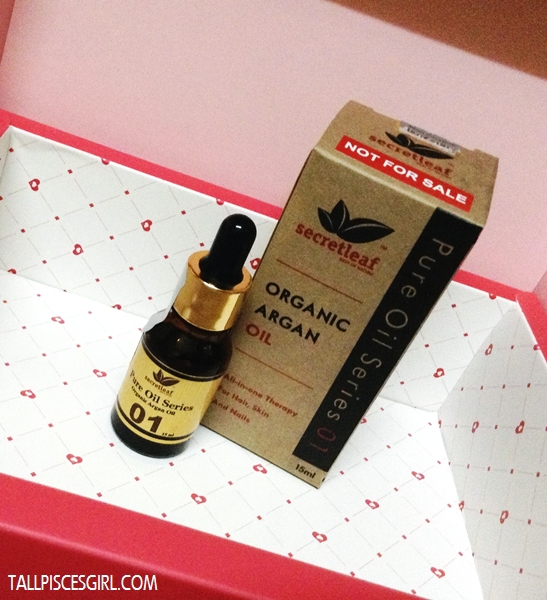 100% pure and organic argan oil exclusively imported from Morocco, famously known as 'Liquid Gold of Morocco' for its benefit in moisturizing the skin, reducing fine lines and wrinkles, lessen appearance of dark spots and pigmentation and revitalizes the skin. Also used on hair to reduce breakage, smoothen dry and frizzy hair as well as repair damaged hair and split ends. Since my skin is oily, I try to refrain from applying oil onto my face as I'm worried that it might cause breakouts. However, I'm sure my dry and limp hair will benefit from this product!
3. Beautymate Purifying and Brightening Nano Lotion
Full Product Price: RM 49.90 for 100ml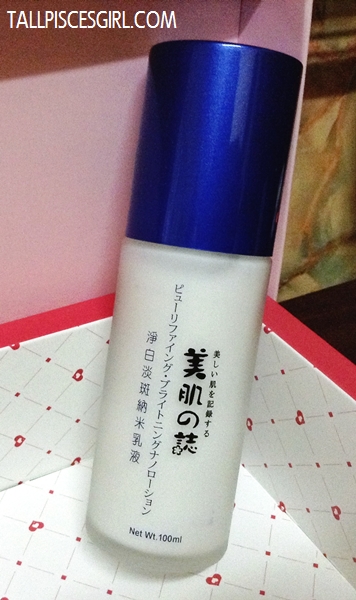 Purifying & Brightening Nano Lotion contains Gentiana Lutea Root Extract, Black Pearl Powder, and Morus Nigra Leaf Extract, it helps to minimise dark spots and to whiten skin. Nano particles enhances absorption by skin cells and penetrates deep into skin to provide essential nutrients. Vitamin B repairs skin cells and speeds up renewal, leaving your skin radiant, smooth and firm. In MIVVA Beauty Box Valentine's Edition, they have included Beautymate Purifying and Brightening Nano Toner so now I have a pair of Beautymate products! Yay!!! I wonder if they will be giving cleanser in the next box :p
4. Uriage Hyseac Cleansing Gel
Full Product Price: RM 61.90 for 150ml Sample Price: RM 20.63 for 50ml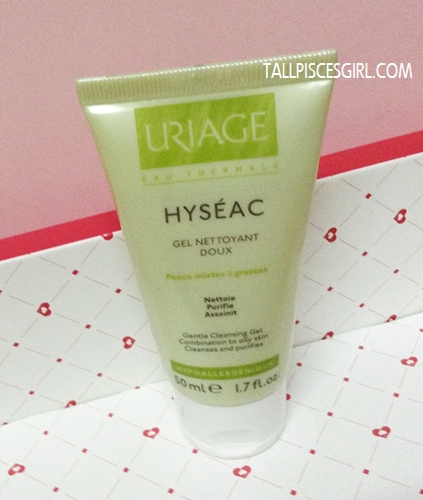 Perfect for oily skin, enlarged pores, irregular skin texture, muddy, dull complexion, blackheads, red blemishes, acne-prone skin etc. Its high rinsability, light foaming action on contract with water and delicate fragrance characteristic makes it a product that is extremely pleasant to use on a daily basis. Skin is clean, purified and clear.
5. Esllon Bio-Gel Eye Mask
Full Product Price: RM 59 for 5 pcs Sample Price: RM 11.80 for 1 pc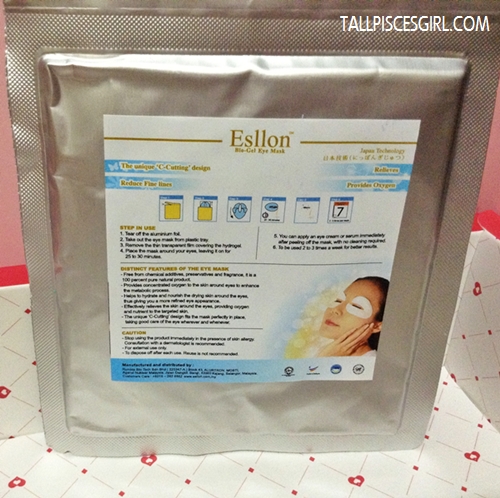 Esllon Revolutionary Bio-Gel Eye Mask is 100% natural bio-gel eye mask that is free from chemical additives, preservatives and fragrance. It is made of sago essence, water soluble polymers and water, which brings you 5 ultimate bio-medical beauty regimes namely hydrating, whitening, nourishing, soothing and restoration. Its sago hydrogel and the unique three dimensional polymer netting work in pair perfectly in revealing a translucent and youthful skin around your eyes with a touch of irresistible smooth texture in just five days. The most practical product for me right now as I've been spending most of my nights in the hospital, taking of grandma. This explains my late review and my panda eyes.
6. RM 20 cash voucher from Number76
A guess every girl will feel super duper excited like me upon seeing the voucher from Number76, right? YAY! I ngam ngam wanted a hair makeover and now I got this! So I can save RM 20 jor! 😀
7. RM 30 gift voucher from Murad
As for the Murad voucher, I already got it in the previous MIVVA beauty box and haven't even use it yet.
8. Cutie doggie
Woahhh look how cute this doggie is! It's made of towel! Love it so much!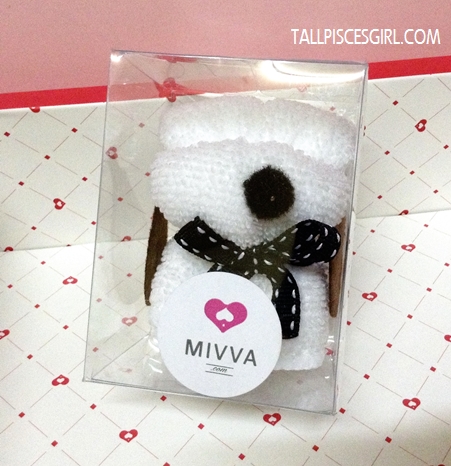 So did the beauty box contents made your heart skipped a bit? To subscribe, go to Mivva.com for more information 🙂