Gamila Secret
was founded by Gamila, a woman who did not receive any formal education but learned the ancient art of making soup with wild herbs and olive oil. Her aim is to give and keep one and all a healthy and soft skin. After 40 years of research, Gamila Secret was born.
Gamila Secret's products uses only the purest ingredients (combination of 15 herbs, olive oil and abundance of natural oils) and their secret is an esoteric mixture of seven herbs handpicked and carefully selected by Gamila. Besides, products from Gamila Secret does not contain chemical, synthetic perfumes, artificial coloring, preservatives, animal fats and not tested on animals. Each product has different design and the packagings are hand folded by disabled societies using recycled paper (cyclus).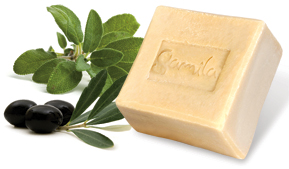 Original Gamila Secret Cleansing Bar
I've had the chance to try Gamila Secret 30g Mini Cleansing Bar (Original). Although it's ideally for face usage, but there's not much problem with my face so I decided to use it on my thighs because it has developed some rashes lately. These rashes only come out after I've taken my bath and they're VERY ITCHY! Sometimes, I would even scratch it until my skin bled.
Original Mini Gamila Secret Cleansing Bar
I used
Gamila Secret Cleansing Bar
to wash my legs everyday when I bath. It lathered very easily but due to the absence of essential oil, my leg feels "squeaky clean" after rinsing. I just brushed it off since I only use it on my leg anyway. After 3 days, the rashes are healed already! It feels miraculous because it's stated that I need to use continuously for 28 days to see the effect. I was amazed that my rashes only took 3 days to heal! I do recommend that you buy their special stone dish to keep the soap in its best condition. If you use normal soap dish, the soap will stuck onto it and it's very hard to pull it out.
Gamila Secret Cleansing Bar Soap Dish
Also known as the '
magic bar
', its natural beauty agent which is not only to clean and nourish the skin but also for softening and healing purpose. Original type is suitable for even the most sensitive skin (including intimate area) as it does not contain essential oil and unscented so the
smell is very mild
. Due to its natural characteristics, new born from 0-6 months can also use it.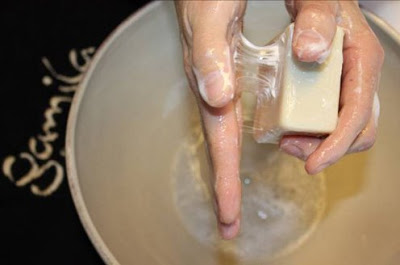 Massage the Cleansing Bar until texture is creamy
How to use
:
Moisten the Cleansing Bar with warm water between hands, to "activate" the 100% natural living ingredient
Massage the Cleansing Bar until texture is creamy
Apply the cream from soap directly on face or body and massage it for approximately 15 seconds so that it absorbs into open pores
Rinse off
Here's a video of 小凱老師 (xiao kai lao si) demonstrating on how to use Gamila Secret Cleansing Bar.
Price
:
Original Mini Gamila Secret Cleansing Bar RM 66.00
Original Gamila Secret Cleansing Bar RM 119.00
Although the price is not cheap, I personally think it's definitely worth it because this handmade soap took 40 hours cooking process, period of 4 to 6 months for drying, stamping and curving the edges before it's being imported to Malaysia.
Gamila Secret has a counter at Parkson Sunway Pyramid that lets you try their cleansing bars. Head there to experience it yourself! You can also purchase Gamila Secret products at
https://www.gamilasecret.com
.