World-renowned chef,
Martin Yan
, visits Malaysia to host an exclusive dinner for public as part of the
Autumn Treasures with Martin Yan
tour on Tuesday, 4 September, and a closed door dinner event on Wednesday, 5 September 2012. I was really excited to be up close and personal with the culinary legend himself when he was at
BERJAYA University College of Hospitality
for a cooking demonstration!
AFC: Autumn Treasures with Martin Yan Tour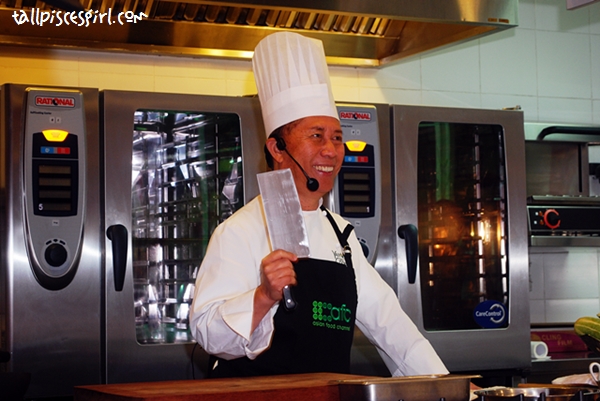 Chef Martin Yan designed his own knife and this is the only knife he used!
He uses it for everything!
During the cooking demonstration, Martin Yan shared with the students about how he started as a cooking teacher without any teaching experience nor certificate. He pointed out to the students that they need to trust themselves and do what they think is right. Do not try to copy anyone but BE YOURSELF. It was inspiring indeed!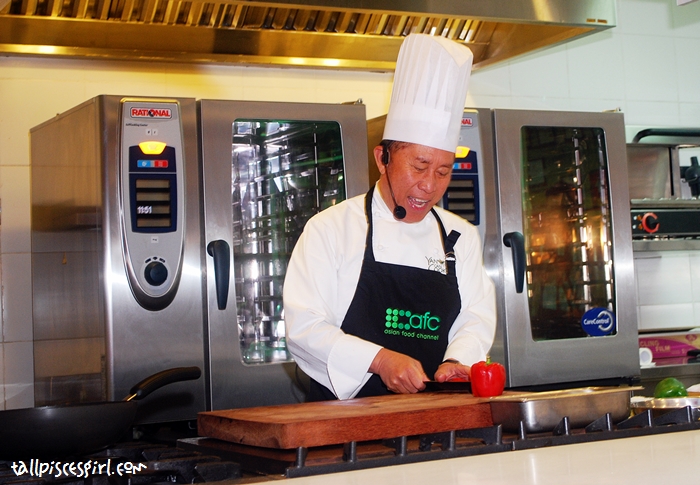 Chef Martin Yan is a very funny person. He has so much passion in him, it's contagious!
The first dish he prepared was Stir-fried Chicken.
Looking at him cooking is like watching a magic show.
He has so much skill to show off!
Can you see how thin the bell pepper is???
His chopping skill is very impressive: Speedy and consistent!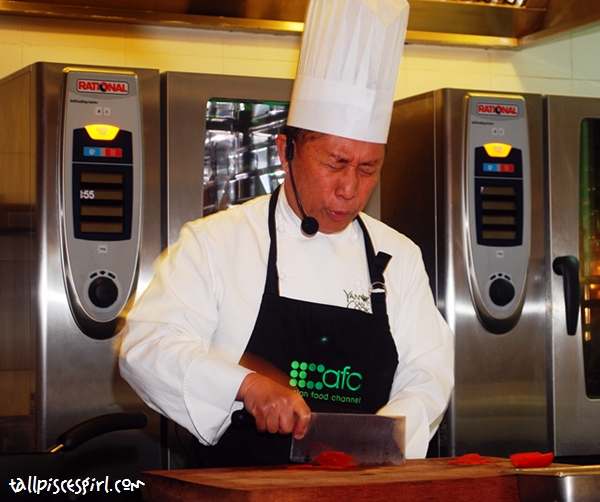 I just love his expression. Everyone was entertained by his humor XD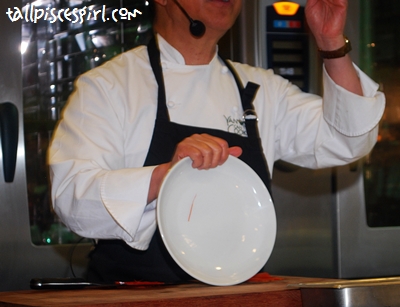 As if the slice previously is not thin enough,
he went on to make it thinner again!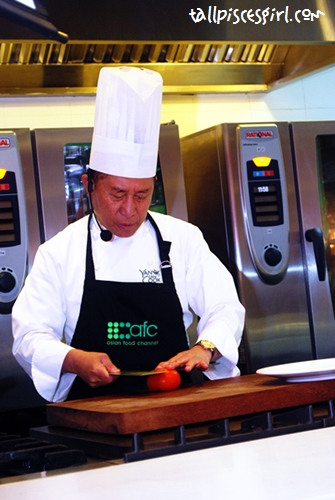 Now, it's the tomato's turn.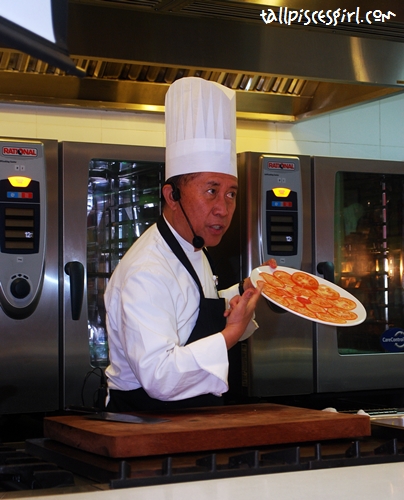 Sliced all the tomatoes into same thickness
Chef Martin Yan showed his tricks again
by de-boning the chicken in less than 18 seconds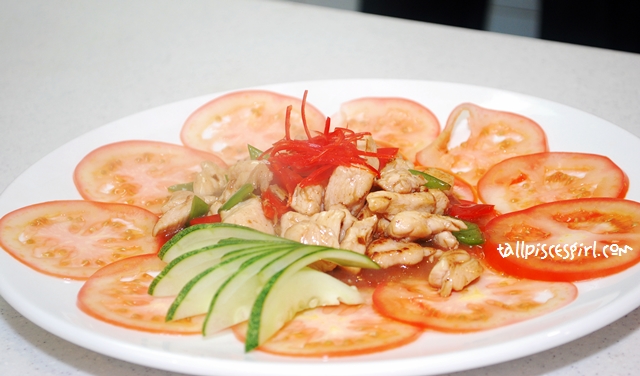 Stir-fried Chicken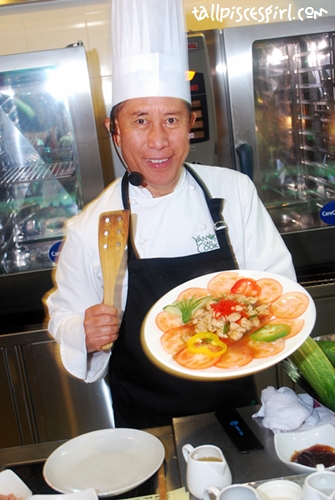 Chef Martin Yan posing with Stir-fried Chicken
I have the privilege to try it and the chicken tasted so sweet and tender. It makes me think that "If Yan can, so can I!". The next dish is Seared Fish Fillet in Egg White Sauce.
Chef Martin Yan started by cutting some fruits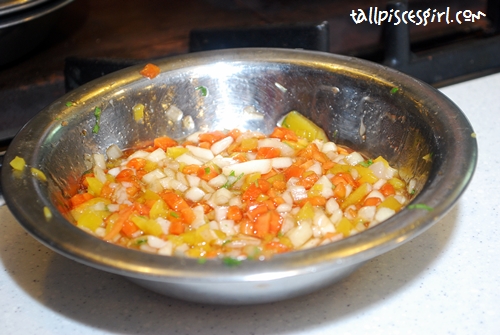 He uses tropical fruits as the base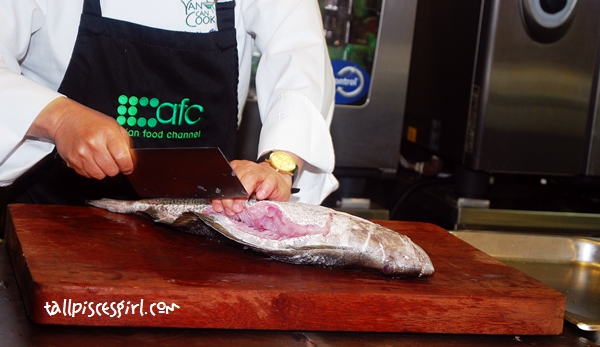 Chef Martin Yan also teaches the students how to cut out the fish fillet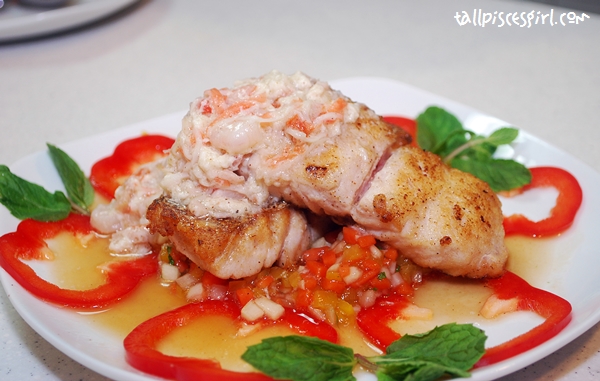 Seared Fish Fillet in Egg White Sauce
Just like the previous dish, seared fish fillet tasted really good when combined with egg white sauce and tropical fruit as base. Martin Yan has clearly shown that it's not difficult to prepare delicious dishes. All you need to have is patience and practice. Just like he said, "Practice makes perfect!".
A shot of Chef Martin Yan and I =)
Please come back soon!
Fans can continue to be inspired by Chef Martin with the repeat telecast of True Passion – Martin Yan from 10 to 14 September 2012 at 7.30pm, Astro Channel 703. For more information on Autumn Treasures with Martin Yan, please visit
https://asianfoodnetwork.com/
. Recipes will be up soon so please stay tuned to
tallpiscesgirl.com
<3