H-Artistry
finally returns to the heart of
Kuala Lumpur
for the second instalment of 2012's
Global Art of Mixing Trilogy
after a hot off raising the roof session in Penang at the Straits Quay Convention Centre last June! This time around, the happening party will be held at Kenanga Wholesale City, promising an eclectic mix and a phenomenal super-clubbing experience on
8 September 2012
.
Around 3,000 of seasoned H-Artistry enthusiasts and new initiates alike will be blown away by a revamped Hennessy Art of Mixing Zone featuring the
Hennessy 360 Cam
, as well as other interactive party elements; making it one of the premier party experiences this September.
We could enjoy our favourite Hennessy V.S.O.P. long drinks at the Hennessy Mixing Bars that serves delicious Hennessy Apple, Hennessy Berry, Hennessy Ginger and Hennessy Soda! Gorgeous H-Artistry ambassadors will be happy to demonstrate on how to mix your favorite signature Hennessy long drinks. I'm really excited about this!
Here are some shots taken during the previous H-Artistry parties:
Hennessy Artistry 2012
Let's prepare some long drinks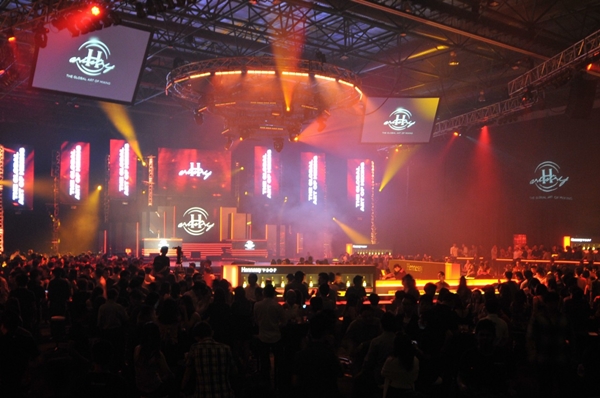 Happening party yo!
Yolanda Be Cool at 2011's H-Artistry Finale
Featured Artists in Hennessy Artistry 2012 @ KWC KL
Eva Simons
Eva Simons – Netherlands
Headlining H-Artistry this September at KWC KL, Dutch vocal powerhouse and EDM siren Eva Simons has come a long way since her beginnings. Back in 2009, Eva Simon's track entitled "Silly Boy" started to gain popularity on the internet and received attention from the likes of Kanye West. Bolstered by this initial success, Simons went on to sign a worldwide record deal at EMI, which led to even more notable records from her up to mid-2010. This was when Eva Simons & Mike Hamilton (also known as the writing team Topline Ink) wrote the song "Take Over Control".
Eva Simons has since premiered her new single "I Don't Like You" under Interscope Records, and her
tracks continue to pump up dance floors around the world with her distinct and power-packed vocals.
Afrojack ft. Eva Simons – Take Over Control
https://youtu.be/rVjcLL9WwU8
will.i.am ft. Eva Simons – This is Love
https://youtu.be/9I9Ar6upx34
Angger Dimas
Angger Dimas – Indonesia
Hailing from Jakarta, 24 year old Angger Dimas is the epitome of young DJ-ing talent from around the region. Commanding an underground cult following in the party scene of South East Asia's largest metropolis, Dimas started out young by picking up the guitar at the tender age of 7. His pursuit of creating
electronic dance music (EDM) began 3 years ago when he debuted his DJ-ing career in 2009.
In a short span of time, Dimas' talent landed him a record deal with Australia's mighty Vicious Recordings in early 2009. Dimas went on to spend the rest of his early years fine-tuning his craft, making a huge impact not only in Jakarta's thriving club scene, but also amongst international electro house / EDM heavyweights such as Laidback Luke and Steve Aoki.
Steve Aoki and Angger Dimas – Beat Down
https://youtu.be/OfNfO-iBRa4
Dimitri Vegas & Like Mike, Yves V., & Angger Dimas – Madagascar
https://youtu.be/gPTWXYeAgy8
B.A.T.E. (Brain And The Eye)
B.A.T.E. (Brain And The Eye) – Malaysia
Known for their hand-picked selection of only the finest tunes in Disco, Techno, Big Room and Electro,
B.A.T.E. are heavily influenced by EDM juggernauts such as Laidback Luke, Boys Noize and Steve
Angello. Eager to set the energy and pace this 8 September at H-Artistry, party goers can expect an
adrenalin-laced set with lots of fist-pumping moments as B.A.T.E. brings their eclectic sound to the
biggest party in Kuala Lumpur this September 2012.
Nasty and GuruGuru a.k.a Bass Agents
Nasty and GuruGuru a.k.a Bass Agents
Infamous household names of the Kuala Lumpur party scene, Nasty and GuruGuru who come together as the Bass Agents need no introduction. Anchoring the hipster continent of Zouk Club KL, with their monthly residency at Basonic, the Bass Agents have well established their mark in the region with their complex and edgy lashings of electro, hard trance and hard style.
If you're already excited now and wants to get a hold of the tickets, head to
www.h-artistry.com.my
for more information. H-Artistry is open to those above 18 years of age and non-Muslims only.