It is easy to escape from the hustle and bustle of city life with
The Saujana Hotel Kuala Lumpur
around. With 160-acres of lush tropical gardens, every breath you take is guaranteed fresh air. They also have 2 18-hole championship golf courses, perfect for business and leisure purpose.
Chef Filippo Giunta
from Sicily has recently joined
Senja Italian Restaurant
as the executive chef. The arrival of Chef Giunta has given the restaurant a lift by introducing his forte dishes into the menu and I was lucky to be invited to taste his creative dishes through
Antipasto Italian Lunch Buffet
.
Antipasto Italian Lunch Buffet
Antipasto, meaning "Appetizer" / "Starter" in Italian is the meal before main course and for this buffet, Senja has provided 10 dishes for diners to enjoy. Antipasto Lunch Buffet is perfect for those who have limited time for lunch and prefers lighter meal but with great variety. One can also choose to have the Antipasto Lunch Buffet and main course or Antipasto Lunch Buffet, main course and dessert. Talk about flexibility!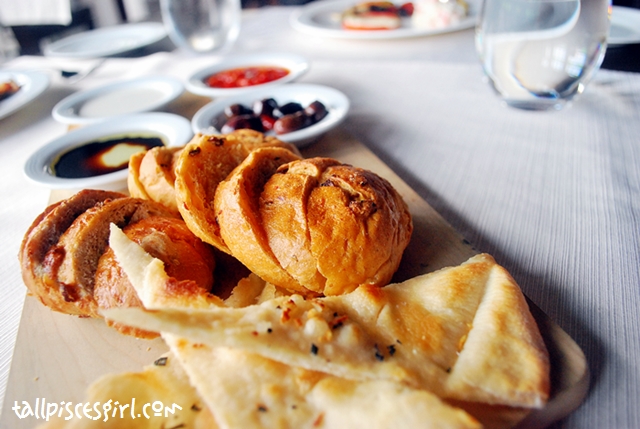 All diners will receive complimentary freshly made bread and Pizza Bianca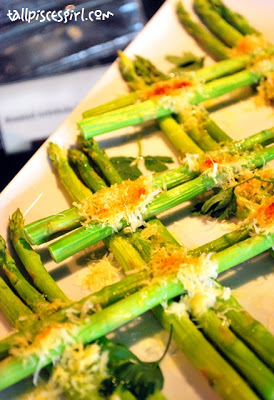 Green Asparagus with Parmesan Cheese
Who says healthy food aren't tasty? With Chef Giunta, nothing is impossible. He cleverly puts Parmesan cheese sprinkles onto green asparagus, giving it a twist of flavors.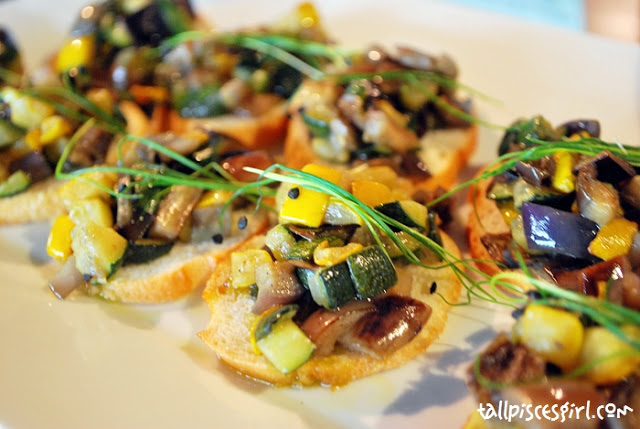 Mixed Vegetable Bruschetta
Baked Aubergine alla Parmigiana
Claimed by both Campania and Sicily, this Southern Italian dish tastes very cheesy, every bite is so sinful!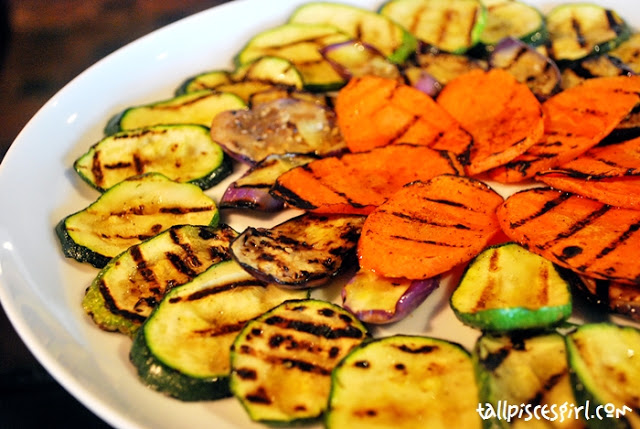 Grilled Vegetables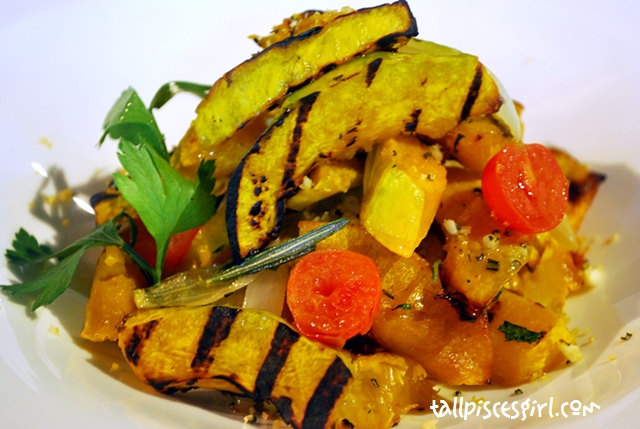 Marinated Pumpkin with Lemon and Thyme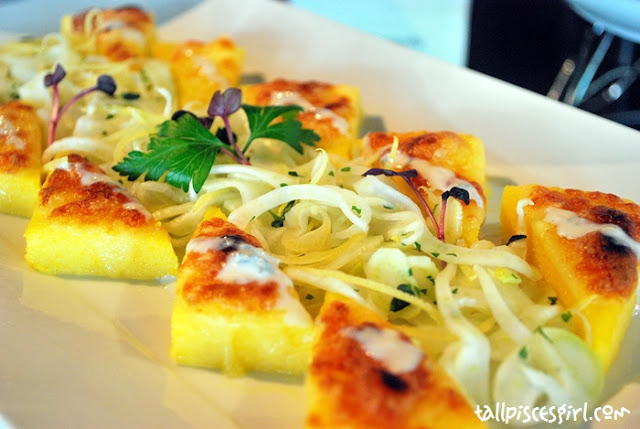 Polenta with Fennel and Gorgonzola Dressing
I totally love this dish! This finely grounded cornmeal has a smooth texture and its flavor is enhanced by Gorgonzola, veined Italian blue cheese. It's amazing how Chef Giunta is able to use different types of cheese to enhance the taste and presentation of the dishes.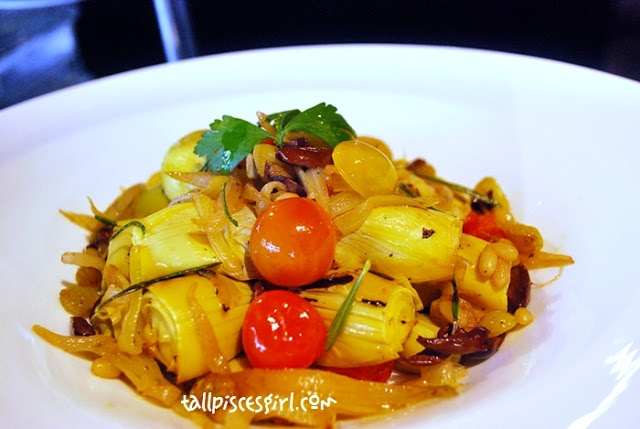 Roasted Artichoke Roman Style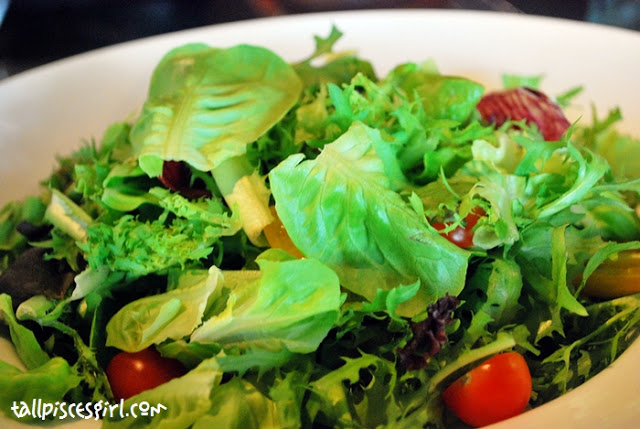 Selection of Musculin Salad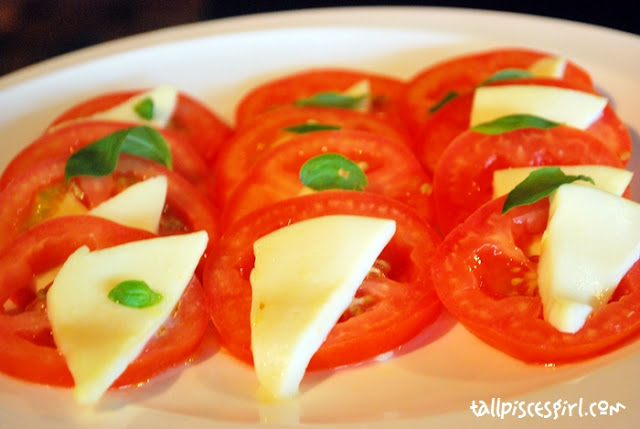 Tomato Mozzarella
Another healthy dish topped with mozzarella cheese! After eating the Antipasto Lunch Buffet, I'm already 80% full!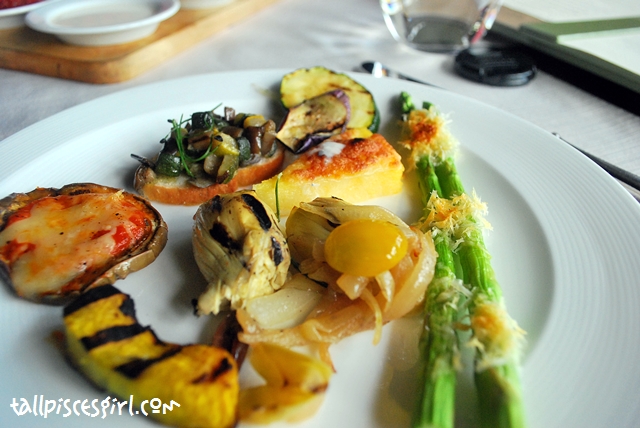 I look a bit of everything! 😀
Pizza Mediterraneo
Sink your teeth into an ocean of sumptuous mixed seafood, melted Mozzarella and tomatoes with Pizza Mediterraneo!
Risotto ai Frutti de Mare
Risotto ai Frutti de Mare, meaning Seafood Risotto instantly brightens my day with its color and is simply delicious! The taste of tomato opens up my appetite anytime!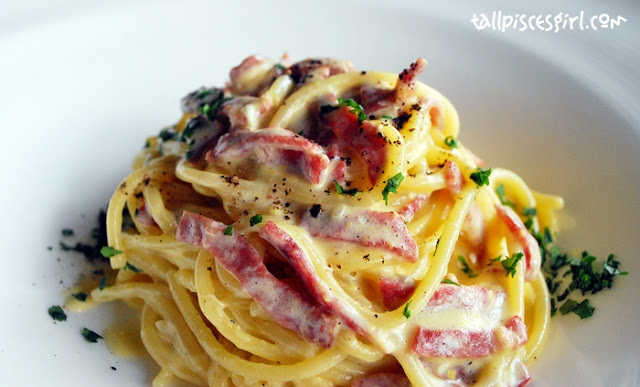 Spaghetti alla Carbonara
Carbonara is my all time favorite! Wherever I go, I'll order Carbonara if it's in the menu. Spaghetti was cooked al dente and creamy while the thick cut bacon was really chewy.
Chef Filippo Tiramisu A la carte price: RM 29
As a coffee addict, tiramisu is always in the order list. Chef Giunta paired his tiramisu with raspberry sauce and some blueberry to give the original taste a twist. I taste sweet, bitter and sour at the same time!
Sicilian Parfaits, Chocolate Grenache A la carte price: RM 30
If you're in for something special, you've gotta try this! It's a new milky experience for me to try Sicilian vanilla parfaits stuffed with fruits and it's wrapped with rich chocolate on the outside. It also comes with a scoop of vanilla ice cream!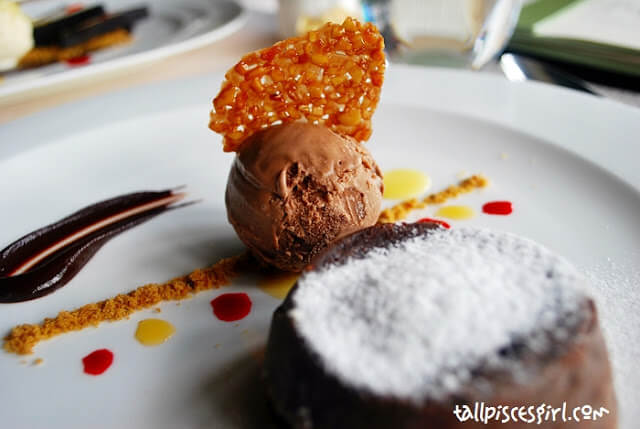 Snickers Version 2009 A la carte price: RM 29
Snickers Version 2009 consists of a soft chocolate cake and a chocolate ice cream with a caramel biscuit on top of it. Upon cutting up the soft chocolate cake, sinful chocolate lava oozes out! Ahhh this is what I call bliss! It's clever to pair the warm chocolate cake with cool icy ice cream because it gives you the goodness of both worlds!
Coffee, tea or me? 😉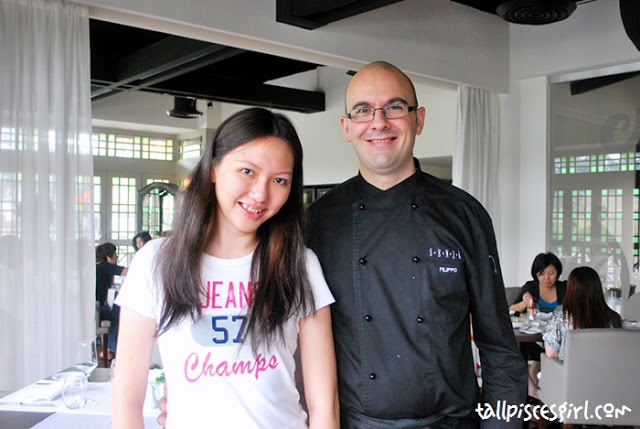 Thanks to Chef Filippo Giunta for the excellent meal!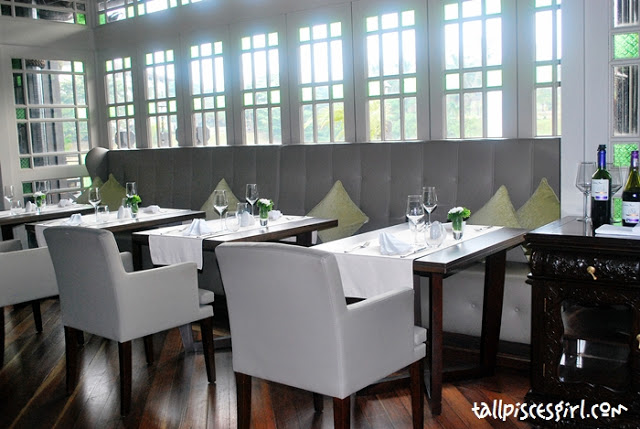 The interior of Senja
Promotion price
: Antipasto lunch buffet = RM35++ Antipasto lunch buffet + main course = RM65++ Antipasto lunch buffet + main course + Dessert = RM75++
Address
: Senja Restaurant The Saujana Hotel Kuala Lumpur Saujana Resort, Jalan Lapangan Terbang SAAS, 40150 Shah Alam, Selangor Darul Ehsan, Malaysia
Tel
: +603-7843 1234 (for reservation)
Opening Hours
: Tuesday – Sunday 7pm to 10.30pm (Closed on Mondays)