Well, if someone asked you what is the best meal you've ever had in your entire life, will you be able to come out with an answer? I couldn't. Until
Clumsy Boy
told me that THIS was the best meal he has ever tasted in his whole life. I even said that he's exaggerating because that's exactly the trait of an Aries. But when he asked me back, I couldn't help but to agree that this was indeed the best meal I've ever had too! A big thank you to the people at
The Club Saujana Resort
for inviting me to this
Wagyu Beef Promotion
food tasting session.
Exquisite decorations and menu in front of The Restaurant
The Club Saujana Resort is a 5-star boutique resort surrounded by 160 hectares of lush tropical gardens and equipped with golf courses perfect for leisure and business travellers. Inside this resort, there is an elegant and posh restaurant that overlooks the garden and water feature namely,
The Restaurant
.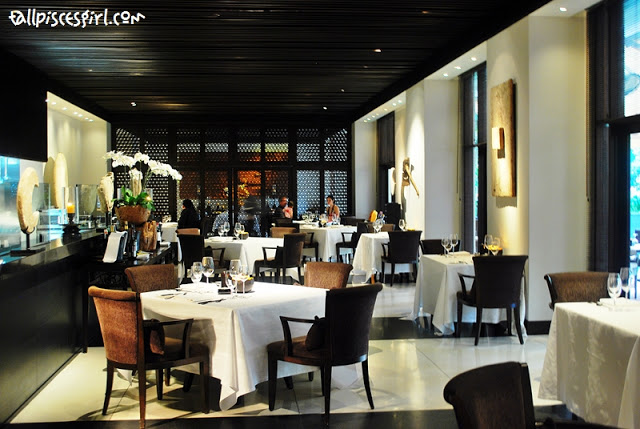 Posh settings in The Restaurant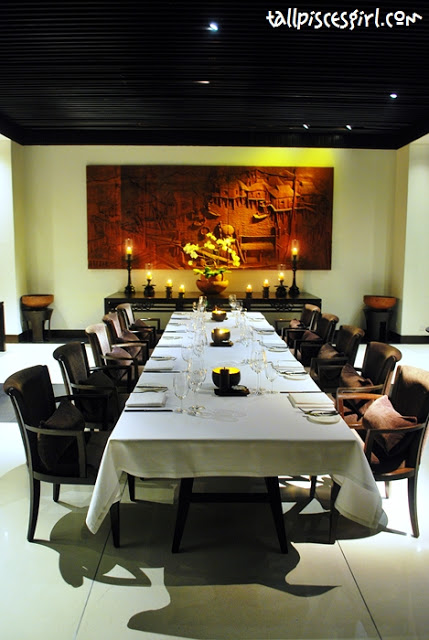 Private dining area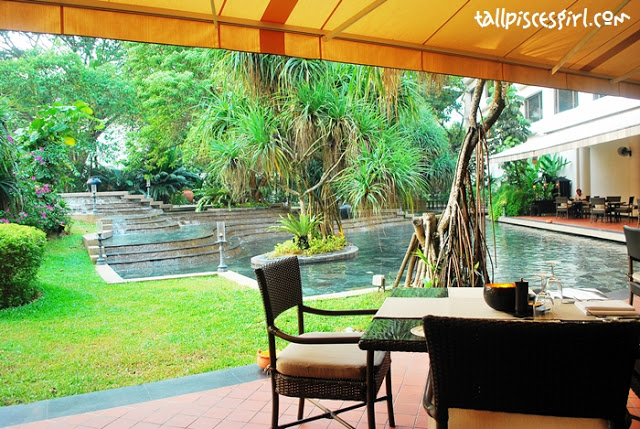 Outdoor dining area that overlooks the garden and water feature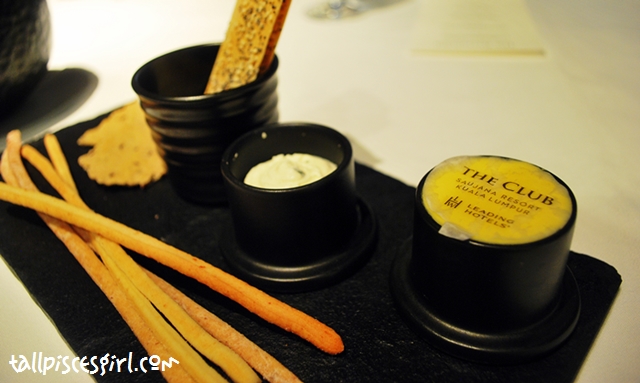 Cheese sticks with sour cream and butter
Before starting our set dinner, we had some casual chit-chatting while munching on handmade breadsticks and wafers provided. The Restaurant's Executive Chef,
Alexander Waschl
, came from Austria and is part of the team that earned 16 Gault Millau points (equivalent of a Michelin Star) in Switzerland. During the whole month of July, you will get to enjoy an array of Wagyu beef-based dishes carefully crafted by Chef Alexander at a very attractive price!
Chef Alexander Waschl
According to Chef Alexander Waschl, they're using premium Australian Wagyu Beef Grade 5 (BMS No. 8-9) for main courses and Grade 4 (BMS No. 6-7) for the rest of the dishes.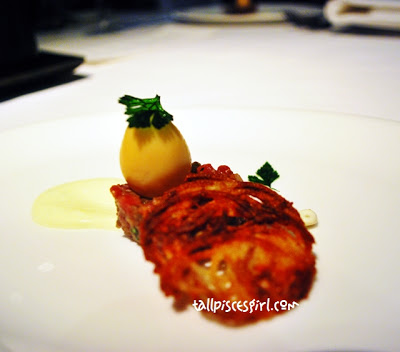 Spiced Wagyu Beef Tartar A La Carte Price: RM 128
In order to open up our appetite, we were served Spiced Wagyu Beef Tartar accompanied by a thin and crispy potato roesti and pan-roasted quaill egg with sour cream as appetizer. I especially like the crispy potato roesti because it's not as thick as the conventional one and tasted like snack instead.
Wagyu Beef Carpaccio A La Carte Price: RM 128
Of all the dishes served, this is my favorite and the main reason why I enjoyed this set dinner so much. Wagyu Beef Carpaccio is a thin and long slice of raw wagyu beef served with Parmesan Cream, Parmesan Shavings, Aged Balsamic and a dash of extra virgin olive oil. I recommend that you first eat without dipping on the parmesan cream and then only try another mouthful by dipping it because the taste varies a lot. Personally, I'd prefer to eat it as it is because I wanted to enjoy every millimetre of the fresh wagyu beef.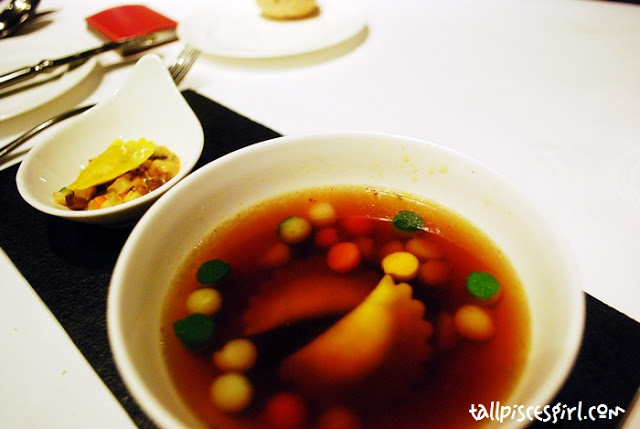 Wagyu Beef Cheek Consommé A La Carte Price: RM 42
In this course, Homemade Wagyu Beef Cheek Ravioli was presented in 2 ways: with Vegetable Balls Shavings in beef broth just like the ones in Chinese beef noodle and .in a creamy thick sauce with minced beef. I preferred the latter because it has a stronger taste and I'm actually quite curious to taste the wagyu beef cheek on its own to feel the smoothness.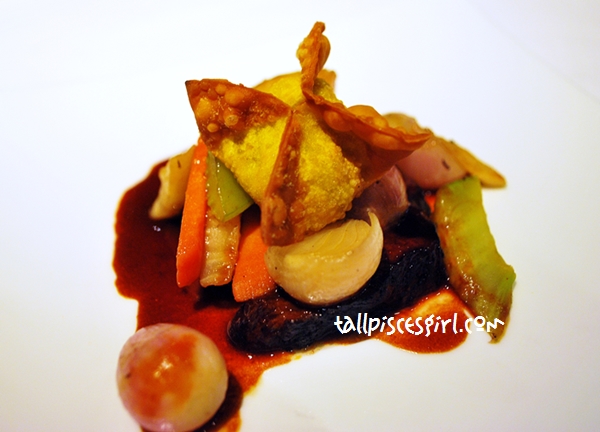 Braised Wagyu Beef Cheek A La Carte Price: RM 98
In the next dish, braised Wagyu Beef Cheek was wrapped into a ravioli, IMHO it's similar to Chinese fried wanton but this is with wagyu beef filling. The inside tasted really juicy and flavorful while the outside is crispy and crunchy. Very fun to munch on!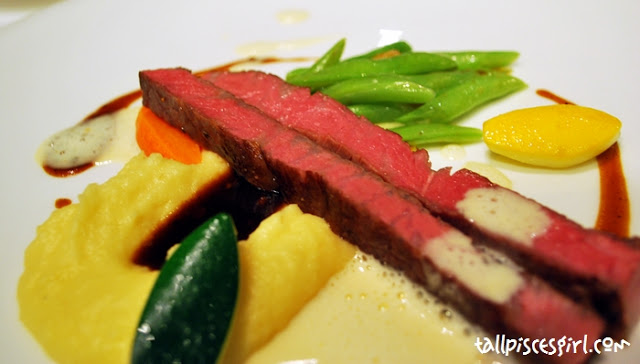 Wagyu Beef Striploin A La Carte Price: RM 218
The main course in this set was this juicy and tender Wagyu Beef Striploin with a perfectly paired black pepper sauce. I normally avoid from eating steaks with black pepper sauce because it normally tastes too hot for me but this black pepper sauce that they used was just right; no spicy hot taste and yet contains the black pepper taste. I'd love it more if it's prepared Medium-rare instead of Medium.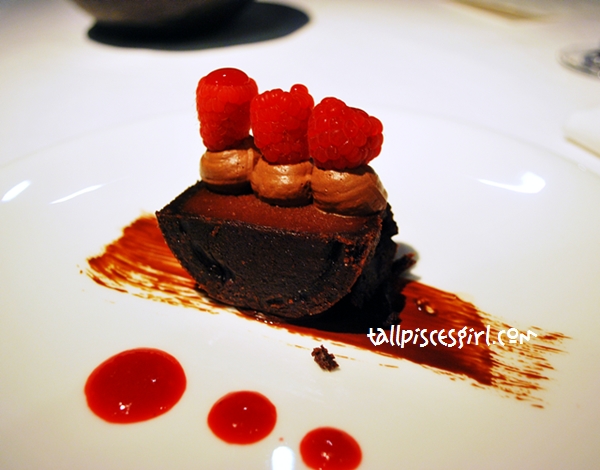 Chocolate Cake
Last but not least, our dessert – Chocolate Cake!! Delectable and sinful chocolate coupled with fresh raspberries is just perfect to end our course on a sweet note.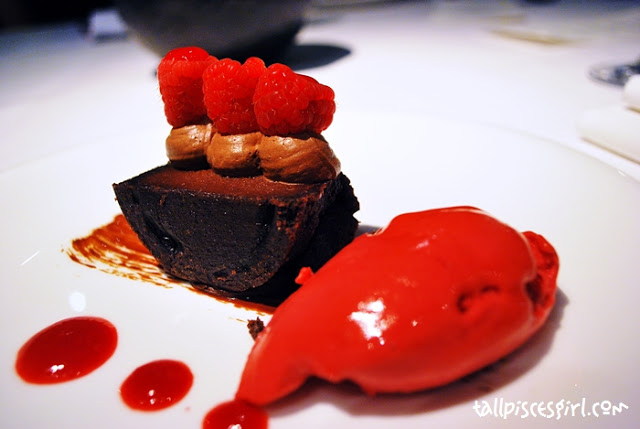 Chocolate Cake with Raspberry Sorbet
Oh wait! There's Raspberry Sorbet too! The chef personally came out to add it for us 🙂 It tastes quite sour but I really love the smoothness of it.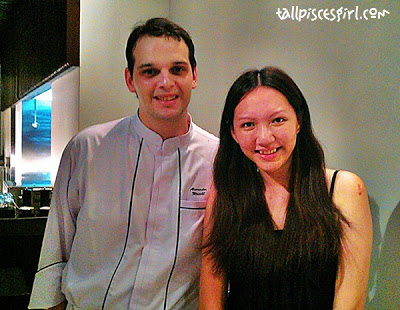 Chef Alexander Waschl and I
You can now get a
5 course Wagyu Beef set
(excluding the first dish) at only
RM 350++
in the entire month of July. I think it'll be perfect to break fast (buka puasa) there too! If it's too heavy for you, you can also order it in a la carte style:
Spiced Wagyu Beef Tartar (RM 128)
Crispy Potato Roesti, Pickle, Pan-Roasted Quaill Egg, Sour Cream
Wagyu Beef Carpaccio (RM 128)
Parmesan Cream, Parmesan Shavings, Extra Virgin Olive Oil, Aged Balsamic
Light Smoked Wagyu Beef Striploin (RM 155)
Arugula Salad, Parmesan Shavings, Aged Balsamic
Wagyu Beef Cheek Consommé (RM 42)
Homemade Wagyu Beef Cheek Ravioli and Vegetable Balls Shavings
Braised Wagyu Beef Cheek (RM 98)
Wagyu Beef Cheek Ravioli, Brown Butter, Sage, Parmesan Shavings
Grilled Wagyu Beef Tenderloin (RM 245)
Black Pepper sauce, Truffle Risotto, Sautéed Spinach
Red Wine Poached Wagyu Beef Tenderloin (RM 255)
Horseradish Cream, Roasted Potato, Garlic, Roasted Beans
Deluxe Wagyu Beef Burger (RM 188)
Foiegras Shavings, Sautéed Onion, Portobello Mushroom, Cheddar Cheese, Home Pickle Gherkin, Hand-cut Potato Chips
Wagyu Beef Skewer (RM 210)
BBQ Sauce, Yellow and Red Pepper, Hand-cut Potato chips
Wok Roasted Wagyu Beef Striploin (RM 218)
"Teriyaki Style", Spring Onion, Braised Vegetable
Wagyu Beef Striploin (RM 218)
Herb Butter Jus, Grilled Vegetable, Baked Potato, Sour Cream
Address
:
The Club Saujana Resort
Jalan Lapangan Terbang SAAS, 40150 Shah Alam, Selangor Darul Ehsan, Malaysia
Tel
: 03-7806 7000 (for reservation)
E-mail
:
dine@thesaujana.com