Belanga Cafe is a well-known boutique cafe that serves a myriad of home-style popular favourites such as Nasi Dagang, Nasi Kerabu and Nasi Tumpang. They boast their consistency in quality food and have won a Gold Award for the F&B Hospitality Interior Category in Malaysia Society of Interior Designers (MSID) Interior Design Awards.
Belanga Cafe
Belanga Cafe @ Empire Shopping Gallery
The culinary team is led by the Kelantanese founder, Puan Zainab Shiyuti. She believes that Belanga has the right ingredient to impart the nostalgia, diversity and the charm to bring out the best of Malay cuisine, they are even in the process of planning to expand internationally.
Coffee house environment to chill and relax after a hectic day
Al-Fungi Aglio Olio Spaghetti
Al-Fungi Aglio Olio Spaghetti has a very pleasant smell of herbs with generous chunks of fungi all over. Coupled with tender and flavorful chicken breasts, it suits my appetite very well as it's not as spicy as the usual Aglio Olio I've tried before.
Spicy Seafood Asiana Pasta
What do you get when Italian food meets Belanga's local touch? It's Spicy Seafood Asiana Pasta! Pasta wrapped in creamy tom yam paste and accompanied by prawns and mussels, it certainly made me salivate! The sour and spicy taste makes it a good appetizer too!
Homemade Beef Ball Pasta Napolitana
Looking bright red and cheerful, Homemade Beef Ball Pasta Napolitana was immersed with fresh home made herbs, tomato sauce and light spices. The beef balls are tender and juicy oh nom!!
Belanga's Signature Dulang
Belanga's Signature Dulang is an all-in-one dish perfect for variety seekers and it comprises Chicken with Limau Purut, Udang Percik, Barbeque beef tenderloin with Thai sauce, Acar Awak, rice with caramelised shallots and tossed garden salad. Do bear in mind that this dish is one person portion only.
Marinated Black Pepper Chicken
Marinated Black Pepper Chicken with mango lemongrass sauce, shallot parsley rice and cucumber tomato riata is a great combination of meat, healthy vegetables and fruits.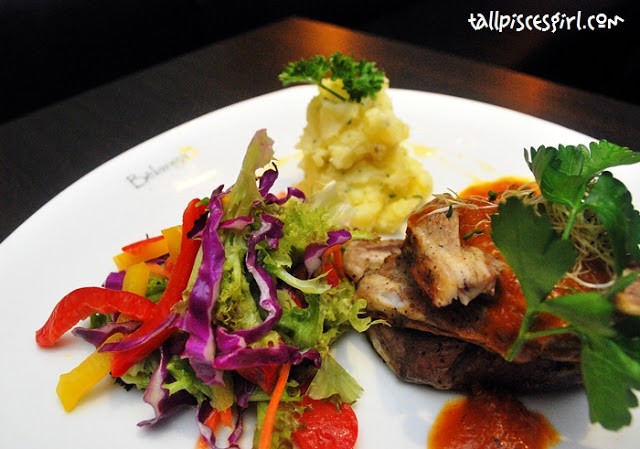 Grilled Lamb
Grilled lamb is served with Thai lemongrass sauce, meclum salad with homemade salad dressing and it comes with tapioca chips. Having eaten really tough lamb meat before, I had phobia towards it. Surprisingly, this lamb meat is nicely cooked and there's no hint of toughness.
Pan-seared Norwegian Fresh Salmon Steak
Another masterpiece from Belanga is Pan-seared Norwegian Fresh Salmon Steak with pineapple sauce, mashed sweet potatoes and tossed garden green salad. They've replaced the usual mashed potatoes with mashed sweet potatoes in order to blend in some local taste and I can tell that it's a great combination!
Char Boiled Beef Tenderloin
Beef Tenderloin is marinated in Chinese barbecue sauce, combining Chinese flavour with Western food and comes with parsley mashed potatoes and sautéed garlic pak choy.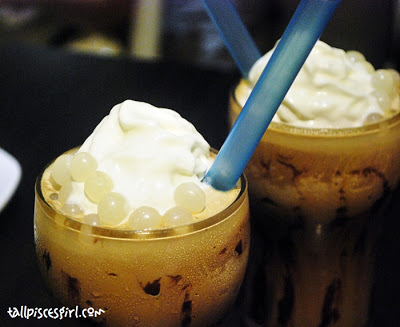 Nusantara Ice Blended Price: RM 9.90
Nusantara Ice Blended is served with amazing cue balls that
"explodes" sweet vanilla
into your mouth and whipped cream. They complimented the ice blended fine selection of local coffee very well. A must-try for coffee lovers!
Goody-Goody Price: RM 7.90
A natural remedy of celery sticks, cucumber and garlic, it is good for people with hypertension.
Green Apple & Pink Guava Price: RM 8.90
Banana Choco Milk Shake Price: RM 9.90
Coconut Shake Price: RM 9.90
A thirst quencher, Coconut Shake is a very refreshing beverage. After some hot and spicy Malay food, cool down yourself with icy Coconut Shake made of coconut juice blended with fresh cream and vanilla!
Avocado Shake
Avocado shake is a beverage that is blended with vanilla and fused with chocolate syrup. It has an addictive buttery taste that no word can describe.
Latte Explosion
Teh Tarik Price: RM 3.90
Made with premium quality tea leaves, this Teh Tarik is a must try for tea lovers. You'll love it!
Ice Teller Price: RM 9.90
This Ice Teller is bursting flavours of jackfruit, avocado, coconut and buah kabung! The goodness of fruits! As a conclusion, I'll be back here for more pastas as I really love the fusion between Malay food and Italian pasta. Not everyone can do this successfully and I think they did a great job in this. Hope they'll come out with more fusion dishes soon!
Address
:
Belanga Cafe
Empire Shopping Gallery UG-18, Jalan SS16/1, 47500 Subang Jaya, Selangor
Business Hours
: 10am – 10pm
Tel
: 03-5631 2780
Website
:
Belanga Cafe