At first, I was feeling really bored and moody at home (this happens every Sunday). Luckily enough, I have a desserts-and-snacks session at Pick-Me-Up, Kuchai Lama! This was the one thing I looked forward to in the whole day.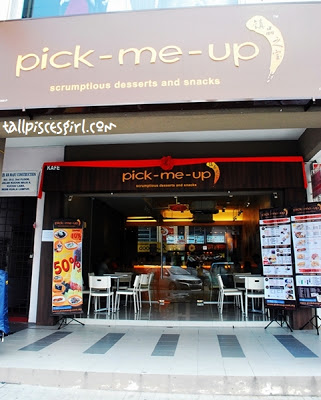 Come, pick-me-up!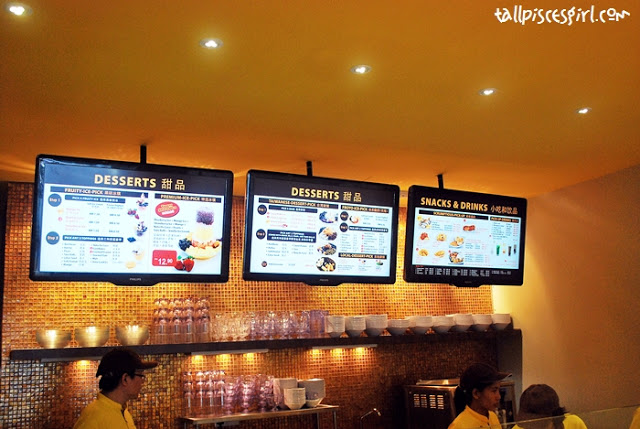 Hmmm what would you pick?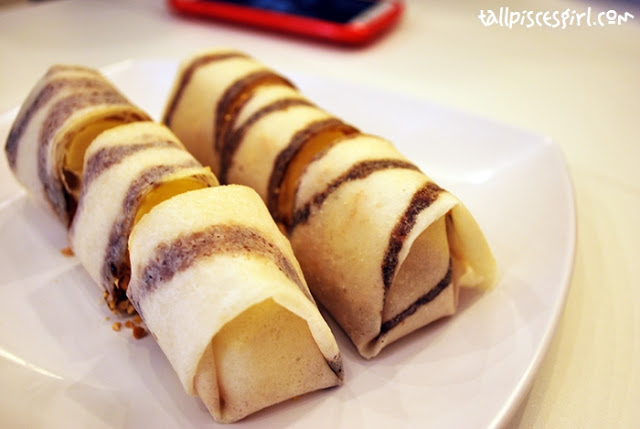 I'd pick Banana Ice Cream Burrito ( RM 5.50 for 3 pieces)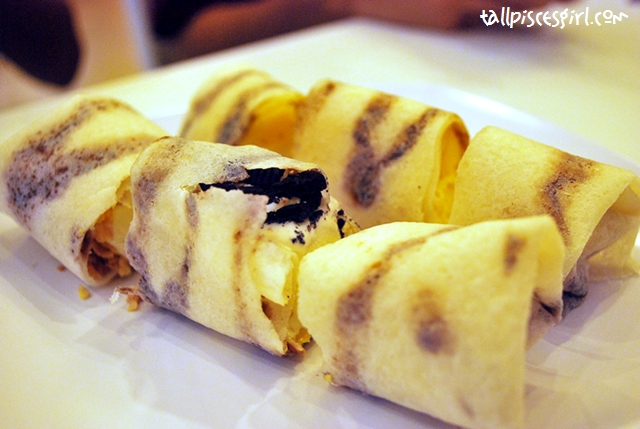 Oreo Ice Cream Burrito (left) and
Mango Ice Cream Burrito (right) ( RM 5.50 for 3 pieces)
As I'm not much of a fruit person, I prefer
Oreo Ice Cream Burrito
over other Ice Cream Burritos. The chocolatey taste plus Vanilla ice cream wrapped in a burrito skin is a perfect combination! But first, open up your mouth big big and put the ice cream burrito inside to taste the mouth/brain freeze… Hahaha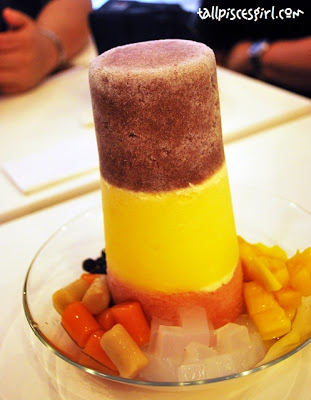 Tower Shaved Ice (RM 12.90)
A combination of
Blueberry Ice
,
Mango Ice
and
Strawberry Ice
separated with a layer of
Vanilla ice cream
. Accompanied by Taro balls, Nata de Coco, Black Pearls and Mango cubes, it's perfect for sharing with a few friends during sunny days. Scoop all the layers from top to bottom or bottom to top in order to taste the combination of all flavors or scoop separately depending on individual preference.
Urm well… this is a new Ice Tower that hasn't been named and not in menu yet.
Looks almost the same as Tower Shaved Ice, they're using
cincau
on top,
palm sugar
on the middle layer and
soya
as the base. Palm sugar will be provided to add to taste. However, the taste is still a little plain compared to Tower Shaved Ice.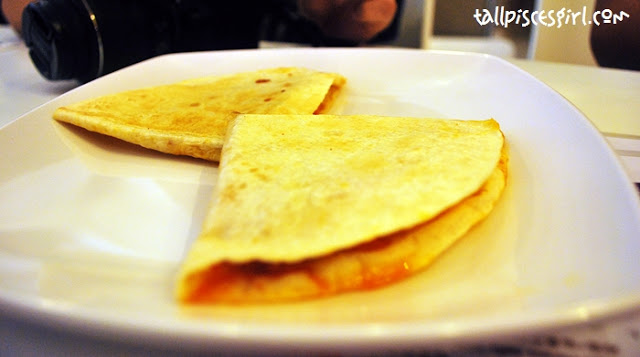 Chili Chic Quesadilla (RM 8.50)
I thought that this would be really spicy since it says "chili" but it's actually curry chicken meat and the spiciness is really mild.
Chili Fries (RM 8.00)
The same curry chicken meat in Chili Chic Quesadilla but this time it's used to pair with fries.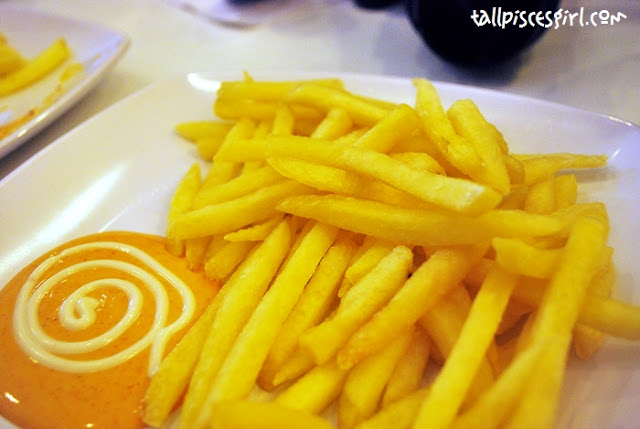 Cheesy Fries (RM 5.50)
Cheesy Nachos (RM 4.50)
It might be salty, but I LIKE!
Strawberry Fruity Pick – Soft Ice Cream (RM 7.50)
Something special. Have you seen ice cream paired with Taro Balls and Black Pearls before?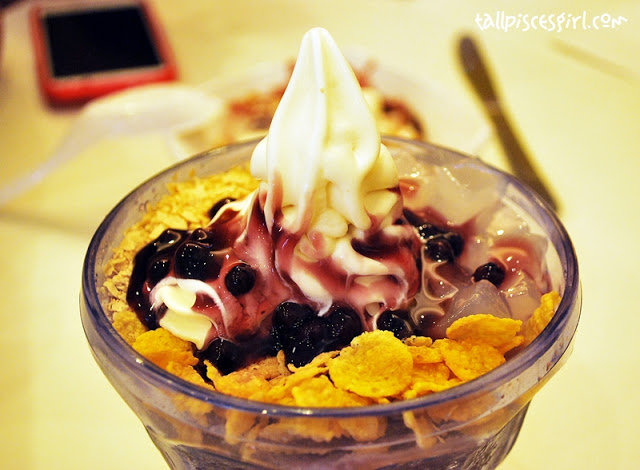 Blueberry Fruity Pick – Frozen Yoghurt (RM 8.50)
With cereal and black pearls as side dish. It's full of Vitamin C cos it's VERY SOUR!
Definitely a lot cheaper compared with other well-known brands 🙂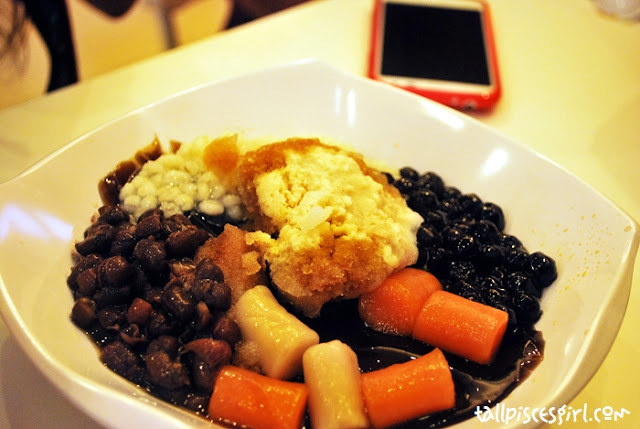 Palm Sugar Ice (RM 6.50)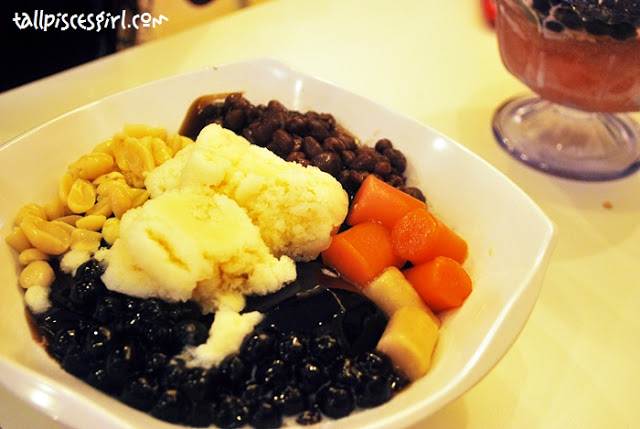 Soya Milk Ice (RM 6.50)
As a part of their objective to bring customers famous food from all places at affordable price, let's not forget Taiwanese desserts too! With only RM 6.50, you can enjoy a full bowl of taro balls, black pearls, lotus seeds and red beans!
Nutella French Toast with Blueberry (RM 5.50)
Additional RM 1 for Vanilla Ice Cream topping
I was impressed that they're using egg toast instead of plain toast.
It certainly added a twist to the flavor!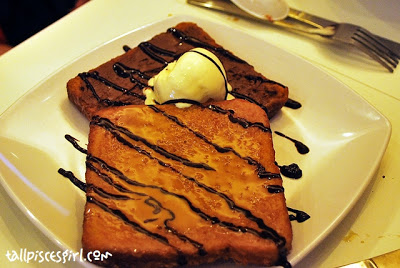 Nutella French Toast with Peanut (RM 5.50)
Additional RM 1 for Vanilla Ice Cream topping
Nutella French Toast with Strawberry (RM 5.50)
Overall, I love the wide variety that they offer to customers. From Taiwan to Italian and local, from hot to cold, you don't have to worry that your friends won't be able to find suitable food even if their taste is different from yours.
Will definitely come back for sure!
Address
:
Pick-Me-Up
35, Jalan Kuchai Maju 8,
Kuchai Enterprenuer Park,
58200 Kuala Lumpur
Tel
: 016-3355301
Website
:
https://www.pickmeup.com.my
FB Page
:
https://www.facebook.com/pickmeup.com.my
Business Hours
:
Mon, Tues, Thu: 1:00 pm – 11:30 pm
Fri – Sat: 1:00 pm – 12:30 pm
Sun: 1:00 pm – 11:30 pm
Wed: Off
Map
:
View Larger Map