Bliss 33 is a place recommended by a friend of mine. It's situation at the shops around Petronas opposite of Summit USJ.
Their menu is full of choices and with affordable prices it makes me felt hard to choose what I wanted to eat.
Italy Cheese Baked Rice (RM 9.90)
Yummy!!! Time for diet after this…
Tom Yam Soup Noodles (RM 6.90)
Fish & Chips (RM 9.90)
The actually surprised me. I never thought the quality can be so good!
Tender fish covered with breadcrumb. Love it to bits!
Fish Fillet Rice with Butter Cream Sauce (RM 7.90)
Delicious and affordable!!
Ice Honey Milk (RM 4.90)


Carrot Juice with Milk (RM 3.80)
Too much milk. Maybe I should opt for without milk instead.
Bliss 33 @ USJ 2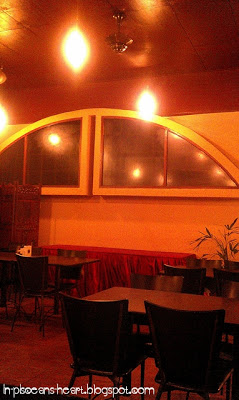 The interior (Can you see how dark it is? It's difficult to take a nice photo under such lighting.)
Rating: 8.2/10
Ambience: 7/10 (too dark)
Food: 8/10
Price: 9/10
Service: 8/10
Value for Money: 9/10
Address:
No. 31-33,
Jalan USJ 2/2C,
47600 UEP Subang Jaya,
Selangor
Tel: 03-56356110
Map:
View Larger Map