Madam Chiam Curry Noodle House
I've been to
Madam Chiam Curry Noodle House
for quite a number of times when my office is still in Cheras. Aunty (a.k.a. Mei Yi) is quite close with boss, bf and I. After so long, she still remembered every one of us when I paid her a visit alone one Sunday morning. At around 11.30am, the restaurant is still quite empty but when I left at 12.30pm, it's
almost full house
. Be sure you go earlier if you don't wanna queue for a seat. During peak hours, you might need to
share table with some strangers
too. I did noticed that after this restaurant appeared in Astro AEC's 阿贤人情味 (Ah Xian Ren Qing Wei) show, the quality of the noodle has deteriorated. The texture is harsher than previous. So during this visit, I paid attention on the texture and found that it 
has improved
to previous standard! Thank God! OK, so how to eat this? Basically you just pour the chili flakes, squeeze the lime and
mix everything (deep fried anchovies, minced meat, poached egg) together! It comes with a bowl of spinach soup (with lots of spinach) too!
If you're not a spicy food lover, you can opt without the chili flakes. Rest assured, it still tastes delicious!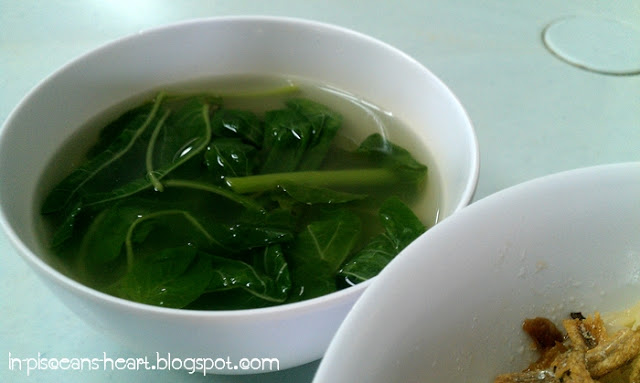 I think Dumpling a.k.a. Sui Gao is so-so only. Nothing special :/ Don't order too many because it can be quite filling. One per person is enough.
What's fu chuk called in English? :/ I still remember we made a lame joke about this dessert back then. We were so hard selling this dessert to our boss we said it's so smooth that it came right back out after you swallowed it LOL!!!
Address
: Madam Chiam Curry Noodle House No. 20, Jalan Cerdik, Taman Connaught, 56000 Cheras Kuala Lumpur
Update (15/10/2015)
: They have recently moved to No. 22, Jalan Cerdik (just one unit beside the original location)
Tel
: 016-210 7559
Business Hours
: 7.30am – 4.30pm (Closed on Monday)
Halal
: No
Map
: