As we bid farewell to the year of the roaring tiger, we prepare ourselves to hop into a new year of overflowing peace and joy in 2023. Gift-giving is an important tradition in Chinese culture. It's a way of showing appreciation and wishes for prosperity and good fortune in the Chinese New Year to our loved ones. Nothing is more suitable than warm tea gifts as we allow the warmth of each teacup to transcend distance and time to share an abundance of renewed fortune and good health.
Purple Cane is back with warm tea gifting for this Chinese New Year. Featuring an array of New Year's Tea Gift Sets, fine tea selections, elegant and unique tea sets, delicious snacks, Purple Cane's variety of new year tea gifts, and enjoy up to 62% off of their New Year's Special, from RM59.90 onwards!
Exquisite Purple Cane Chinese New Year Gift Sets 2023
Auspicious tea gifts of blessings from our hearts
If you are on a budget or not sure what gift set is suitable, choose from their selection of tea gift sets starting from RM59.90 onwards. Each tea gift set comes with exquisite teaware and tea to suit any generation or even those who just started enjoying tea.
Elegant CNY Teaware Set
Halls of overflowing good fortune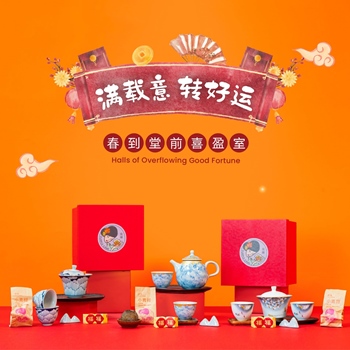 For the teaware collectors, browse through this year's teaware selections which carry auspicious blessings and wishes.
Puer Tea
Awakening flow of goof times and good years
Tea connoisseurs don't miss out on these Puer offers for both immediate enjoyment or to add into your collection. Puer tea stands the test of time, the more it is stored, the more it smells and the more its value grows each year, bringing surprises. Purple Cane has selected for you a wide range of Puer tea packages of excellent quality and value, so that you can give a decent and sincere gift with full value.
CNY Exclusive Offers
Limited offer, unlimited happiness
Asides from their tea gift sets, they also have a selection of other products such as flower tea, Cane's Tea, healthy snacks and more to make this Rabbit year even more festive. Exclusive deals up to 62% off awaiting you!
All Purple Cane Chinese New Year Gift Sets are available online (www.purplecane.my) and in Purple Cane retail stores nationwide. Download Purple Cane App to receive RM20* Coupon for first time users and new members.
Download APP Now: https://bit.ly/PCapp22
Purple Cane Website: www.purplecane.my
West Malaysia
Orders received before 11/01/2023 will be delivered before 22/01/2023
Orders received from 12/01/2023 onwards will be delivered before 05/02/2023