Japan's repertoire of traditional alcohol spans over centuries, producing world-class crafted Gins to suit every season. To cater to all Gin lovers around the world, The House of Suntory introduces SUI Gin, a Gin made in Japan and crafted with unique Japanese botanicals. With its clear and refreshing taste, SUI Gin is the perfect beverage to celebrate with family and friends with any meal, anytime.
SUI Gin
SUI is a Gin through and through, made from the combination of the traditional eight gin botanicals – juniper berry, coriander seed, angelica seed, angelica root, cardamom, cinnamon, bitter orange peel and lemon peel – but is given a signature Japanese flair with the addition of yuzu (Japanese citrus), ryokucha (green tea) and ginger. The result is a Gin that is clear and refreshing, and pairs well with everyday meals.
It takes its name SUI 翆 after the Kingfisher. On the bottle, the bold Kanji character is inked by master calligrapher Tansetsu Ogino. Also appearing on the bottle is the Kanji 翡翠 which means Jade, a nod to its tall hexagonal shape reflecting clear and beautiful blue-green accents that speak of Suntory's hope that SUI will spread its wings and soar high in the Gin market.
Crafted with Unique Japanese Botanicals for a Clear and Refreshing Taste
SUI hails from a rich heritage, being from the same Suntory Osaka plant that gifted the world with Hermes Gin in 1936 and Roku Gin in 2017. The creation and perfection of SUI are based on more than 100 years of Suntory's expertise in creating quality spirits.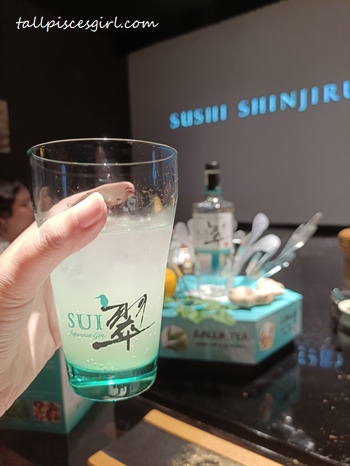 The three Japanese botanicals in SUI are specially selected as they are commonly found in Japanese cuisine to amplify flavor and taste. The citrus fruit Yuzu is commonly used to accentuate flavor in Japanese dishes. In SUI, it lends a refreshing citrus aroma and taste that opens up the palate.
Green Tea is paired with many meals in Japan. In SUI, it offers gentle umami notes for a rich body that harmonizes with meals. Finally, Ginger is the spice of choice for many Japanese dishes. In SUI, it offers a mild spicy flavor with a clean aftertaste, leading to an invigorating finish. The freshness of Yuzu, the richness of Green Tea, and the delicate spiciness of Ginger come together to make a Gin that is as versatile as it is smooth.
Tasting Notes
Nose: A refreshing harmony of yuzu citrus with traditional botanicals.
Palate: Smooth and rich with a hint of green tea and the mild bitterness of other traditional botanicals.
Finish: The peppery punch of ginger combined with the sharp spicy characteristics of traditional botanicals.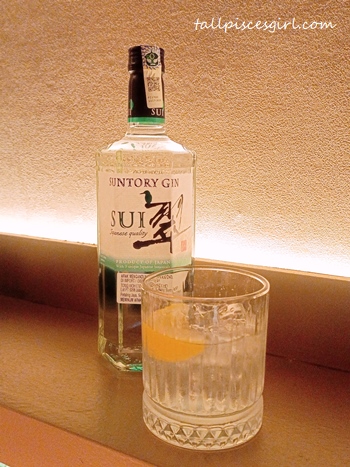 The House of Suntory's desire to create Western spirits tailored to the Japanese palate is enjoyed by everyone from different cultures all over the world. The freshness from each traditional Japanese botanical has its palate, especially when it is paired with Japanese delicacies such as edamame, noodles and yakitori. For a refreshing taste of SUI Gin which goes great with food from around the world are food such as dumplings, salmons, curries and paté. It is the perfect beverage to enjoy at every meal together.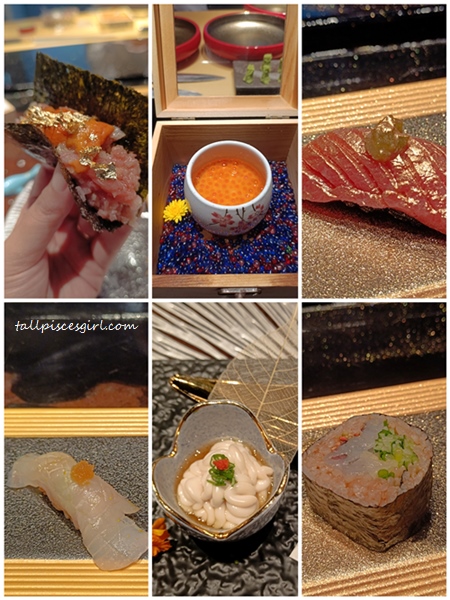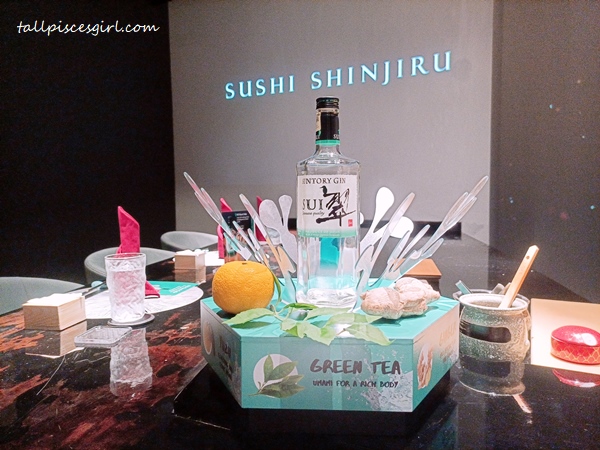 To savor the refreshing taste of SUI Gin, the perfect combination and ratio are important. Imagine getting together with friends for a celebration at your favorite Japanese restaurant? All you need is a bottle of SUI Gin with the perfect mixture. Introducing SUI Gin & Soda:
SUI Gin & Soda
Here's the SUI Gin & Soda recipe for your enjoyment. The House of Suntory introduces SUI, a Gin made in Japan and crafted with unique Japanese botanicals. With its clear and refreshing taste, SUI Gin is the perfect beverage to celebrate with family and friends with any meal, anytime.
Ingredients
60

ml

SUI Gin

240

ml

Soda water

Ice
Instructions
Fill a highball glass with ice

Add the refreshing SUI Gin

Top it off with chilled Soda water in the ratio of 1:4
To add more depth and complexity, add a splash of tonic water and enjoy it as an SUI Gin Sonic or create your flavors by adding your very own infusion; a squeeze of lemon, a tablespoon of Yuzu juice, raw grated ginger, or green tea. Why not get trendy by adding a touch of unique flavors such as crushed plum, wasabi, Shiso leaves, or frozen oranges? SUI Gin does the trick!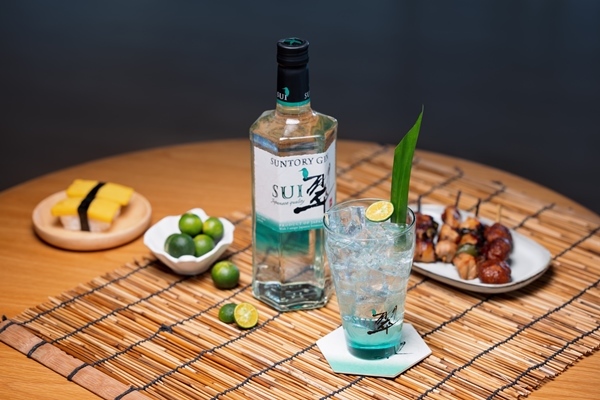 SUI Gin is packaged in a 700ml bottle and will be available at selected restaurants and bars.
It will also be available at the following retail outlets: All Jaya Grocer, Village Grocer, Sunshine, BIG, Mercato, The Food Merchant, De Market, Urban Fresh and AEON Big.
SUI Gin can also be purchased online at:
For more information, please visit https://www.suntory.co.jp/wnb/suigin/ or SUI Gin Instagram page at https://www.instagram.com/suntory_gin_sui/.