Before I introduce you to ZINUS Mattress, let's explore how important a mattress is to our health.
Why a Good Mattress Is Important
A quality mattress is the foundation of a good night's sleep. It provides comfort and support for your head, neck, and back, so you can wake up feeling refreshed. After all, our bed time is what we've been looking forward to after a long, hectic day at work!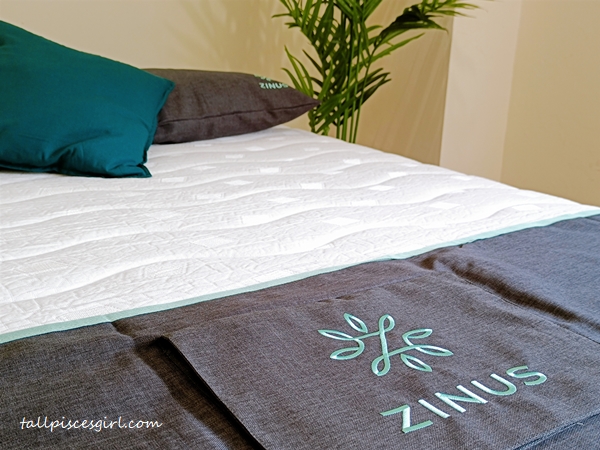 There's no such thing as a one-size-fits-all mattress. They come in different thicknesses to suit different needs:
Soft mattresses are perfect for people who like to sink into their bed and feel enveloped by the softness
Medium-firm mattresses provide a balance between comfort and support
Firm mattresses are best for people who need more support from their mattress
Zinus has a rating number to indicate the level of firmness. If you have back pain and need more support, go for the one with firmness number 9.
ZINUS Mattress Showroom @ Puchong
Not long ago, I visited Zinus Mattress Showroom in Puchong to get the best fit for my comfort. The showroom is conveniently located just beside IOI Mall Puchong and accessible via IOI Puchong Jaya LRT station!
Here are some of the things you need to know about ZINUS Mattress:
Trusted Brand
Zinus is World's #1 Online Mattress & Furniture Brand which has served more than 18 million sleepers and sitters in over 15 countries. Founded by Lee Yun-Jae, a Korean and a graduate of Yonsei Political Science and Diplomacy, the brand itself is registered in the United States. As of June 2022, they have already sold 25 million mattresses globally!
Mattress-In-A-Box Concept
Zinus is the pioneer of Mattress-In-A-Box concept. In the past, a mattress is one of the bulkiest and heaviest furniture items to transport. Thanks to the Mattress-In-A-Box revolution since 2007, Zinus mattresses were compressed, vacuum packed and inserted into a box for easy transportation and saves delivery cost. This is especially convenient for those who are living in high-rise condominiums so we don't have to worry about it not being able to fit into the lift. Typically, your Zinus mattress will take around 48 hours or less to fully decompress after taking it out from the box. You can follow these tips by Zinus to help decompress your mattress faster.
DIY friendly
Apart from mattress, Zinus also sells high quality and practical bed frames in a box. They were designed to be easiest possible to assemble so you can save more time and get it done with less effort. All tools needed will be provided in the box for a stress-free assembly experience.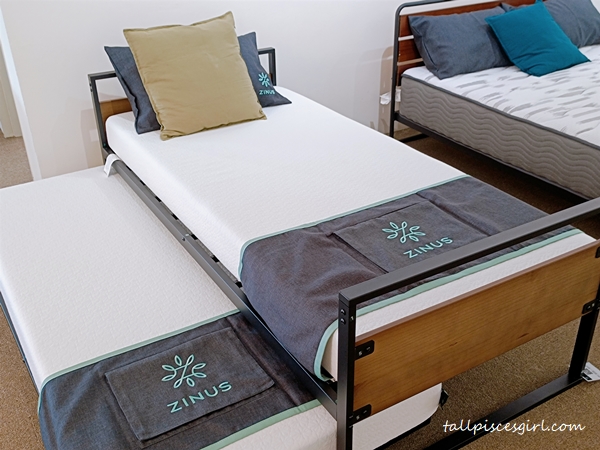 High quality and affordable
By having their own factory, Zinus is able to cut their cost by eliminating third party. Apart from that, the flat packaging from its mattress-in-a-box concept has also reduced their cost greatly in terms of transportation. This is why Zinus is able to deliver high quality mattresses and bed frames to their customers at only a fraction of the price! According to the PIC at Zinus Puchong showroom, their metal bed frames were powder coated to prevent rust. I'm glad they put durability as priority!
Free 100 days trial and free shipping
Zinus offers free 100 days trial for selected mattresses (T&C applies) so you don't have to worry about purchasing your mattress online. The best thing is, they're also offering FREE SHIPPING across West Malaysia and 10 years warranty!
3 Types of Mattresses
Zinus mattresses are categorized into 3 main types:
Green Tea Memory Foam Mattress: Envelops your body shape and has zero motion transfer technology. Zinus uses only Natural Seed Oil for its memory foam production instead of petrol-based chemical oil.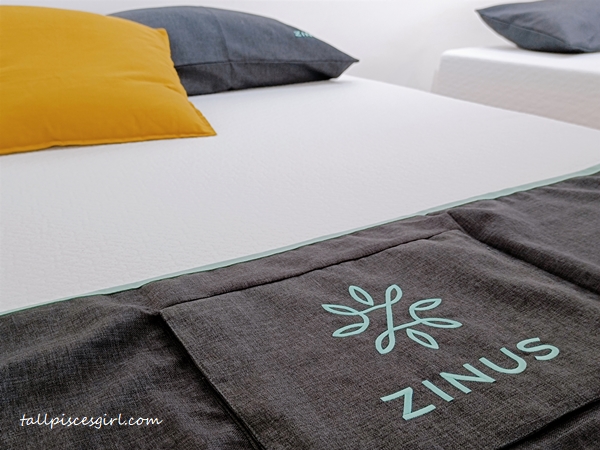 iCoil Hybrid Latex & Memory Foam Euro Top Spring Mattress: Combining the best of both worlds between natural latex, memory foam and independent pocketed springs, it provides stable support for your spine and absorbs pressure to relieve pain.

iCoil Spring Mattress: Budget-friendly with optimal comfort selection
They also have Cool Series and Hotel Series selections. Visit their showroom to experience them!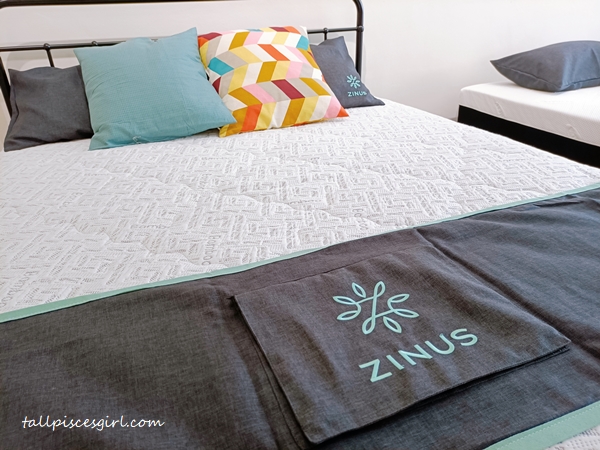 ZINUS Promo Code for 25% Discount
Enjoy 25% off when you purchase online using my code: "CP25" at their official website.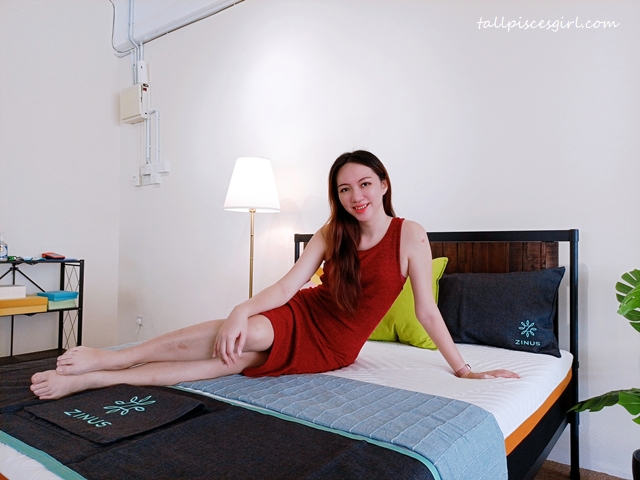 Zinus Puchong Showroom
Address:
No 1-1, Jalan Merbah 1, Bandar Puchong Jaya,
47170 Puchong, Selangor, Malaysia

Contact number: +6011-3129 9882

Opening Hours:
Monday – Friday: 10am – 8pm
Saturday, Sunday and Public Holiday: 12pm – 8pm

Website: www.zinus.com.my