I finally had the chance to do facial after 2 years! During the lockdown, our movements were limited and after the lockdown, workload started to get heavier and heavier. Hence, my facial treatment was delayed until recently.
Murad 1 Utama Shopping Centre
Felt guilty and grateful at the same time to Cassie, my beautician at Murad 1 Utama Shopping Centre for helping me clear all the stubborn blackheads that has accumulated for so long.
I've been hearing about Murad for the longest time now, being one of the popular facial centre brands in KL and PJ with their own skincare range.
The Murad Method Facial System
Before starting the facial treatment, Cassie has asked me to fill in a questionnaire about my skin condition, skin concerns and my current skincare. After analyzing my skin, she referred to The Murad Method Facial System to customize a facial that's suitable for deep cleansing congested pores and tackle dehydration at the same time.
I was then being ushered into the treatment room where I had to get changed into their robe. The room had a soothing ambience with soft lighting and gentle music. They even have a diffuser for aromatherapy and cleanses the air, which is much needed during Covid period.
Cassie was very attentive and patient during the whole process of the 90-minute facial treatment. She explained every step and product used to me from cleanser, toner, extraction, mask, to moisturizer and sunblock. I have to say that I really enjoyed her great massage techniques too! I felt totally at ease and dozed off for a bit during the masking session.
After the relaxing facial session, Cassie even recommended me some skincare products so I can maintain my skin at home daily. I love it that they won't hard sell me to purchase their products. I don't like to feel pressured because after all, I came for a facial treatment to relax myself and not the other way round.
If you're looking for a great facial and massage experience, come and check out Murad 1 Utama!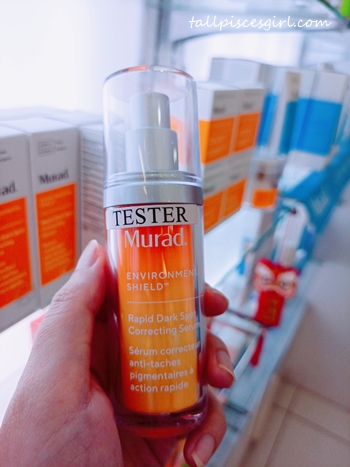 Also, check out the review of Murad Rapid Dark Spot Correcting Serum, the serum that I'm currently using!
Murad 1 Utama
Lot LG316C, Lower Ground Floor, 1 Utama Shopping Centre,
Lebuh Bandar Utama, Bandar Utama, 47800 Petaling Jaya, Selangor

Whatsapp: https://wa.me/+60173553295

Tel: +603-7722 1727
Other Murad branches:
Murad Sunway Pyramid
Murad Empire Shopping Gallery
Murad Bangsar
Murad IOI City Mall