International borders have started to reopen one by one, welcoming tourists again as the pandemic slows down. Australia has also followed this footstep and reopened their borders since February.
Are you ready to explore the amazing Australia and venture into the extraordinary Western Australia? If you haven't known, the landscape in Western Australia is very diverse and different compared to South Australia, so make sure you allocate more time in your itinerary to experience these unique things to do in Western Australia!
Unique Things to do in Western Australia
1. Marvel at the Pink Lake
The pink lake in Western Australia is one of the most unusual and beautiful natural phenomena on the planet.
The water in the pink lake is a beautiful hue of pink due to the presence of Dunaliella salina, an algae that thrives in salty conditions. The colour comes from carotenoid pigments present in the algae's cell walls. The vibrancy changes depending on the season, time of the day and weather conditions.
The best vantage point to marvel at this unique sight is via the air. The aerial view is sure to leave you speechless! The lake is best viewed mid-morning or just before sunset with minimal clouds.
The good news is, there are more than one pink lakes in Western Australia!
Pink Lakes in Western Australia
Hutt Lagoon

Hutt Lagoon, Coral Coast by Tourism Western Australia

Located just 1 km near Port Gregory Jetty, Hutt Lagoon is a must-visit point for caravanners, considering that Port Gregory Caravan Park is just a stone's throw away. Stop at Pink Lake Lookout for a few snaps of this captivating lake.
If you're coming from Perth, going to Hutt Lagoon will be a 6-hour drive.
Lake Hillier

Western Australia Bucket List: Lake Hillier, Esperance by Ockert le Roux

Lake Hillier is not easily accessible compared to other pink lakes due to its location on Middle Island, about 130 km from Esperance. But if you manage to take a scenic flight or arrange a boat cruise to Lake Hillier, it is bound to be an unforgettable experience.
2. Admire the magnificent Wave Rock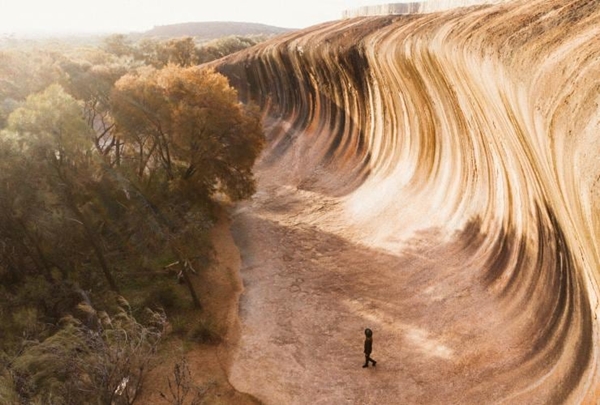 Wave Rock is an iconic landmark in Western Australia. It's a natural wonder that's been around for more than 2.7 billion years, and it's a place of incredible beauty.
A 4-hour drive from Perth, this multicoloured granite rock that resembles a breaking sea wave stands 15m high and 110m long. This natural formation was caused by wind and rainwater.
If you're visiting during the wildflower season from September to November, don't miss the wide array of beautiful wildflower species along the way!
You could also take a 6-minute drive to Lake Magic Swimming Pond and enjoy floating in the salt lake.
3. Visit the cutest animal in Australia
Quokkas are the cutest animal you'll ever see in Australia as they often look like they're smiling. This is why everyone loves to take a "quokka selfie" with them!
Hop on a 25-minute ferry ride from Fremantle to Rottnest Island to get your dose of cuteness! This adorable creature is a type of small wallaby and they're known to be friendly to humans, so don't be afraid to snap away.
After visiting them, you can take a tour and explore nature on this car-free island.
4. Horizontal Waterfalls (Horizontal Falls)
The Western Australian landscape is full of natural wonders, and one of the most spectacular is the Horizontal Waterfall. This natural phenomenon can be found in a remote part of the Kimberley region.
It is created by the largest tidal movements in the world of up to 10m. The two horizontal waterfalls (the "Horries") form when a large volume of water from the rapid tide rushes through the short and narrow gorges of the McLarty Range in the Buccaneer Archipelago.
If you're a thrill seeker, you've got to book a Seaplane adventure, followed by a fast boat ride to experience this phenomenon to the maximum.
5. Swim with Whale Sharks at Ningaloo Reef
Ningaloo Reef is the world's largest fringing reef. It's also one of the most diverse, with over 500 species of fish and 250 species of coral.
Ningaloo Reef is a World Heritage Site and the only place in Australia where you can swim with whale sharks.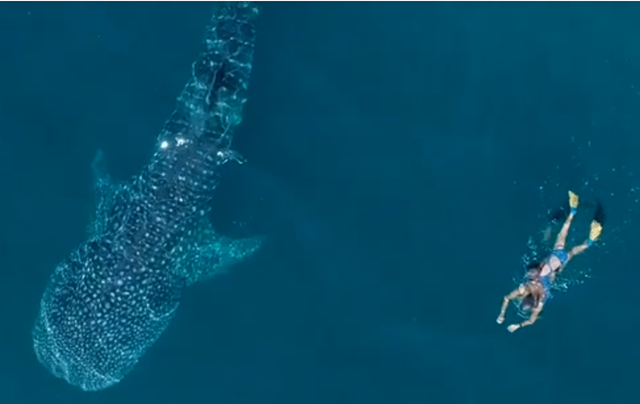 Don't miss this opportunity and see some of the most beautiful marine life on Earth! Refer here for a Guide to Ningaloo Reef.
If you feel that trip planning is a hassle and you don't have the luxury of time to do it, Sedunia Travel can be your go-to travel agency as they have ready-to-go packages which can be found here: https://sedunia.com.my/australia/western-australia/. Apart from that, they can also tailor the itinerary based on your needs, help you do flight bookings and customize Muslim-friendly tour packages.