5 Reasons Why You Should Buy Astrum Ampang
1. Location
Everyone wants to own a property to be called home at this age. Astrum Ampang can be the safe haven and shelter above the head for young working professionals to live, work, and unwind in the dynamic metropolis of Kuala Lumpur.
Strategically located along the bustling Jalan Ampang and Jalan Jelatek area, this 6.8-acre mixed development with a Transit Oriented Development (TOD) and SOHO Transit concept by Setia Awan Group is the first of its kind in Malaysia.
Astrum Ampang will transform the landscape of city living in Malaysia's capital city as we know it with an appealing design and a never-seen-before concept in Malaysia.
2. Highly accessible
Located smack right in the city centre, you can reach practically anywhere via public transport or e-hailing services even without owning a car.
Jelatek LRT Station is just a brief 150 meters walking distance from Astrum Ampang via the directly linked covered pedestrian bridge and only 4 train stations away from KLCC. Inspired by modern and ultra-convenient connectivity in public transport such as Stockholm, Hong Kong, Tokyo and Singapore, Astrum Ampang was planned and designed to promote public transport ridership to create sustainable growth and reduce carbon footprint in the city. Experience seamless city living in the heart of Kuala Lumpur.
From Astrum Ampang to attractions and healthcare providers in the city:
Great Eastern Mall – 2.9km
Gleneagles Hospital Kuala Lumpur – 3km
Intermark Mall – 3km
KLCC – 4km
Prince Court Medical Centre – 4km
Royal Selangor Golf Club – 5km
Refer to the transit map below and you'll find that the location is strategically located around an array of businesses, embassies, and private and public schools.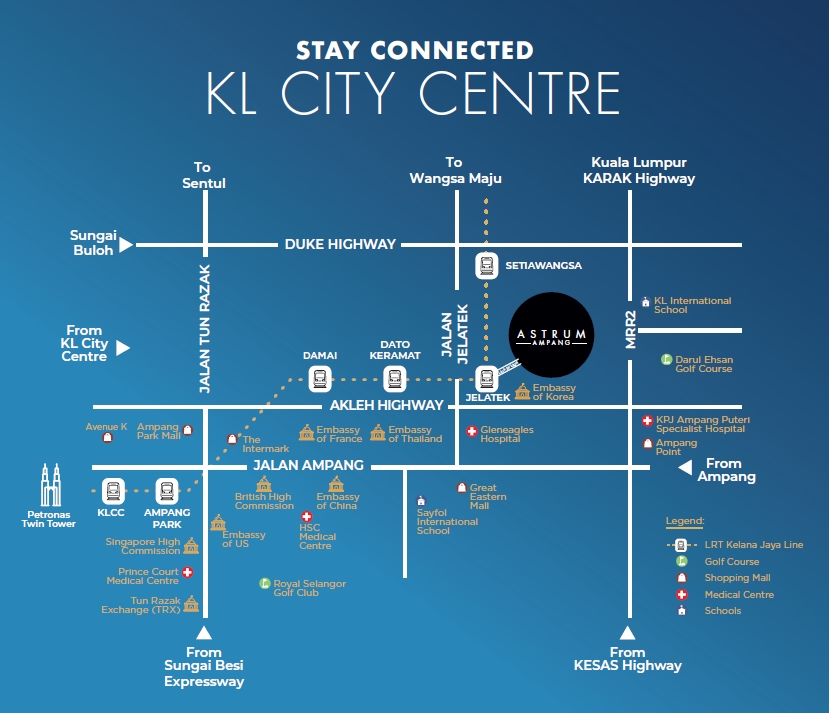 3. Fixed price for every unit
They have launched SOHO Transit (1,360 units) for first-time homebuyers. The uniqueness is in their pricing for SOHO Transit where they have a fixed price regardless which unit and floor you choose.
SOHO Transit (280sq. ft.) – RM 230,000
Many young working adults find it challenging to rent, let alone own a home in the city center due to high living costs. These affordable price points give young working adults the advantage to convert their rental overheads towards owning a property at a strategic location with 62 Star facilities and amenities.
4. Wide array of facilities and amenities
Astrum Ampang aims to bring a vibrant co-working and co-living community to live with up to 62 facilities and amenities.
Among the key facilities are:
Virtual Cycling where you can cycle with the help of a virtual coach
Milky Way Pool
Sunken Jacuzzi
Outdoor tennis court
Reflexology room
Gaming Room
Futsal Court
BBQ Pavilion
Signature Lantern Pavilion
Outdoor Theater
Gourmet Kitchen/Lounge
Co-working Space
Workroom
Children's indoor playground
Multi-purpose hall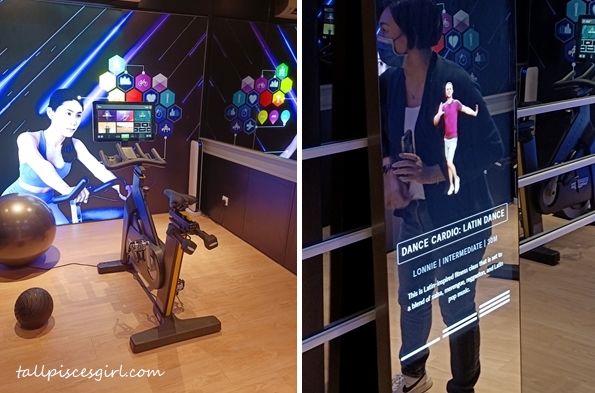 Astrum Ampang boasts a whooping 5,500 sq. ft. on just fitness area alone. This is truly the perfect place for young working professionals to live, work and unwind in the vibrant city of Kuala Lumpur.
Check out this image below for the full list of facilities and amenities at Astrum Ampang! You'll be amazed!
5. Low booking fee
The low booking fee has got to be the strongest reason to get you hooked into getting a unit at Astrum Ampang now. With only RM 500, you can book for a unit at one of Malaysia's most successful mixed-development projects in the near future.
Brief Project Details of Astrum Ampang
Development area
: 6.23 Acres
No. of blocks
: 6 Towers
No. of storey
: 48 storeys (from level 10 to level 57)
No. of units per floor
: 27 units
Total units
: 5,225 units in total
Tenure
: Leasehold
Expected completion
: 2026
Finding the right property to buy is usually a challenging process. There are many aspects to take into account. The size, location, price, and amenities are just some of them. I hope this gives you enough insights into deciding to own your very first home.
The purchase of Astrum Ampang must meet the requirements by LPHS (Lembaga Perumahan dan Hartanah Selangor) as it is under the Komersial Mampu Milik project. For more information on the requirements, kindly visit Lembaga Perumahan dan Hartanah Selangor's website.
What are you waiting for? Book for an appointment by contacting 018-371 2888 to visit Astrum Ampang's sales gallery and show units at Phileo Damansara 1 now!
Astrum Ampang Sales Gallery Address
:
Units 109, 110, Block G, Pusat Dagangan Phileo Damansara 1,
No. 9, Jln 16/11, Off Jln Damansara,
46350 Petaling Jaya, Selangor
Website
:
www.astrumampang.com
Facebook Page
:
www.facebook.com/astrumampang
Instagram
:
www.instagram.com/astrum_ampang