The COVID-19 pandemic is one of the worst of all human tragedies affecting the lives of millions of people around the world. People have started to be more cautious when it comes to health and hygiene. Looking at the vaccination rate in Malaysia, achieving herd immunity might take at least a year more.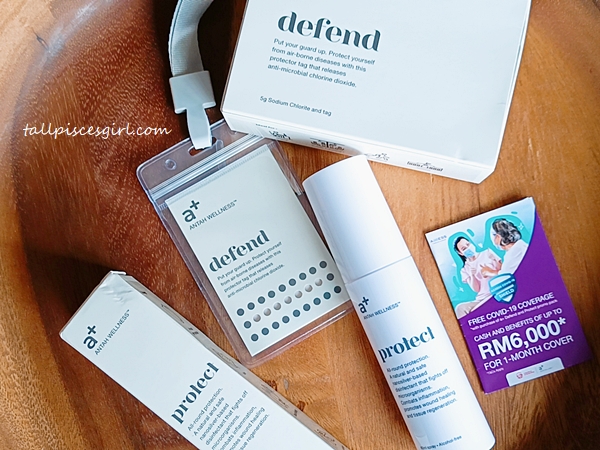 Few days ago, while I was discussing with a friend over WhatsApp, she expressed concerns regarding keeping safe while going out for volunteer work. I recommended her two excellent and handy products that I wish to share with my readers here as well. These products are Defend Tag and Protect Nanosilver Spray by Antah Wellness.
Defend Tag by Antah Wellness
Chlorine is well known for its disinfection properties and has helped improve the lives of millions of people across the globe.
The Defend Tag is a personal protective tag that releases microbial chlorine dioxide to combat airborne germs and diseases. It is innovatively formulated to release a fixed amount of chloride dioxide at an effective concentration.
This product makes me feel safe regardless of where I am, thanks to the power of chloride dioxide that creates a protective shield around me. One sachet provides 45-days of protection within the space of 1 cubic meter around the bearer. Hence, it is especially useful for someone who is in a confined space or crowded area.
Benefits of Defend Tag
Powerful antibacterial effects: Sodium chloride dioxide has 2.5 times more oxidizing power than ordinary chlorine agents used for disinfecting. This helps to eliminate bacteria faster.
Powerful deodorizing capacity: Chlorine gas produced during oxidation decomposes mercaptan, hydrogen sulfide and other odors emitted from the sweat and decomposing material.
Fast combat: The oxidizing effects of the chlorine gas can kill the microbes within 30-60 seconds.
Portability: Defender tag can be easily carried from one place to another.
Great support for immunocompromised: This product is of great help to people whose immune system is compromised. For people suffering from immune disorders or serious health diseases, this acts as a protective shield warding off any disease-causing microbes.
Is Defend Tag Safe to Use?
Chloride Dioxide (ClO2) gas at low concentrations is proven to be a safe and effective anti-microbial agent. It is commonly used to disinfect drinking water. Defend Tag is innovated to be able to control the release of ClO2 concentration. This standardized release of ClO2 is able to protect the bearer from airborne pathogens.
How to Use Defend Tag?
For most of us who are having a busy lifestyle, this product is particularly easy to use. All you need to do is remove the sodium chloride sachet from the packaging (do not puncture the sachet) and insert it into the tag provided. You can hang it freely on your neck using the attached clip and lanyard.
Protect Nanosilver Spray by Antah Wellness
For centuries, silver has been widely used around the world to inhibit the growth of bacteria and fungi that causes infection, odor, itchiness, and sores. In the last decade, we could see a dramatic rise in the use of colloidal silver as a germ killer in medical and hygiene products.
One of the most significant advantages of using silver-based nanoparticles is their strong antibacterial effects on several species of bacteria while exhibiting almost no toxicity towards animal cells.
Silver nanoparticles are an effective antiviral that could fight against deadly viruses such as HIV, Herpes, Hepatitis B, Influenza, flu viruses, etc.
Colloidal silver technology helps to arrest RNA replication and infectivity by blocking the surface glycoproteins.
Since the Nanosilver particles are fast-acting even at low concentration, this makes protecting Nanosilver spray an ideal candidate to fight COVID-19 infections.
This product is an effective, alcohol-free antiseptic spray containing <10ppm Nanosilver.
Benefits of Protect Nanosilver Spray
Completely alcohol-free
Has no irritants
Suitable for cleaning all types of wounds
Contains deionized water infused with active Nanosilver <10ppm
Prevents the growth of fungi and bacteria, which cause odor, infection and sores
Promotes wound healing
Light and easy to carry in your travel bag
Suitable for everyone, including babies, teenagers, travelers, healthcare personnel, etc.
How to Use Protect Nanosilver Spray
This product is absolutely easy to use. Just spray on the affected areas like minor burns, cuts, irritations, sores, rashes, pimples, and even body odor.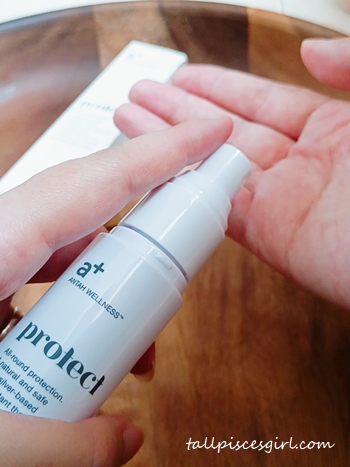 A bundle pack of Defend Tag & Protect Nanosilver Spray now comes with Free 1 Month Covid-19 insurance coverage which includes cash and benefits of up to RM6,000 for 1-month cover!
Grab your own protection pack here: https://shp.ee/vytsci7