Chinese New Year 2021 is going to be very different for all of us but we must adapt and embrace the new norm.
Virtual Lou Sang with Hong Leong Bank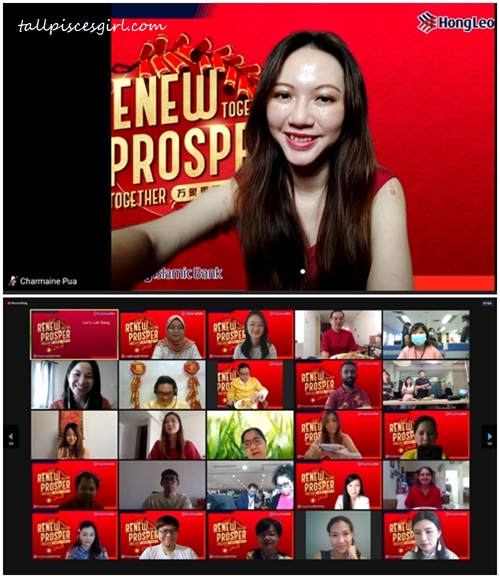 Last Friday, I had a first experience as part of the new norm. I attended a Virtual Lou Sang Zoom session with the leadership team of Hong Leong Bank Malaysia (HLB), including Mr. Domenic Fuda, Group Managing Director and CEO of HLB. Joined by my fellow media friends, it was really fun and I'm so glad to see so many familiar faces!
I also want to convey a heartfelt thank you to HLB for sending me a specially curated hamper with cookies, Mandarin oranges, angpau packets and Yee Sang to bring me festive cheer!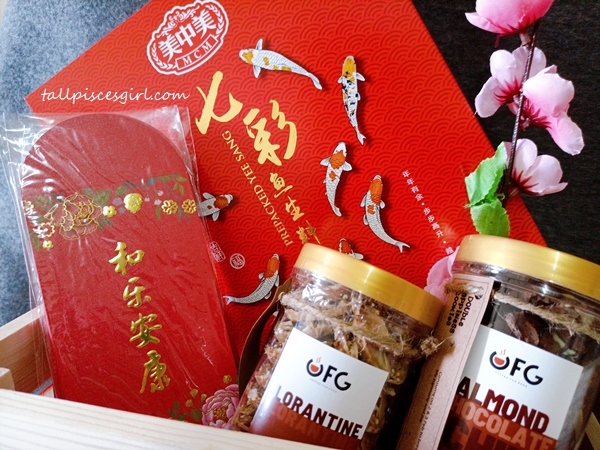 Renew Together, Prosper Together
This year, Malaysians are expected to continue to embrace the new normal following digital shifts experienced last year. With the aim to continue supporting Malaysians to renew, refresh and rebuild stronger in 2021, Hong Leong Bank has launched their Chinese New Year campaign called 'Renew Together, Prosper Together'. Thru this campaign, Malaysians are able to benefit via attractive interest rates, new savings opportunities, and lucrative cashback for e-Ang Pows via DuitNow.
During the virtual event, Mr. Domenic Fuda highlighted that the spirit of coming together to overcome challenges is even more profound this CNY. Chinese New Year is known as 'Guo Nian' in Chinese. These words literally means overcoming Nian, a monster that would cause chaos and destruction to villages on CNY eve. A group of villagers decided to worked together using loud cracking sound to chase away Nian. Although this story may be a myth, but the lesson holds true and that has always been the point of myths. In this case, it teaches us that we can always overcome any challenge by being united in our mind, spirit, purpose and actions.
HLB released a video that captured the essence of what it means to band together against a common foe, through 'Nian: The Untold Story'. Watch 'Nian: The Untold Story' video by clicking on the title.
COVID-19 can be said as the Nian of our time. The events of the past year have given HLB a chance to explore new possibilities to serve and support their customers while building relationships to continue operating effectively. This year, they strive to continue to serve and support their customers through payment relief assistance plans and offer relevant products and services that help customers with their finances and spending.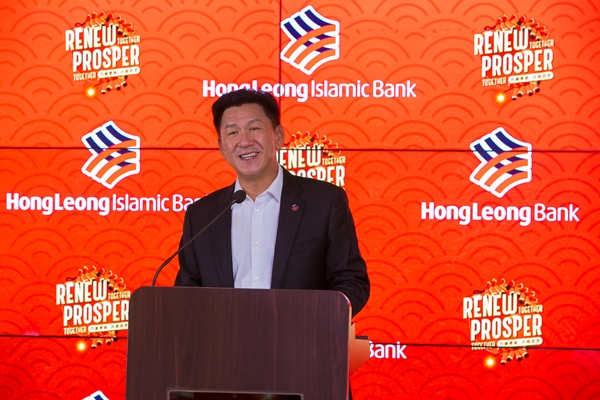 Charles Sik, Managing Director of Personal Financial Services of HLB shared that recovery and rebuilding are the key focus areas for many consumers and businesses this year. In order to encourage Malaysians to forge ahead this year with optimism and determination, HLB has curated a variety of Ox-picious offerings to help everyone re-energize their finances and lifestyle. Businesses who embrace going cashless while making sure the ang pow giving traditions live on will be rewarded. After all, when we 'Renew Together, we Prosper Together'.
Here are a list of HLB CNY 2021 offerings to seed your prosperity:
Re-Energize Your Savings
Online e-FD Promotion Offer: Customers who place their FDs online from 11 Feb – 26 Feb 2021 can enjoy interest rate of 2.40% p.a. for 6 months. T&C apply.
Deposit Offer: Deposit RM888 on 28 Feb to earn 10 entries for a chance to win 20.21% p.a. 1 Day-Bonus Interest/Profit
Re-Energize Your Finances With Online Personal Loans
Enjoy 5% p.a. flat interest rate
Re-Energize Your Financial Plans With New Opportunities
Unit Trust Offer: Start a Regular savings plan @ 0% sales charge for 1st subscription + 2.5% sales charge for the next 12 subscriptions
Insurance Offer
Enhance the protection for you & loved ones this year. Sign up for a Regular Premium Plan and enjoy up to 4% p.a. FD rate
The first 100 to sign up with a minimum annual premium of RM36,000 wins a Swarovski Bowl Set with Eu Yan Sang YEN Bird's Nest
HLISB (TIA-i) (8 Jan – 31 Mar 2021)
Enjoy indicative returns of 2.35% p.a. for 3 months and 2.40% p.a. for 6 months
Every RM5000 in your placement gains 1 entry for a chance to win an iPad Air
Re-Energize Your Lifestyle With Credit Cards
Apply for a new Credit Card and receive RM950 cashback
Re-Energize Your Business With SME Offers
New merchants will enjoy 0% fee on debit card transactions when signing up for HLB all-in-one POS terminal
Stand a chance to win up to RM10,000 by joining HLB's 'PaySafeLah' photo contest:
– Sign up on their promo page and receive a parcel from them
– Post a photo of yourself encouraging customers to go cashless on social media with #hlbpaysafelah #mydebitje
– Fill up a simple form at www.hlb.com.my/merchantphotocontest
Re-Energize Your CNY With DuitNow/E-angpow
Over RM150k up for grabs. 1,050 total daily winners (RM88) and 75x grand prize winners (RM888)
For every 3,088th e-Ang Pow transaction done in a day, 30 customers will win RM88 daily from 25 January to 28 February
For every 20,888th e-Ang Pow transaction done in a day, 5 customers will win RM888 daily from 12 February to 26 February
Making plans today is the best step we can take towards securing our future. As the popular Chinese proverb goes 'The best time to plant a tree was 20 years ago. The second-best time is now'.
To learn about more attractive ways to re-energize your finances and lifestyle via HLB, kindly visit www.hlb.com.my/en/personal-banking/campaigns/promotions/hlb-cny-2021-promotions.html.