Oh how I miss traveling! Traveling is such an important piece of my life because I always feel intrigued seeing so many unique things like buildings, food, culture and lifestyle that I won't get to experience in Malaysia. Sometimes, I also thought to myself on how certain awesome practices should be implemented in Malaysia too. Are you like me as well?
Few years ago, I was in Singapore with my girl friend to visit a BFF who went to Singapore to work. We were actually worried that she might feel lonely without close friends and family there. So we decided to give her a surprise! She brought us to try lots of amazing Singaporean food including the ones located at hawker centre. But it doesn't end there! She also brought us to Gardens by the Bay to admire the beautiful Supertrees at Supertree Grove.
From Gardens by the Bay, we took a glimpse of the magnificent view of Marina Bay Sands by Las Vegas Sands and the impeccable architecture really piqued my interest. Deep down inside, I vowed to have a staycation at Marina Bay Sands, Singapore one day, but I gotta do some planning and see how much I need to save up first. Along the way, I found some interesting info and thought I should share this guide for the benefit of my readers too.
1. Marina Bay Sands Price and Rooms
With a total of 2,561 rooms, there are so many types of rooms to choose from! According to my research, price starts from S$469.62 onwards per night. Prices are just an estimation as they will be affected by season.
I really love to admire beautiful view from the hotel room, so if I were to stay here, I'd probably choose one with city view or harbour view! But if you're on a budget and just want to experience staying in Marina Bay Sands, Deluxe King Lower Floor isn't too bad of a choice. I can't wait to experience the unparalleled luxury provided by this 5 star hotel.
2. Marina Bay Sands Pool
Have you heard about the famous infinity pool at Marina Bay Sands? The perks of being a guest there is the exclusive access to the Infinity Pool at the Sands SkyPark. However, do note that due to safe distancing policy during the pandemic, booking via SMS within 24 hours prior to arrival is needed and access is limited to one hour per room, per day. The ideal time to be there is during sunset where you can watch as the city starts to light up.
3. SkyPark Observation Deck
Entrance to the SkyPark Observation Deck is free for hotel guests but non-guest will be charged an entrance fee as below:
Adult: S$26
Senior Citizen above 65 years old: S$23
Child (2 – 12 years old): S$20
If you would like to gain entrance to Level 57 for free without staying in the hotel and still get to enjoy the view of Singapore cityscape, here's a pro-tip: Do consider spending your money into getting a glass of cocktail at Ce La Vi Sky Lounge, LAVO Italian Restaurant & Rooftop Bar or Spago Bar & Lounge.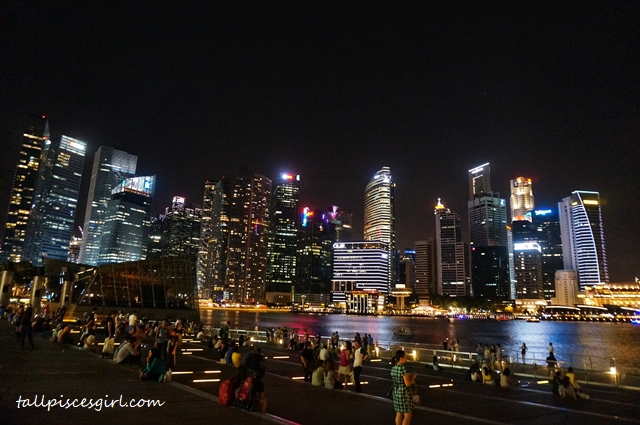 4. Marina Bay Sands Restaurants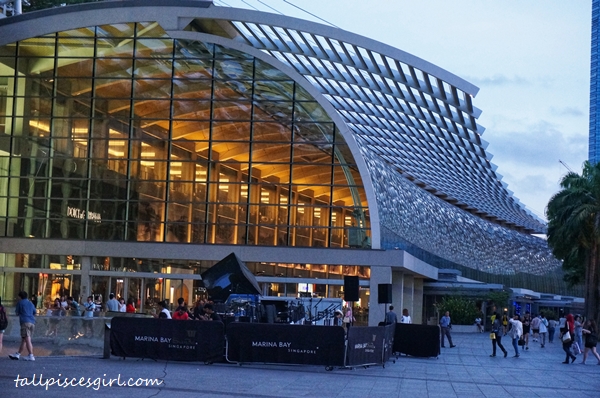 With over 60 selections of F&B outlets in Marina Bay Sands, I don't think I'll need to go out from this area to find food. I'm definitely spoilt for choice but after some research, I think I would really love to try dining in one of these celebrity chefs' restaurants.
db Bistro & Oyster Bar by Daniel Boulud (Location: B1-48, The Shoppes)
Bread Street Kitchen by Gordon Ramsay (Location: L1-81, The Shoppes)
CHINOISERIE Modern Asian by Justin Quek (Location: B1-15, The Shoppes)
JustIN Flavours of Asia by Justin Quek (Location: L1-83, The Shoppes)
Waku Ghin by Tetsuya Wakuda (Location: L2-03, The Shoppes)
CUT by Wolfgang Puck (Location: B1-71, The Shoppes)
Spago Dining Room by Wolfgang Puck (Location: L57, Sands SkyPark, Hotel Tower 2)
Spago Bar & Lounge by Wolfgang Puck (Location: L57, Sands SkyPark, Hotel Tower 2)
5. Marina Bay Sands Casino
Spanning 15,000 square meters over 4 levels, Marina Bay Sands Casino is considered as the biggest casino in Singapore alongside with Sentosa Casino. Marina Bay Sands is open 24 hours every day.
Foreigners with a valid passport are allowed to enter for free while Singapore Citizens and Permanent Residents are required to pay for Entry Levy.

Daily entry levy: S$150
Yearly entry levy: S$ 3,000
Dress code in Marina Bay Sands Casino
Visitors must observe smart casual attire dress code in order to gain entry to the casino. This means no slippers, sleeveless shirts, short pants, and articles of clothing that conceals facial features.
Wait no more! Let's plan for staycation Singapore together at Marina Bay Sands. Or you can find another hotel for staycation Singapore and visit Marina Bay Sands for food and entertainment!
Marina Bay Sands Address
10 Bayfront Ave, Singapore 018956